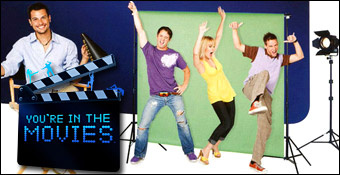 On peut le dire, l'idée de départ de You're in the Movie est géniale. Que l'on soit acteur dans l'âme ou simple amateur de série B, l'opportunité de réaliser ses propres courts-métrages sur une console de salon ne peut laisser personne indifférent. D'ailleurs, qui ne s'est jamais amusé à filmer une histoire bidon avec le vieux camescope de tonton Robert pour tromper l'ennui d'un dimanche après-midi ? Conquis par le concept, nous nous empressons donc de brancher la caméra sur notre Xbox 360 afin d'effectuer les premiers réglages.

Qui n'a jamais rêvé de décrocher un rôle dans une série B ?
Première déception, les images filmées par la caméra USB manquent de finesse et accusent systématiquement un petit temps de retard par rapport à l'action. Qu'importe, même les plus grands cinéastes ont commencé leur carrière avec du matos de noob. Assurons-nous plutôt que notre silhouette corresponde au cadre puis passons à la phase d'analyse de l'arrière-plan. C'est là que tout se complique. Non seulement, le décor doit être bien éclairé mais il doit en plus être entièrement vide et d'une couleur différente de celle de nos vêtements. Pratique, non ? Surtout si on est pressé de jouer ! De fait, il nous a fallu un bon quart d'heure pour tourner la caméra de côté, pousser la console, cacher les fils, virer le collègue de derrière, décoller tous les posters du mur, et enfin gratter un par un les résidus de patafix qui tâchent. Même après tous ces aménagements, nous avons été obligé de remettre notre veste noire et d'allumer deux néons de plus avant obtenir une incrustation d'image à peu près correcte, quoique très instable.

Les mini-jeux sont ennuyeux et l'incrustation d'image laisse à désirer.
Après avoir défini le nombre de joueurs et choisi un scénario parmi une liste de scripts ultra-kitsch, la première des quatre manches s'ouvre alors sur un mini-jeu. L'un des participants est invité à faire fuir des guêpes, tenir un marteau-piqueur ou courir un marathon sous les encouragements de ses camarades. Les épreuves sont nombreuses et les situations assez variées. Malheureusement, leur réalisation laisse à désirer et leur gameplay minimaliste ne casse généralement pas trois pattes à un canard. Il s'agit par exemple de toucher une cible avec les mains, de faire semblant de courir ou d'éviter un obstacle pour accumuler des points. L'Eyetoy de Sony nous avait habitué à mieux et après deux ou trois essais, on s'ennuie plus qu'autre chose. De plus, comme il y a autant de mini-jeux que de joueurs, on a le temps d'aller boire un café avant que tout le monde soit passé.

Un comédien nous aide à prendre la pose.
Les phases d'improvisation, en revanche, sont beaucoup plus amusantes. Le joueur appelé doit prendre des poses ou mimer des actions en veilllant à reproduire l'exemple donné par un acteur professionnel. Fuir, hurler, nager, donner un coup de poing, pleurer, chaque acteur en herbe aura maintes occasions de prouver son talent. Les séquences enregistrées de cette manière sont ensuite implémentées dans le petit film que l'on a choisi de réaliser au début de la partie. Mais ce n'est qu'après quatre manches et autant de phases d'improvisation que les joueurs pourront enfin le visionner. Ceci sans compter bien sûr le nombre de fois où il faut relancer l'analyse de l'arrière-plan pour restaurer la qualité de l'image qui se détériore sans cesse...

Une brochette de stars pour un casting de rêve.
Basé sur l'un des 30 scénarios disponibles ou à débloquer, le court-métrage qui vient récompenser nos efforts se présente en fait sous la forme d'une simple bande-annonce d'environ 2 ou 3 minutes. Du film d'horreur ultra-kitsch des années 50 au thriller ringard des 70's, il y en a pour tous les goûts et la mise en scène est fidèle aux genres représentés. Cependant, la qualité des scripts est inégale et l'humour très efficace dans certains films tombe complètement à plat dans d'autres. D'où l'utilité de passer en mode Réalisateur pour écrire nos propres scénarios et choisir les scènes à tourner parmi une liste pré-définie. On peut même enregistrer nos propres voix ou envoyer notre film sur Internet. Bref, You're in the Movie disposait vraiment d'un excellent potentiel de créativité. Hélas, les problèmes techniques et la mauvaise qualité de l'image perturbent sans arrêt l'expérience. Il faut refaire les réglages toute les trois prises de vue et l'incrustation d'image ne fonctionne pas correctement malgré ses condition draconiennes d'utilisation. Le rendu final est donc mauvais, voire terrible. Par ailleurs, les mini-jeux sont lourds et le rythme désespérément lent du mode principal plombera l'ambiance de la plus festives des soirées. Dommage, le concept initial de You're in the Movie était vraiment prometteur...