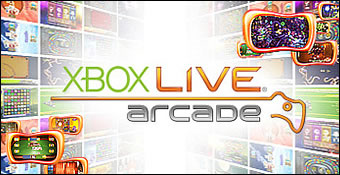 Destiné clairement à promouvoir le Xbox Live, Arcade Unplugged est donc une compilation qui a au moins le mérite de donner leur chance à des softs de faible envergure, mais au caractère addictif indéniable. Ce qui nous gêne un peu plus dans cette démarche, c'est le prix exigé pour que le joueur lambda puisse profiter de cette compilation. Pour près de 40 euros, vous n'aurez accès, en tout et pour tout, qu'à 9 jeux, dont 3 sont proposés uniquement en version d'essai, ce qui vous obligera donc à débourser une somme supplémentaire si vous voulez débloquer les versions complètes. Sachant que Microsoft projette de sortir d'autres volumes du même type que celui-là, avec sans doute aussi peu de jeux, on perçoit bien la dimension commerciale du projet.

Wik est un jeu qui rend très vite accro.
On peut en effet se poser des questions quant à l'intérêt réel de se procurer une telle compilation qui se contente finalement de rassembler une poignée de softs anciennement gratuits mais désormais payants si vous les téléchargez sur le Xbox Live. Certes, si vous n'avez pas de connexion, vous aurez l'opportunité de vous adonner à ces titres "tant convoités", et si vous êtes abonné au Live, le prix du jeu vous reviendra un peu moins cher que le téléchargement complet de l'ensemble de ces softs. Mais comme il est très probable que vous ne soyez pas vraiment intéressé par la totalité des jeux proposés, vous ne serez pas forcément gagnant au bout du compte. D'ailleurs, plus encore que le simple fait de permettre au joueur de profiter de ces titres hors connexion, l'objectif de cette compilation semble davantage de l'inciter à s'adonner aux parties online sur des titres qui n'auraient pas forcément attiré son attention. Dès lors, le fait que ce jeu nous offre un mois d'abonnement gratuit au Xbox Live Gold est une bonne chose, mais le prix abusif imposé à l'achat risque quand même de vous rester en travers de la gorge. Malgré tout, si vous êtes encore indécis, je vous conseille de jeter un oeil à la description des 9 jeux proposées dans cette première compilation.

Geometry Wars, un shoot'em-up conceptuel dans lequel vous êtes enfermé.
Le plus surprenant de tous, à mon sens, et sans doute l'un des plus intéressants, c'est Wik : The Fable of Souls. Axé plates-formes, ce petit jeu vous fait contrôler un gnome qui ne se déplace qu'en faisant des bonds et en se balançant au bout de sa langue démesurée. Celle-ci lui rend d'ailleurs bien des services puisqu'elle lui permet également de capturer des vers luisants pour nourrir sa fidèle monture, ou encore de cracher des noix pour abattre des insectes. Bourré de subtilités, ce petit bijou est extrêmement simple à prendre en main et très ingénieux dans son gameplay. En bref, un titre vraiment sympa, nerveux, rapide, précis, sur lequel on peut facilement passer des heures. Dans un autre style, on trouve un shoot'em-up assez particulier mais au nom plutôt évocateur. Geometry Wars affiche une réalisation assez conceptuelle, certes dépouillée mais bourrée de jolis effets, et propose un gameplay assez stressant dans la mesure où vous êtes enfermé dans un espace clos où les vagues d'ennemis arrivent sans cesse.

Avis aux amateurs de puzzle-games.
Bejeweled 2 Deluxe est le représentant des puzzle-games, avec ses écrans composés de gemmes colorées qu'il faut aligner pour provoquer des réactions en chaîne. Un concept classique mais qui a fait ses preuves. Beaucoup plus difficile d'accès, Outpost Kaloki X s'adresse uniquement aux amateurs de gestion qui ont envie de développer leur propre station dans l'espace. Encore plus rebutant, Hardwood Backgammon ne ravira sans doute qu'un faible nombre d'initiés, le didacticiel étant vraiment trop mal pensé pour que les autres aient envie de s'initier aux règles du backgammon. Les adeptes de jeux de cartes se tourneront quant à eux vers Texas Hold'em. Seul titre en anglais sur l'ensemble de cette compilation, ce soft à l'ambiance sonore quasi inexistante ne tentera que ceux qui pratiquent déjà assidûment le poker.

Feeding Frenzy a un petit côté antropophage qui me dérange.
A ces six jeux de départ viennent s'ajouter trois autres titres en version démo. C'est le cas du UNO auquel vous pourrez jouer de façon standard, à 2 contre 2 ou avec des règles personnalisées. Les réactions des joueurs contrôlés par l'IA étant vraiment trop lentes, préférez le mode réseau au mode solo, mais c'est aussi valable pour tous les autres titres proposés ici. A mi-chemin entre Cameltry et Super Monkey Ball, Marble Blast Ultra nous offre du Marble Madness en 3D avec pas mal d'options sympathiques et une jouabilité impeccable. Un soft qu'on a vite envie d'avoir en version complète. Enfin, Feeding Frenzy nous fait contrôler un poisson qui grossit au fur et à mesure qu'il dévore ses congénères, et se révèle tout aussi fun que dérangeant. Au final, on se rend compte que même si la plupart des jeux proposés dans cette compilation sont plutôt intéressants, ils sont bien trop peu nombreux pour justifier le prix de l'achat d'Arcade Unplugged.