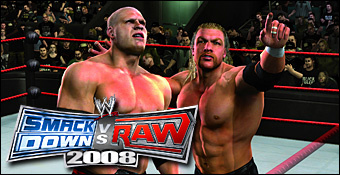 Les années se suivent et se ressemblent irrémédiablement pour la série WWE Smackdown Vs Raw. THQ et Yuke's Media Creation tranquillement installés sur un marché très peu concurrentiel profitent de la renommée de la franchise pour proposer une grosse mise à jour qui saura attirer l'oeil avisé des amateurs de catch. Ce qui ne veut pas dire que cette noble pratique faite de provocations et de coups spectaculaires ne plaira pas aux moins concernés par la discipline. La preuve, en dépit de mes connaissances plus que limitées en la matière (remontant en réalité aux bribes d'oppositions diffusées sur Canal+ il y a de cela quelques années, en fin d'après-midi, en discutant les restes d'un copieux quatre heures), le plaisir de jeu est là. Et ce, malgré des temps de chargements longuets pour ne pas dire interminables et parfois superflux, entre deux entrées de catcheurs. Imaginez le temps qu'il faut pour accéder à un combat mettant en scène 6 brutasses, la plupart du temps chevelues, si l'on prend le temps de respecter la saynète qui va les mener au ring, au beau milieu d'une salle en fusion...

J'en connais un qui va appeler sa maman...
Une fois de plus, le contenu du titre justifie l'intérêt que l'on peut porter à une telle mouture. Vous retrouverez ainsi de nombreux modes de jeu, eux-mêmes sujets à se diviser en sous-modes de sorte à atteindre une durée de vie réellement conséquente. Des matches Exhibition au 24/7 (l'équivalent d'une Carrière qui combine cette année les modes Saison et Manager Général des opus précédents) en passant par les Tournois, le Hall Of Fame ou les innombrables possibilités de création (de mouvements, d'équipes, des catcheurs/euses, d'entrées ou de championnats), le joueur pourra s'adonner à sa passion sans modération. D'autant qu'en exhibition, les possibilités sont réellement dantesques avec pas moins d'une soixantaine de combinaisons de matches possibles, à deux, trois, quatre ou six, selon les règles officielles de la fédération de catch. Ajoutons à ceci une présence en force de l'ECW avec ce que cela comprend de Superstars, d'arènes et d'armes en tout genre, boostant considérablement l'intérêt du jeu. Ce contenu additionnel ne se débloque cependant qu'après avoir vu le bout du 24/7 en Légende. Mais le jeu en vaut la chandelle car si vous êtes du genre sadique à cramer les cheveux de votre adversaire avec une dose de violence inouïe, la défunte ECW devrait vous convenir à merveille.

Certainement l'une des prises les plus spéctaculaires du jeu.
De son côté, le gameplay réserve son petit lot d'ajustements qui ne révolutionnent en rien la série mais pérennisent l'utilisation des sticks analogiques pour attaquer ou contrer de différentes manières. Ainsi, en fonction des situations et du positionnement de votre adversaire, l'orientation du stick analogique droit suffira à elle seule à déclencher une prise bien particulière, qu'elle soit pour faire mal ou immobiliser. Au rayon des nouveautés, notons tout de même le Struggle Submission System, un procédé qui permet de contrôler avec précision une prise de soumission, en augmentant manuellement la pression que l'on inflige à l'adversaire afin de le paralyser. On fera également référence aux Superstar Fighting Styles qui, comme leur nom l'indique, sont les huit styles de combats réservés aux Superstars et contribuent à diversifier les oppositions et les approches, histoire de faire dans le spectaculaire évidemment. Et c'est à-peu-près tout, au milieu de grosses baffes, de saute-mouton, de prises à deux contre un, de cassage de gueule de l'arbitre et d'utilisation de tout un tas d'objets qui font bien mal. Mais cela s'avérera sans doute suffisant pour convaincre les fidèles de la série de craquer une nouvelle fois pour Smackdown Vs Raw. C'est en tout cas ce que pense un joueur qui ne connaît pas grand monde à part Hulk Hogan ou The Rock...