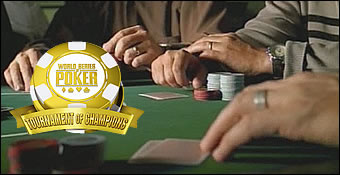 La folie du poker continue de gagner du terrain et ce sont désormais les suites qui nous arrivent avec notamment la nouvelle édition de World Series Of Poker. En un an, le programme n'aura pas tellement bougé et il faudra toujours que vous fassiez vos preuves dans le monde exubérant du célèbre jeu de cartes. Le titre se divise globalement en trois sections : les parties rapides, le mode carrière et le mode multijoueur. Inutile de s'attarder sur les parties rapides et passons directos à la carrière. Ici, vous débuterez vos exploits dans la cave d'un ami en disputant une partie contre trois potes. Cela aurait pu être un vendredi soir comme un autre si ce n'était Chris Ferguson lui-même qui n'était assis en face de vous pour distribuer les cartes. Le champion prétend être là à la suite d'un pari perdu l'obligeant à devoir prendre sous son aile un joueur amateur. Bien évidemment, ce chanceux, ce sera vous. La suite passera par une phase d'inscription aux tournois professionnels jusqu'à l'honneur suprême de pouvoir vous asseoir à la table du prestigieux casino Rio à Las Vegas. La progression se déroule par étapes, et vous visiterez quatre casinos avant le tournoi final. Le but sera à chaque fois de terminer au moins à la dernière table pour engranger des points et espérer pouvoir vous inscrire à la compétition suivante.

Le public s'enthousiasme suivant ce qu'il se passe à la table de jeu.
Par rapport à l'année dernière, pas ou peu de changements au niveau de l'IA. Peut-être se montre-t-elle un peu plus agressive ? Difficile à dire. Toujours est-il qu'après plusieurs heures on parviendra à la déjouer sans trop de problèmes. On regrette par contre qu'après seulement un tour de table, on se retrouve déjà à miser contre un unique adversaire, les autres ayant préféré se coucher. Mais bon, on ne le dira jamais assez, le poker ne s'apprécie pleinement qu'en face de vraies personnes. C'est pourquoi Tournament Of Champions Edition 2007 intègre aussi un mode multijoueur que l'on pourra pratiquer jusqu'à 9 joueurs online. Bien sûr, des options supplémentaires apparaissent sur les versions PS2 et Xbox 360 puisque toutes deux utilisent leur caméra respective pour vous afficher pendant les parties. Sur Xbox 360, vous pourrez même scanner votre visage pour vous intégrer directement au jeu. Des options permettent ensuite de choisir d'afficher ou non les visages scannés des adversaires. Le mode multi est un réel atout dans le jeu qui permet de retrouver les sensations d'une vraie partie de poker, ou du moins de flirter avec elles. L'IA est peut-être costaud, c'est tout de même moins gratifiant de la battre que de plumer un adversaire réel.

L'option Digimask fonctionne vraiment bien. Ici, Super.panda.
Question réalisation, cette édition PC sent bon l'escroquerie à plein nez. Sans doute directement adaptée de la version PS2, cette mouture marque un nouveau pas dans l'atrocité en osant afficher des joueurs immondes, des cartes complètement aliasées et des tables qui disparaissent sans explication. Par rapport au premier volet, la mise en scène a été revue avec des angles de caméra plus nombreux et plus fidèles à ce que l'on peut voir à la télé lors des retransmissions de tournois. Il y a même la petite caméra placée sur la table qui permet de regarder discrètement ses cartes. Ce sera d'ailleurs la seule manière de découvrir son jeu, ce qui veut dire que vous pourrez tout à fait miser sans même avoir regardé vos cartes ! Autant être sûr de son coup dans ces cas-là. Plusieurs bonus sont à débloquer au fil des parties tels que des joueurs pros (en vrac Scott Nguyen, Tom Franklin, Phil Laak, Norman Chad, Erik Seidel, Jennifer Tilly...) ou, plus intéressant, des outils statistiques permettant de connaître à tout moment la valeur de son jeu et les possibilités restantes à la découverte du flop, du tournant et de la rivière. L'interface, elle, se rapproche de celle de World Poker Tour (la série de 2K) pour un résultat vraiment clair puisqu'elle récapitule sur la gauche de l'écran les choix tactiques de chacun. Maheureusement, il faudra obligatoirement tout contrôler au clavier, ce qui est tout de même moins pratique d'une bonne petite souris. Non, vraiment, World Series Of Poker n'a pas été pensé pour le PC et même s'il est vendu à petit prix, vous serez bien inspiré de vous tenir à l'écart de ce DVD. Préférez-lui largement les éditions consoles, bien plus convaincantes.