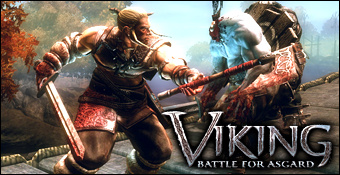 Beaucoup plus habitué aux jeux de stratégie qu'au beat'em all teinté d'hémoglobine, The Creative Assembly nous sert pourtant sur un plateau d'argent un mets de choix. A la croisée des chemins de Ninety Nine Nights et de God Of War, Viking : Battle For Asgard nous propose d'incarner le dénommé Skarin, champion de la déesse de la lumière Freya et seul rempart contre la folie dévorante de Hel, déité maléfique désireuse de déclencher Ragnarok, synonyme d'hiver éternel. Sur la base de ce pitch convenu, on aurait pu s'attendre une fois encore à un énième affrontement entre un homme et des armées entières de machines à tuer. Pourtant il n'en est rien. Bien sûr, vous aurez la plupart du temps à effectuer des missions en ne comptant que votre courage, votre force et votre dextérité mais au-delà de ça, chaque objectif visera le même but : regrouper une armée suffisante pour faire face aux vikings morts vivants de Hel.

Il est impossible de donner des ordres à vos hommes même si certains vous suivront par moments.
En somme, Viking prend le pari de proposer deux jeux en un même si au final, on se demande s'il n'aurait pas mieux fait de peaufiner l'un d'eux. Ainsi, si le titre ne manque nullement de charme et de caractère, on se retrouve coincé entre deux eaux en se disant que le squelette du jeu aurait mérité d'être renforcé. En l'état, on se retrouve face à une aventure bien pensée mais manquant terriblement de pêche. Embêtant dans le sens où Viking joue clairement la carte cinématographique en citant à tour de bras la trilogie du Seigneur des anneaux, Kingdom Of Heaven, l'éternel chef-d'oeuvre de John McTiernan, Le 13ème Guerrier, voire le récent Pathfinder en ce qui concerne l'impressionnant character design. Mais avant de se faire l'apôtre de la critique objective (elle existe, elle est là, elle témoigne à caractère découvert), jetons un oeil à la façon d'aborder notre épopée découpée en trois îles à la taille respectable. A ce sujet, sachez que vous ne pourrez passer de l'une à l'autre et qu'il vous faudra automatiquement réussir des missions bien précises avant de pouvoir voyager d'un îlot à l'autre afin de défaire Hel.

La mythologie traitée est aussi intéressante que la cosmogonie grecque mais reste moyennement exploitée.
Chaque île, disais-je donc, comprend divers points névralgiques. Le premier d'entre eux, votre village ou campement, est sans doute le plus important puisque vous pourrez y acheter divers objets (armes, potions de guérison, cartes aux trésors...) ainsi que des runes (de glace, feu, éclair, etc). Ensuite, c'est l'arène de duel sur laquelle vous devrez jeter votre dévolu sachant que c'est ici que vous obtiendrez de nouveaux combos moyennant finances. Malheureusement, sur ce point, le soft est décevant car on compte un faible nombre d'enchaînements qui mis bout à bout avec les attaques faibles et fortes n'offrent qu'une palette de coups relativement réduite. Néanmoins, il est possible, à l'instar de Beowulf, d'entrer en mode Rage pour défourailler comme un beau diable durant un laps de temps réduit. Pour autant, Viking reste très grand public autant dans sa difficulté que dans son gameplay. En fait, Battle For Asgard délaisse les game over. Certes, on y meurt mais c'est pour mieux ressusciter dans notre quartier général. Dans ce cas, il suffira alors d'utiliser un téléporteur pour en atteindre un autre (chaque map regorgeant de menhirs pour des téléportations instantanées) et ainsi rejoindre des endroits éloignés avant de recommencer là où un malandrin vient de nous occire.

Une fois que vous aurez apprivoisé un dragon, vous pourrez l'envoyer chauffer les oreilles de vos adversaires.
A ce sujet, l'utilisation de la carte sera primordiale pour vous repérer en temps et en heure. Grâce à elle, vous pourrez en un rien de temps savoir où aller en vous référant à de nombreux pictogrammes vous renseignant sur les missions à effectuer, celles-ci étant généralement liées entre elles. Par exemple, pour terminer une île, vous devrez mener une grande bataille qui requerra de votre part la libération de plusieurs de vos hommes, l'obtention d'un artefact précis, la destruction d'une caserne et ainsi de suite. De fait, vous devrez alors effectuer lesdites missions avant l'ultime affrontement. Néanmoins, les objectifs "annexes" restent globalement les mêmes et vous demanderont tout le temps d'affronter des hordes de guerriers en peau de bête parfois sous le commandement de viking plus imposants faisant office de boss. Si j'évoquais déjà le faible nombre de coups, il faut aussi mettre en avant quelques soucis lors de ces phases. Tout d'abord si la caméra peut se bouger à 360°, il est gênant de toujours devoir jouer avec elle pour savoir ce que font les ennemis nous tournant autour. Ensuite, une fois que vous êtes repéré, impossible de s'enfuir vu que vos adversaires vous rattrapent en quelques secondes. Dans ce cas, si vous voulez éviter une rixe perdue d'avance, optez pour les Stealth Kill vous permettant de déchiqueter en un coup un ennemi. Jouissives, ces attaques furtives n'en restent pas moins "drolissimes" dans le sens où il est permis de tuer un ennemi se trouvant à dix mètres de nous, Skarin effectuant alors un bond de cabri pour le découper en rondelles. A part cet aspect faussement furtif, la jouabilité opte pour la facilité, surtout dans les mano-a-mano avec les boss, notamment dans les esquives. Pour les réaliser, il suffira d'appuyer sur une combinaison de boutons, toute notion de timing et distance étant laissée à l'abandon. En gros, si vous êtes acculé contre un mur avec un ennemi se tenant à un mètre de vous, vous n'aurez malgré tout aucun mal à éviter ses attaques. On appréciera ou non.

Très joli graphiquement, Viking n'échappe pas à l'effet aliasing.
En somme, entre deux combats et la recherche de sacs d'or ou de coffres, quelques phases de plates-formes viennent s'intercaler mais rien de bien fantastique non plus à ce sujet même si c'est loin d'être désagréable. Ce qui l'est plus en revanche a trait aux batailles de masse. Aussi brouillonnes que celles d'un Dynasty Warriors, elles restent tout de même beaucoup plus impressionnantes visuellement parlant. De plus, si vous pourrez toujours effectuer des Finish Moves en découpant vos adversaires, vous aurez la possibilité d'invoquer un dragon (après avoir récupéré suffisamment de runes) pour qu'il brûle manu militari un endroit sélectionné par vos soins parmi une liste restreinte de choix. Finalement, il est étrange de constater que Viking : Battle For Asgard attire le regard et procure de bons moments nonobstant ses défauts et son manque de vigueur. Dans l'absolu, on sent bien qu'il y a matière à nous pondre un deuxième épisode d'autant que l'univers mis à profit ne demande qu'à être creusé, voire remodelé comme l'a si bien fait God Of War. On espère donc que la fin de l'aventure ne sera pas synonyme d'adieu pour Skarin mais de simple au revoir.