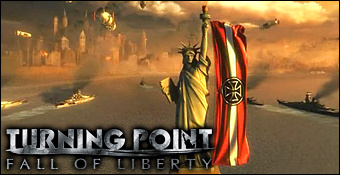 Dans Turning Point, tout débute véritablement en 1931 lors d'une scène relativement anodine au regard de l'Histoire, mais qui réécrite, aurait pu changer la face du monde. Dans notre réalité, nous savons que Winston Churchill, alors obscur diplomate britannique, a été renversé par un taxi pendant qu'il traversait innocemment une avenue de New York. Cet incident explique d'ailleurs la démarche claudicante caractéristique du personnage. Dans le jeu, cet accident lui est malheureusement fatal et l'Angleterre, quelques années plus tard, ne pourra donc pas compter sur son formidable talent de leader pour tenir tête à l'Allemagne nazie. Bien vite démoralisée par les bombardements massifs de Luftwaffe, l'Angleterre tombe, et avec elle l'Europe libre. De là, l'Allemagne prépare l'invasion des Etats-Unis, invasion qu'elle met en oeuvre dès 1953 en lançant une offensive d'envergure dans la baie de New York. C'est là que le joueur entre en scène. Dans la peau de Dan Carson, un brave ouvrier en bâtiment de la Grosse Pomme, on se retrouve donc au beau milieu du conflit. Heureusement que le bougre est aussi habile au maniement de la truelle que du fusil.

Les armes prennent un petit peu trop de place à l'écran.
Pendant les premières minutes de jeu, le coeur de joueur se gonfle d'espoir, car si le soft est loin d'être au point techniquement, l'attaque de New York s'avère néanmoins très impressionnante. Perché sur la structure d'un gratte-ciel en construction, Carson observe le ciel s'emplir d'une multitude d'avions et de dirigeables. Des dizaines de parachutistes ennemis se lancent sur la ville, les explosions sont pléthoriques, les buildings s'effondrent, les ouvriers crient et basculent dans le vide en espérant sans doute une intervention de Spider Man. Aussi rapidement que sûrement, il faudra alors commencer à se bouger les miches pour redescendre de la carcasse du gratte-ciel. Sur le chemin, on croisera un infortuné parachutiste qu'on assassinera gentiment en usant de l'étrange système de corps-à-corps de Turning Point, un système qui constitue la seule trouvaille d'un FPS qui apparaîtra par ailleurs affreusement linéaire et classique. Il s'agira en fait de saisir votre victime en pressant le bouton de corps-à-corps, puis de choisir rapidement entre les options qui s'affichent à l'écran. Selon le cas et l'environnement immédiat, on pourra ainsi balancer notre cible sur un élément du décor, lui briser la nuque ou s'en servir de bouclier humain. Malheureusement, cet ajout, fort sympathique sur le papier, ne se révèle pas si réussi que cela quand on l'expérimente dans le feu de l'action.

Le Chrysler Building n'a pas échappé à la folie destructrice de l'envahisseur.
En fait, les développeurs de Spark Unlimited semblent avoir délibérément réduit le nombre de munitions que vous empocherez dans le jeu, afin que vous soyez constamment contraint de recourir à ce système de combat. Du coup, le jeu se résume souvent à quelques fusillades mollassonnes, vaguement inspirées par la série des Call Of Duty (mais sans jamais en retrouver l'éclat) et ponctuées de corps-à-corps lassants, car ne reposant finalement que sur une poignée d'animations différentes. Si quelques scènes ne manquent pas de charme, comme la défense d'une barricade devant les restes épars du Chrysler Building, le jeu semble toujours trouver un contrepoids, une action frustrante pour contrebalancer le tout. C'est ainsi qu'on s'infligera régulièrement un mini-jeu insipide afin de poser des explosifs sous un char, sur une porte, ou sur je ne sais quel autre élément du mobilier. Même constat pour ces petites et inutiles séquences d'acrobatie lors desquelles Carson devra se suspendre à un mur ou à un tuyau pour franchir un précipice. Là encore, cela n'apporte rien et ne contribue finalement qu'à hacher une action qui ne brille déjà que très rarement.

Une mini-jeu bien lourd qui vous sera régulièrement resservi.
Car c'est un fait, les fusillades et les bastons de Turning Point : Fall Of Liberty s'inscrivent toujours dans les limites d'une prise en main en mousse, pourtant calquée sur ce qui se fait chez la concurrence. Si on retrouve la traditionnelle possibilité de mettre son arme en joue pour tirer droit, on souffrira surtout de l'imprécision chronique de l'armement mis à disposition, imprécision d'ailleurs amplifiée par un recul impressionnant ainsi que par une localisation des dégâts franchement douteuse. Autres soucis, l'impossibilité de régler précisément la sensibilité de la visée (les options se limitant à "basse", "moyenne" ou "haute"), et de manière plus générale, le manque de réactivité du héros. Au final, on passe le plus clair de son temps à progresser péniblement dans des niveaux terriblement linéaires, en dégommant des soldats aussi nombreux que débiles. De la belle amorce du jeu, ne reste qu'un vague et vaporeux souvenir, alors que l'histoire et l'atmosphère de départ s'effritent inexorablement sous les coups de boutoir de la médiocrité.

Quoi de plus palpitant que de s'accrocher à une corniche bien visible pour continuer à avancer dans un couloir ?
Comme suggéré précédemment, Turning Point ne sera pas non plus sauvé par la technique. Sa réalisation est effectivement très limitée et le soft écope même de violentes saccades lorsque l'action se fait plus dense, et ce quel que soit le support. Pourtant soutenu par l'Unreal Engine 3, moteur qu'on ne présente plus, le titre ne brille véritablement jamais et se contente de nous faire (re)découvrir les joies du clipping, ou celles de ces belles textures qui mettent quelques secondes à s'afficher. On dénombre en outre une bonne tripotée de bugs en tout genre et qui, mis bout à bout, continuent de saper les rares aspects intéressants du jeu. Comptez ainsi sur des ennemis qui traversent les murs, des alliés rivés au plancher dans un couloir et qui se font une joie de vous empêcher de passer, comme des videurs bougons à l'entrée d'une boîte de nuit, des bugs de collision ainsi que d'improbables murs invisibles.

Il faut toujours sortir couvert.
Après avoir terminé la campagne, très courte car n'offrant que trois actes composés de quelques missions chacun, on tentera alors de noyer son chagrin en multijoueur. Mais vous vous en doutez, là non plus, on ne sera pas à la fête. Limité aux sempiternels modes Match à mort solo et Match à mort en équipe, le jeu ne peut accueillir que huit joueurs sur une partie, que cela soit en local ou sur internet. Et quand bien même vous parviendrez à rassembler suffisamment de joueurs, vous ne pourrez pas pour autant vous affranchir des soucis de jouabilité qui auront bien évidemment fait le voyage depuis le solo. Bref, quel que soit l'angle adopté pour l'observer, Turning Point : Fall Of Liberty ne parvient pas à se sortir du lot et n'apparaît pas comme un titre digne d'intérêt. Dommage, car son pitch singulier laissait pourtant espérer de sympathiques ouvertures et une aventure accrocheuse.