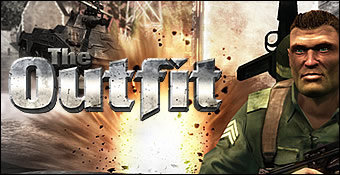 A prendre comme une grosse caricature du film de guerre qui se situerait quelque part entre Les Douze Salopards, De L'Or Pour Les Braves et Papa Schultz, The Outfit met en scène les pérégrinations de 3 soldats complètement frappés, stéréotype du héros américain trop musclé pour entrer dans son tee-shirt et à l'orgueil inébranlable qui caractérise l'anti-héros. Ces trois lascars ont chacun leurs petites spécialités que l'on devra exploiter sagement en sélectionnant celui que l'on souhaite incarner. Si l'un aura dans sa panoplie en sus de sa mitrailleuse un lance-flamme ou des sticky bombs, l'autre optera pour un lance-roquettes couplé à des grenades, pendant que le dernier penchera vers des fusils et le classique cocktail molotov. Le choix du héros n'aura, cela dit, rien de définitif car si on nous demande de nous décider en début de mission, les continues infinis et les points de respawn nous donneront l'occasion de changer d'avis tout au long de la progression du niveau.

Le lance-flamme, je suis pas certain que ce soit bien vu par les conventions internationales.
Justement, comment progresse-t-on dans The Outfit ? Il suffit de s'imaginer un croisement entre Mercenaries (sortit sur PS2 et Xbox) et Battlefield sur PC. Quels que soient vos objectifs, la méthode ne change pas, sur toutes les maps, on trouve des points stratégiques que se disputent les deux camps. Leur prise (par la simple occupation des lieux pendant un temps donné) offre divers avantages. En premier lieu, le gain de points US sur lesquels nous reviendrons. Un point stratégique lambda fera simplement office de zone de respawn où vous pourrez réapparaître en cas de décès prématuré, une faculté qui sera également offerte à l'ennemi qui perd ou gagne la possibilité de parachuter des renforts en fonction des points qu'il occupe. Mais d'autres sont bien plus importants et influent directement sur vos possibilités d'actions. Parcs de véhicules, dépôts d'armes ou encore tours radio viendront booster la qualité et la quantité de renforts matériels à votre disposition.

Faites votre choix, indiquez l'adresse, attendez. Magique.
Voilà donc le moment où les fameux points US prennent tout leur sens. Ces points, on les remporte pour chaque conquête, chaque ennemi abattu ou objet détruit avant de les dépenser en options de "destruction sur demande". Tout ce dont vous pouvez avoir besoin est aisément accessible via une petite interface : nids de mitrailleuses, canons antichars, véhicules de toutes sortes, de la jeep à de multiples types de blindés, sans oublier les frappes aériennes et les renforts d'infanterie, limités cela dit à une équipe de 4 hommes (sans compter ceux qui actionnent les armes fixes). Comme vous l'aurez compris, de notre possession de points stratégiques dépendra le type de renforts que l'on pourra se faire parachuter. S'il est toujours possible de se faire livrer un half-track, les chars ne seront disponibles qu'à la condition de détenir un dépôt de véhicules. De même, les nids de mitrailleuses passeront au calibre supérieur suite à la prise d'un dépôt d'armes, quant aux frappes aériennes, on ne pourra les employer qu'à la condition d'avoir conquis une antenne radio.

Les duels entre blindés peuvent devenir intenses.
Pour avancer, il s'agit donc de mettre toutes les chances de notre côté en s'équipant le mieux possible puis d'aller d'étapes en étapes afin de prendre les objectifs qui nous sont attribués. Pour ce faire, nul n'est besoin de tactiques vraiment élaborées, que le level design et la relative linéarité de la progression ne permettent pas de toutes façons. La rapidité d'exécution sera plus utile. On s'empressera donc de déposer quelques armes fixes afin de nous offrir une couverture et de faire tomber une première ligne de défense en anéantissant les blindés et l'infanterie à portée, pendant que vous et vos compagnons pouvez foncer comme des brutes pour finir le travail. Souvent, il faudra renouveler la dépose d'armement et ainsi s'approcher à tâtons de l'objectif final, pas-à-pas, en grappillant quelques mètres à chaque fois. Vous et vos hommes continuant de harceler tout ce qui passe près de vous, y compris les blindés puisqu'il est tout à fait possible d'en dégommer un seul, via les bombes adhésives par exemple. Sans parler, bien évidemment, de l'usage des véhicules.

On appelle ça une tuile.
Ceci étant, même si la plupart du temps on vous demandera d'attaquer, il ne sera pas rare d'avoir à défendre une zone, tâche qui pourra parfois s'avérer ardue. Mais dans tous les cas, malgré un gameplay particulièrement peu délicat, clairement orienté arcade, il vous sera nécessaire de garder un oeil sur le matériel, si les hommes qui manient vos défenses se font descendre, il faudra penser à les faire remplacer, de même si c'est carrément l'engin qui est détruit. Sans cette surveillance, on se laisserait facilement déborder par des allemands qui, au fil des niveaux, deviennent de plus en plus audacieux, offrant un challenge parfois corsé. Sachez que, de façon classique, ce qui manque en intelligence est une fois de plus compensé en agressivité.

Les cut scenes sont très inégales, notez déjà le contraste entre le héros et cette résistante française.
Un peu déroutant au démarrage, The Outfit n'en n'est pas moins attrayant et tout à fait divertissant. D'autant que la réalisation laisse la part belle à une physique autorisant une destruction massive des décors pouvant même être utile (en supprimant un pont, on coupe l'accès aux renforts ennemis). Toutefois, quelques bémols sont à déplorer. Ainsi, on peut regretter la puissance ridicule des véhicules face à l'infanterie avec des engins dont les mitrailleuses font à peine plus de mal que celles que vous utilisez au sol. Mais le plus gros reproche adressé au titre concerne surtout son manque de variété. Qu'importent les objectifs, il faut bien avouer que le déroulement d'une mission varie fort peu du schéma de base. On applique la méthode expliquée plus haut, à laquelle il faut ajouter des morts relativement fréquentes qui vous renvoient au point de respawn disponible le plus proche. Un point dont il faudra revenir pour constater que les ennemis ont fait une avancée significative et que certains efforts devront de nouveau être fournis une seconde, une troisième voire une quatrième fois. Tout ceci devant être répété pour chaque objectif de la mission. Une redondance un peu trop rituelle qui peut très facilement devenir lassante et qui aura tendance à nous faire quitter le jeu pour n'y revenir qu'après avoir pu se vider la tête. Ce manque de diversité reste le principal défaut du jeu qui, par ailleurs, sait se montrer intéressant, même si le qualificatif de "tactique" que lui colle le marketing est largement abusif. Disons que nous faisons face à un jeu d'action amélioré.
Tout à fait sympathique quoique lassant en solo, The Outfit compte évidemment sur le multijoueur accessible sur Xbox Live mais également en mode splitté dans lequel on trouvera un mode coopératif ou un versus, tous deux fort adaptés au gameplay. L'inconnue restant la qualité des modes onlines, impossibles à tester à l'heure où ces lignes sont écrites. Gageons en tout cas qu'à lui seul, le mode en écran splitté suffira à compenser les quelques déficiences d'une campagne solo parfois un peu frustrante.