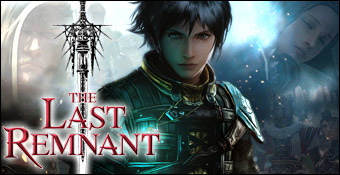 En général, la seule évocation du nom de Square Enix suffit à réveiller la passion au fond des petits cœurs des amateurs de RPG japonais. Quand les fondateurs de séries aussi prestigieuses que les Dragon Quest ou les Final Fantasy se réunissent au sein de la même société, on est en effet en droit de s'attendre à des jeux d'exception. Dans ce contexte, les espoirs les plus fous étaient permis au sujet de The Last Remnant. La firme japonaise semblait d'ailleurs elle-même réellement compter sur ce titre en organisant une sortie mondiale simultanée et une localisation dans la plupart des langues. Malheureusement, il faut bien reconnaître que le petit dernier de Square Enix n'est pas à la hauteur de nos attentes. La première surprise concerne le manque de finition technique du titre : lorsque vous débarquez dans un décor par exemple, il faut toujours attendre un bon moment pour que les textures s'affichent correctement. Certes, on a déjà rencontré ce type de défaut dans des jeux exploitant mal l'Unreal Engine 3, mais les textures mettent tout de même généralement moins de temps à apparaître. De la même façon, on remarque de gros ralentissements lors des combats, le seul moyen de rendre l'action plus fluide est d'installer le jeu sur votre disque dur. Vous l'aurez compris, on ne peut pas s'empêcher de penser que Square Enix s'est un peu précipité pour sortir le jeu avant Noël, mais en attendant d'éventuels patchs correctifs, mettons un instant de côté ces défauts techniques pour partir à la recherche des fameuses Rémanences.

Les cinématiques sont parfois somptueuses.
Rush Sykes coulait des jours heureux sur une île à l'écart du tumulte du monde, mais son existence est bouleversée lorsque sa jeune sœur se fait enlever. En partant à sa recherche, il ne tarde pas à se retrouver malgré lui au plein milieu d'un champ de bataille. C'est ainsi qu'il fait la rencontre de David Nassau, le duc de la ville d'Athlum, qui décide de le prendre sous son aile. Il devient rapidement évident que les deux hommes ont des intérêts communs : le kidnapping n'est pas totalement étranger aux conflits et aux intrigues politiques qui secouent le monde. Cet enlèvement est manifestement lié aux recherches que les parents de Rush effectuent sur les Rémanences. Ces puissants artefacts magiques assurent l'équilibre des forces : chaque ville dispose ainsi d'une puissante Rémanence pour assurer sa protection. Ce pouvoir a toutefois un sérieux revers puisque quiconque veut en profiter, doit commencer par passer un pacte qui consumera petit à petit sa vie. Les choses se corsent lorsque apparaît un puissant guerrier capable de se lier aux Rémanences les plus puissantes... Combats épiques, intrigues politiques alambiquées et enlèvement de jeune fille, si le scénario de The Last Remnant ne brille pas par son originalité, il apporte une base solide au déroulement de l'aventure. Malheureusement cette trame n'est pas toujours bien servie par les cinématiques : certaines d'entre elles sont certes somptueuses et bien mises en scène, mais la plupart du temps, il faudra vous contenter de longs dialogues qui manquent cruellement de rythme.

Le désert c'est beau, mais un peu vide.
Si vous décidez tout de même de partir pour l'aventure, vous serez étonné de constater la ressemblance entre l'ambiance de The Last Remnant et celle de Final Fantasy XII. Cet air de famille se fait surtout sentir lorsque vous déambulez dans les citées : celles-ci sont divisées en quartiers et peuplées d'individus de quatre espèces différentes. Mais à comparer les deux jeux, on se rend bien vite compte que les ruelles de The Last Remnant paraissent moins vivantes que celles de son aîné et que les quartiers sont de taille beaucoup plus modeste. Plus étonnant, il faut forcément passer par la carte de la ville pour passer d'un lieu à l'autre. Dans le même esprit, les déplacements sur la carte du monde se font automatiquement d'un endroit à l'autre à la façon d'un Lost Odyssey. Vous pouvez ainsi voyager directement d'une auberge vers une sombre grotte ou vers des ruines oubliées. Une fois sur place, vous ne tardez pas à apercevoir les monstres qui occupent le lieu. Une bulle au-dessus de leur tête vous indique leurs intentions : ils peuvent ainsi être effrayés, combatifs ou même enragés. Dans ce dernier cas, il y a de grandes chances qu'ils vous suivent partout pour chercher à vous agresser.

Les villes ont un petit air de FF XII.
Pour éviter le combat, vous pouvez toujours faire appel à votre pouvoir de Dyschronie qui ralentit le temps pour un moment donné. Si vous vous sentez prêt à affronter le monstre en question, vous pouvez engager le combat en actionnant la gâchette droite. Vous créez alors un cercle et vous engagez le fer avec tous les monstres situés dans cet espace. Ce système rappelle ce que l'on a pu voir avec les cercles de rencontre de Blue Dragon, mais n'espérez pas pour autant jouer sur l'animosité entre les différents monstres dans The Last Remnant. Il y a tout de même un intérêt à lancer un combat contre plusieurs ennemis à la fois puisque vous augmentez ainsi vos chances de mettre la main sur des ressources intéressantes. Il est aussi avantageux de déclencher l'affrontement avant que le monstre ne vous agresse : en dehors des bonus de moral que vous donne cette situation, vous avez beaucoup plus de chance de faire évoluer vos guerriers si vous enchaînez les combats sans vous faire surprendre. Vous pouvez ainsi former des Kyrielles impressionnantes en massacrant tour à tour des centaines de créatures.

Vous pouvez gérer la formation d'attaque de chaque union.
Pour l'instant l'originalité de The Last Remnant ne vous semble pas flagrante ? C'est tout simplement que nous n'avons pas encore abordé le système de combat à proprement parler. En effet, vous avez beau déambuler seul dans les couloirs d'un dongeon, vous avez toujours une petite armée qui vous accompagne. Lors des affrontements, vous ne dirigez pas les personnages, mais de petits groupes appelés "unions". Vous pourrez ainsi constituer jusqu'à cinq unions comportant chacune cinq combattants maximum. N'espérez pas pour autant débuter le jeu avec autant de troupes sous vos ordres, le nombre de soldat et de chef de groupe que vous pouvez recruter augmente au fur et à mesure de votre progression. Concrètement il vous faut choisir un leader et une formation pour chacune de vos unités. Les combattants d'un même groupe mettent en commun leurs points d'action et leurs points de vie. Il vous faut donc bien réfléchir avant de constituer ces unions afin qu'elles soient le plus équilibrées possible.

Vous donnez des ordres à vos combattants union par union.
En effet chaque unité développe des compétences qui lui sont propres. En fonction des ordres qui sont donnés à son union, elle aura ainsi l'occasion de développer différents arts : les arts du combats sont des techniques martiales plus ou moins élaborées, les arts mystiques regroupent les magies d'attaque, de soin ou de soutien, et les arts des objets permettent de bricoler des décoctions ou des potions pour donner un coup de pouce à ses compagnons d'arme. Si les arts du combat et les arts mystiques consomment des PA, ce n'est pas le cas des arts des objets. Dans des conditions bien spécifiques, certaines de vos unités pourront aussi faire appel à des arts uniques, il s'agit généralement d'une Rémanence qui peut se traduire par un coup exceptionnellement puissant, une invocation, ou un sort défensif. Cette richesse apparente sonne comme une promesse de combats épiques et stratégiques mais dans les faits toutes ces bonnes idées sont gâchées par le fait qu'il soit impossible de réellement paramétrer les actions de ses unions.
La Dyschronie permet de ralentir le temps.
Lorsque l'on engage un combat et au début de chaque nouveau tour, on commence par donner les directives à chacune de ses unions. Les ordres se veulent plutôt réalistes, vous allez demander à un groupe de "donner tout ce qu'ils ont", à un autre de "sauver leurs compagnons à tout prix"... Il est heureusement possible de voir quelles sont les actions qui se cachent derrière ces formules : "pensez à vos PV" revient par exemple à demander à une unité de soigner les membres de l'union tandis que les autres vont au combat. Le problème vient du fait que vous avez beau avoir réuni les unités qui composent une union en pensant à des stratégies bien particulières, vous n'êtes en aucun cas assuré que le jeu vous propose ces actions précises dans le feu de l'action. On reste aussi tributaire du bon vouloir de la console pour ce qui est de l'ordre dans lequel les différents combattants vont porter leurs attaques. Ce type de détail est particulièrement frustrant quand on considère les arts uniques. Non seulement il y a peu de chance que vous ayez la possibilité d'utiliser ces coups spéciaux dans un combat, il arrive aussi souvent que l'un de vos compagnons achève l'adversaire alors qu'un autre était sur le point de vous en mettre plein la vue avec une attaque impressionnante. Le manque de contrôle sur la situation est aussi agaçant lorsque l'on cherche à soigner des alliés. Pour peu que plusieurs unions aient engagé le combat contre un même ennemi, vous êtes incapable de choisir à qui vous souhaitez apporter de l'aide en priorité. Il est étonnant de voir que Square Enix ne laisse pas davantage de liberté à ses joueurs quand on se souvient du système de Gambits qui permettait de gérer les actions de son équipe dans FF XII.

Les actions contextuelles vous empêchent de vous endormir lors des interminables combats.
Pour ne rien arranger, vous ne manquerez pas de trouver les combats plutôt confus au premier coup d'œil. Une fois que vous avez donné vos ordres et que les troupes se lancent les unes vers les autres, il n'est pas toujours aisé d'y comprendre quoi que ce soit. En effet, au moment de choisir les actions vous disposez encore d'une mini-map au coin de l'écran qui vous permet de situer les unions les unes par rapport aux autres, mais une fois que la mêlée commence, vous pouvez très bien voir disparaître une unité du champ de bataille alors qu'elle est sensée être dans les environs. Ne vous inquiétez pas, elle refera son apparition quand ce sera son tour de jouer. Pour essayer de retenir votre attention lors de ces phases confuses, Square Enix a injecté des actions contextuelles au beau milieu des combats. Lorsque l'un de vos combattants porte un coup, vous avez ainsi une "occasion rêvée" pour qu'il accomplisse une attaque critique et pour que la prochaine unité agisse avant les ennemis. Si vous vous défendez, vous aurez ainsi l'occasion de riposter. Ces QTE sont plutôt déconcertantes lors des premiers combats mais on finit tant bien que mal à se prendre au jeu. Ceux qui sont totalement réfractaires à ce système peuvent toujours le désactiver et compter uniquement sur leur chance lors des occasions rêvées, mais vu la longueur des combats, ils risquent fort de s'endormir devant leur console.

Les caractéristiques augmentent parfois à la fin des combats.
On pourrait encore dire beaucoup du système de combat, notamment signaler la présence d'une jauge de moral qui influe sur les performances des deux camps à la manière d'un Dynasty Warriors, mais il ne faut pas oublier que l'originalité de The Last Remnant tient aussi à son approche de l'évolution des combattants. Il n'est pas question ici d'amasser les points d'expérience pour augmenter le niveau de ses personnages : tout ceci reste caché dans les tréfonds de la machine et vous ne verrez que leurs caractéristiques augmenter légèrement au fil des combats. Si vous avez vraiment besoin de chiffrer votre progression dans le jeu, vous pouvez toujours vous reporter à votre "grade de combat" à la fin de chaque affrontement. Plus vous massacrez de monstres au cours du jeu, plus celui-ci augmente. Vous avez beau revenir dans les mêmes lieux, vous ne ferez pas les mêmes rencontres que votre grade de combat soit faible ou élevé. Sachez enfin que la progression des caractéristiques et des arts de vos personnages dépendent aussi de leurs équipements, il est donc primordial de choisir ses armes avec soin.

Les compétences de Joe-la-fouille augmentent au fil des récoltes.
On arrive là à l'un des points forts de The Last Remnant : la personnalisation de l'équipement. Une fois que vous avez vaincu un monstre, vous pouvez naturellement récupérer son butin, mais il est aussi possible de démembrer son cadavre pour avoir accès à davantage de ressources. Une dépouille entière vous rapportera plus d'argent, mais certains éléments vous permettront d'améliorer votre équipement en vous rendant dans une boutique d'optimisation. Ce type de fonctionnalité n'est pas une grande nouveauté, on se souvient par exemple qu'il pouvait prendre une place importante dans un RPG comme Tales of Symphonia. Mais dans The Last Remnant il est associé à un système de récolte qui rappelle un peu celui d'Infinite Undiscovery. Lorsque vous trouvez des matières premières, il vous suffit de demander à une petite bestiole, Joe-la-fouille, de vous les récupérer. En conclusion The Last Remnant n'est certainement pas le hit que tous les amateurs de RPG japonais attendaient, il manque certes un peu d'originalité et ses combats sans fin en lasseront plus d'un, mais les joueurs les plus patients trouveront peut-être là de quoi s'occuper en attendant le prochain Star Ocean.