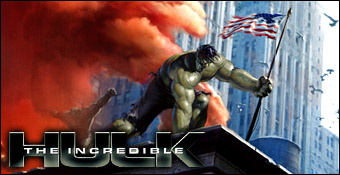 Comme beaucoup de super-héros en vogue dans les années 60, Hulk sort tout droit de l"imagination fertile de Stan Lee et Jack Kirby. Clairement inspirée des mésaventures du Docteur Jekyll, l'histoire de Hulk a été largement diffusée dans le monde entier grâce au succès phénoménal des Marvel Comics. Elle raconte comment, suite à une expérience ratée, le timide Bruce Banner se métamorphose en brute sanguinaire chaque fois qu'il est exposé au stress ou à la colère. Ce n'est pas la première fois que ce géant vert, précurseur de la mode grunge, fait une apparition sur consoles. En 2005 en effet, Ultimate Destruction PS2 avait déjà été favorablement accueilli par la critique et les fans de Marvel. Mais ces derniers risquent fort de déchanter en s'essayant à cette version next-gen tout simplement bâclée. Dès les premières minutes, on se rend compte que les développeurs ont manqué de temps. Les graphismes sont tellement pathétiques qu'on se surprend à vérifier le DVD pour s'assurer qu'on a bien affaire à un soft Xbox 360. La modélisation des personnages est grossière, les textures sont dégoûtantes et l'environnement urbain est à hurler de rire (ou de désespoir). Hulk marche comme un robot. Les ennemis sont moches. On ne peut pas faire trois pas sans observer un bug d'affichage ni effectuer un saut sans que la caméra se place n'importe comment. Bref, la réalisation est atroce et il se trouve que le gameplay est loin de rattraper le coup.

On peut tout détruire sur son passage.
Mix improbable entre Spiderman et Rampage, The Incredible Hulk combine voltige aérienne et destruction de masse. Hulk est en effet aussi agile que puissant. S'il peut projeter des voitures, arracher des arbres ou briser des édifices entiers, notre colosse peut également grimper aux gratte-ciel, rebondir sur les toits, sauter à des hauteurs vertigineuses et même voler le temps d'un coup de poing ou deux. Il évolue dans un New York piètrement reproduit mais entièrement ouvert. Les premiers instants, on peut se laisser griser par la sensation de liberté et la possibilité qui nous est offerte de tout détruire sur notre passage. On déambule dans les rues à la recherche de power-up (plus de 200), soulevant un 33 tonnes par ci, écrasant une baraque à frites par là. On regarde les passants fuir en hurlant... C'est assez jouissif, il faut bien le reconnaître. Ils ont beau faire appel à l'armée à mesure que la jauge de menace monte, rien ne freine notre soif de destruction. Pourtant, on finit toute de même par se lasser au bout d'une heure ou deux. La variété des décors n'est pas au rendez-vous et les mouvements restent également trop limités. En ce qui concerne les acrobaties, en revanche, c'est le calvaire immédiat. Les sauts de Hulk sont tellement imprécis qu'il s'avère particulièrement pénible à diriger correctement dans les airs. Les enchaînements de coups-de-poings par ailleurs ont vite fait de nous faire chuter d'un toit. Et ce n'est pas tout : la caméra fait aussi des siennes ! Hulk disparaît régulièrement de l'écran de sorte que le joueur doit en permanence rectifier son champ de vision. Quand on a enfin atteint le sommet d'un immeuble après une laborieuse ascension et qu'on s'écrase lamentablement 200 mètres plus bas à cause du manque d'ergonomie ou de la caméra capricieuse, c'est la crise de nerfs assurée. D'autant que certaines missions sont chronométrées...

Les cinématiques qui illustrent le scénario sont pathétiques.
Il faut dire qu'une fois qu'on s'est défoulé en suivant d'un oeil complaisant le carnage aveugle de votre avatar colérique, on doit relever les défis nécessaires au bon déroulement de l'histoire. Souvent, ils consistent à affronter une horde d'adversaires ou à jouer les gardes du corps en protégeant coûte que coûte un allié. On les sélectionne librement en s'approchant d'icônes disséminées un peu partout en ville. Simple mais efficace, un système de bonus permet d'améliorer les capacités de L'Incroyable Hulk. En détruisant un certain nombre d' immeubles, en projetant des adversaires ou en écrasant des voitures, on gagne donc de nouveaux pouvoirs tels que le saut chargé ou le bouclier. Une jauge de rage permet de déclencher des attaques extrêmement dévastatrices mais aussi de se soigner entièrement, ce qui a l'inconvénient de ruiner la difficulté, déjà quasi-inexistante du soft si l'on excepte les soucis de prise en main. En fait, la seule menace réelle vient des bugs que l'on rencontre à tour de bras. Certains étant fatals, comme nous en avons fait la douloureuse expérience, il vaudra mieux s'assurer que le système de sauvegarde automatique est bien activé. Au final, The Incredible Hulk est bien un jeu à licence dans le sens péjoratif du terme : simpliste, moche et creux. Si l'équipe de développement avait eu le temps de peaufiner la réalisation de son produit, elle aurait pu éventuellement en faire quelque chose mais en l'état, The Incredible Hulk ne mérite pas qu'on s'y attarde.