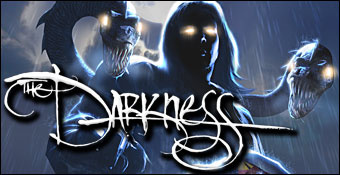 Autant le dire immédiatement histoire de ne pas s'encombrer plus tard, The Darkness emprunte beaucoup de bonnes et de mauvaises choses au premier titre de Starbreeze, Chronicles Of Riddick, à commencer par son moteur 3D qui n'a d'ailleurs pas changé des masses depuis 2004. On est pourtant loin ici des aventures du prisonnier asocial, The Darkness contant l'histoire de Jackie Estacado, un mafieux de 21 ans dont le propre oncle souhaite la mort et qui va découvrir la malédiction d'être l'un des hôtes du Darkness, un esprit maléfique qui ne tardera pas à se manifester en le dotant de pouvoirs à la fois étonnants mais aussi franchement dégouttants par moments. Avec le soutien de cette entité, Jackie se prépare à régler ses comptes avec son oncle. Démon et combats de gangsters, une drôle de sauce qui prend parfaitement. La manifestation des pouvoirs du Darkness exige qu'on le laisse apparaître en libérant les sortes de tentacules à grandes bouches dont il parera le héros. Des tentacules fort utiles que l'on pourra envoyer ramper le long du sol ou des murs afin de liquider furtivement ses ennemis, même s'ils se trouvent dans d'autres pièces inaccessibles, soulever des objets ou pour fouetter les sources lumineuses. Des excroissances également capables de générer un trou noir qui fera virevolter tout ce qui passe dans son champ d'action. De quoi s'amuser un brin en somme. A la condition expresse que l'on reste terré dans l'obscurité.

Lors des premiers combats, il est facile de se débarrasser des ennemis avec ce pouvoir.
Le Darkness tire en effet sa force de l'ombre dont il se nourrit. Tirer sur les sources de lumière ou les détruire à l'aide de son tentacule sera indispensable pour conserver de l'énergie ou éviter d'en perdre en exposant la bête à la lumière. Une autre méthode d'alimentation existe cependant, la dégustation du coeur de ses victimes qui donne parfois lieu à une véritable dispute entre les deux bestioles tentant de s'arracher le morceau l'une à l'autre. S'il est évident que les armes classiques sont de la partie, il est indubitable que sans ces pouvoirs, The Darkness n'aurait guère de quoi sortir de l'ordinaire en termes de gameplay. Il faut l'avouer, débarquer dans une salle et lancer un trou noir pour en vider une partie pendant que l'on fouette l'air en quête de quelque chose à dégommer, ça le fait, si je puis me permettre. De plus, le Darkness n'est pas qu'une arme, c'est également un compagnon, indésirable certes mais qui n'hésite pas à nous parler de sa voix d'outre-tombe, à faire entendre son souffle rauque ou son mécontentement par moult grognements et râles. Il ne sera cependant pas votre seul compagnon de route et vous devrez compter avec les Darklings, 4 espèces de créatures à mi-chemin entre le troll et le gremlins que vous pourrez invoquer en vous tenant près d'une "source" adéquate, chacun possédant sa spécialité. Le Massacreur est adepte de la machette, le Kamizake est du genre explosif, le Tueur de Lumière se charge d'obscurcir les lieux à votre place et enfin, le Mitrailleur, avec ses airs de général américain, cigare à la bouche, pressé de "liquider du communiste", joue de la gatling. Lutins facétieux mais terriblement malfaisants, ils se feront une joie de partir en éclaireur ou d'intervenir dans de mini-puzzles assez anodins. Le tout en nous livrant leurs plus belles répliques et attitudes idiotes, parfois drôles, parfois pas, mais souvent osées, en particulier lorsqu'ils se soulagent sur ce qui reste de vos adversaires.

Dis donc monsieur Diesel, on se sert de son studio pour faire des clins d'oeil maintenant ?
Face à une telle débauche de moyens, on prendrait aisément The Darkness pour un gros jeu d'action non-stop, la vérité est tout autre et sa progression alterne phases d'action et temps morts. Au milieu du modèle réduit de New York qui fait office de décor se trouve un point central, le métro, lieu où se passeront nombre de vos rencontres et où débuteront de fait la plupart de vos missions. C'est également par ce point que vous rejoindrez les multiples quartiers de la ville, un noeud de connexion en somme. The Darkness comprend ainsi de longues phases de marche à pied dans les rues sombres et des séquences de dialogue parfois inspirées, parfois moins, mais en tout cas toujours parfaitement doublées (en V.O.). Ces promenades nocturnes vous donneront de plus le loisir de vous adonner aux quêtes secondaires du jeu, des missions malheureusement aussi courtes que peu intéressantes (va buter machin, va voir truc), bref, inutiles au bas mot et semblant témoigner d'un manque de finition du titre. Côté parlotte, il ne s'agit pas simplement de discuter pour savoir que faire et où, on pourra en début de partie prendre le temps de s'allonger devant la télé avec sa petite amie ou plus tard taper la causette avec sa vieille tante Sarah. Des phases très lentes qui servent à poser une ambiance, à nouer des liens pour mieux les briser ensuite, en particulier dans le cas de la fiancée.

Oui ben t'es gentil Darky, mais j'ai pas l'intention de marcher.
Car The Darkness accroche certes par son gameplay "tentaculaire" mais également en grosse partie par son atmosphère lourde et pesante qui va du fameux râle permanent du Darkness à quelques revirements de scénario, de mise en scène, ou d'approche esthétique. Difficile de trop en dire sans en venir à spoiler des points importants, mais le titre, malgré un scénario finalement assez convenu, sait réserver quelques surprises, comme la visite de l'Autre Monde, vision infernale d'une Première Guerre mondiale qui ne prend jamais fin ou du devenir de certains personnages qui ratent le happy end. Les loadings discrets et rapides (mais un peu fréquents) ayant de plus tendance à aider le joueur à ne pas décrocher de son immersion. En fait, malgré les défauts que nous verrons plus tard, The Darkness est un titre dans lequel on arrive à rester 6 heures de rang avant de le lâcher simplement parce qu'on doit penser à aller faire ses courses.

Les Darklings peuvent être invoqués près de portails spéciaux.
The Darkness aurait pu être un grand jeu, seulement ce n'est pas le cas parce qu'un tas de défauts viennent le miner. Éventuellement, certains se lasseront peut-être d'avoir à éliminer les sources de lumière de façon quasi systématique mais c'est là un point de gameplay alors on commencera la liste par un problème de rythme, le jeu s'engluant parfois dans d'inutiles temps morts et surtout dans une action qui tarde un peu trop à vraiment monter en puissance. Les premières heures de jeu ont tendance à mal alterner des séquences d'action un peu trop similaires au cours desquelles l'usage du tentacule rampant rend les choses bien trop simples. Il faut attendre pas loin de 5 ou 6 heures avant de voir débarquer les vrais grands moments du jeu, ceux où le cumul des pouvoirs devient réellement indispensable et jouissif. Quant au fameux passage dans l'Autre Monde, pour intéressant qu'il soit sur le plan dramatique, en termes de gameplay, c'est une errance longue et obscure au milieu d'une plaine dénuée de repères, comparable pour certains à la séquence labyrinthique de Max Payne. Ils n'ont pas tort. D'une manière générale, il manque toujours un petit quelque chose à l'action : l'efficacité des armes classiques. Peu nombreuses, elles sont de toute façon toutes supplantées par les deux pistolets de base ! Les autres seront soit trop peu puissantes, soit de trop courte portée. Un autre grief portera sur le contrôle du tentacule lors de sa reptation, une excroissance qui n'est pas capable de surmonter certains obstacles, y compris les cadavres de ses victimes qu'il faut péniblement contourner. De plus, trop souvent, le contrôle approximatif vous fera aller dans une direction opposée à celle que vous visez, sans parler des subits changements d'orientation verticaux ou horizontaux aussi déstabilisants qu'agaçants.

Un bref coup d'oeil sur l'enfer créé par le Darkness.
Une liste d'écueils qui va encore s'enrichir de gros reproches adressés à l'intelligence artificielle clairement pas à la hauteur des attentes actuelles. Les ennemis fonctionnent sur un mode dépassé, couverture/tir bien trop simple à appréhender et les rares morts qui peuvent se produire lors d'un gunfight sont souvent causées par une tentative manquée pour le joueur de changer de couverture, morts assez fréquentes tant qu'on ne s'est pas habitué à la relative lenteur de déplacement du héros. Mais leur manque de réactivité en combat n'est pas leur seule tare. En dehors de rares "it's not human", personne ne semble vraiment remarquer être en train de se fritter avec un type qui a deux bras démoniaques dégoulinant de bave qui lui sortent du dos. Un sacré couac dans une partition narrative pourtant bien huilée. Ce manque de cohérence touchera également les rues de la ville, désespérément désertes à l'exception d'un ou deux personnages servant la progression. Pour rester sur l'IA, on mentionnera que celle-ci pèche également chez les Darklings qui se comportent parfois de façon aveugle, le Massacreur perdant son temps à s'acharner inutilement sur des corps sans vie pendant que le Tueur de Lumière met tellement de temps à dégommer trois ampoules qu'on en vient à finir le boulot à sa place. Une fois qu'on a fait le calcul, on réalise que The Darkness nous fait passer du chaud au froid, du très bon, au trop plat, une progression saccadée parfois crispante.

En dehors des combats, les rues sont horriblement désertes.
Techniquement, là encore on se farcit le syndrôme dents de scie. Entendons-nous bien, The Darkness est beau, mais si le moteur de Riddick nous a peut-être soufflés en 2004, il se tient aujourd'hui simplement dans une moyenne correcte. La gestion des collisions (voir les tentacules plus haut) est pataude, la physique passablement primaire de même que les animations faciales puisque c'est à peine si les personnages bougent les lèvres pendant les cut-scenes. Fort heureusement, l'excellente direction artistique du jeu compense cet aspect un poil daté. Et c'est un peu toute l'histoire de The Darkness finalement, de très bonnes choses venant compenser des défauts qui sonnent comme des erreurs de jeunesse. Starbreeze commence pourtant à prendre de la bouteille.