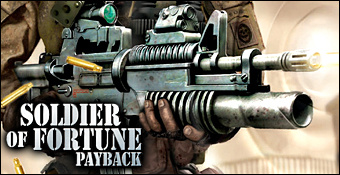 Pour une raison qu'on ne comprend pas très bien, Activision a eu l'idée saugrenue de ressortir SoF du placard pour confier le projet à un studio réputé pour la médiocrité de ses oeuvres (Cauldron), en lui allouant un budget et un temps de développement très courts. Inévitablement, il ne fallait pas s'attendre à ce que ce Payback soit à la hauteur des réalisations de Raven qui a su créer un petit mythe avec les deux volets originaux. Ce n'est d'ailleurs pas un hasard si, alors que le jeu est supposé sortir en février, Activision ferme les yeux sur le fait que certaines boutiques le vendent déjà. C'est idéal quand on veut écouler ses stocks avant l'arrivée des tests.

Je vais essayer de t'expliquer lentement : vise au-dessus du rebord, sinon boum dans ta tête.
Dans Payback, oubliez John Mullins, le personnage inspiré d'un véritable mercenaire qui servait de héros à la série. Aujourd'hui, on doit composer avec un certain Mason, un mercenaire qui s'est fait doubler au cours d'une opération et qui compte bien remettre les compteurs à zéro, tout en acceptant un gros contrat de lutte antiterroriste. Sans surprise, le jeu surfe sur l'actualité avec une maladresse qui ferait presque de la peine, quand elle n'agace pas simplement par sa tendance à mettre en scène les méchants de l'Axe Du Mal débiter une série de lieux communs aux Grand Héros américain. Voilà donc notre mercenaire parti explorer le globe en liquidant tout ce qui court et qui porte du tissu sur la tête. Fort heureusement, Mason est bien équipé. S'efforçant de grappiller quelques liens de parenté avec les Soldier Of Fortune de Raven, Payback propose avant chaque mission de choisir son équipement parmi une liste de flingues qui va croissante et qui regroupe des armes modélisées à partir des originales. Du moins pour la forme parce que côté comportement, disons que les cracheurs de plombs les plus puissants ont autant de recul qu'un pistolet à billes.

Il est possible de customiser vos armes. Ca ne sert pas à grand-chose en vérite.
En dépit de niveaux qui peuvent paraître vastes, Soldier Of Fortune Payback est terriblement linéaire et n'offre que des environnements bien creux. En traversant un village, vous pourrez certes dévier de la route principale pour explorer une petite allée ou même entrer dans une maison, mais vous n'y trouverez rien, pas même en visitant la seule et minuscule pièce de ladite maison. Autant rester sur les rails donc et fracasser les lapins qui tentent de nous mordre. Oui, fatalement, ça n'étonnera personne, l'intelligence artificielle est loin d'être le point fort du jeu de Cauldron. Les terroristes que vous aurez à affronter au long des niveaux sont, comment dire, assez primaires. Comprenez par là qu'ils foncent vers vous en hurlant et que, parfois, ils sont si pleins d'enthousiasme qu'ils continuent à courir même une fois qu'ils vous ont dépassé. C'est très rigolo à voir. Le summum reste néanmoins le comportement des ennemis postés sur une mitrailleuse fixe. Les bras ballants, ils regardent dans le vague pendant que l'arme balance toute seule des rafales régulières droit devant. Pour que vous compreniez bien, il faut savoir qu'on peut s'approcher à quelques mètres du nid, à partir du moment où on le fait de biais, avant que le gus derrière n'ait l'idée de bouger. Il n'est pas utile je pense d'en dire plus sur la question ?

C'est moi ou SoF 2 faisait tout aussi bien ? En 2002
Enfin, quoique, ce serait faire l'impasse sur les espèces de boss que l'on rencontre régulièrement. Ces cibles principales sont de simples ennemis lambda à qui on a collé une résistance surhumaine aux dégâts. C'est-à-dire que l'on comptera environ 3 chargeurs dans le buffet pour en venir à bout. C'est vraiment très enrichissant comme exercice et soyez assuré que vous en ressortirez épanoui comme une petite fleur. Là encore, on vit de grandes expériences. Par exemple, que penser de ce « boss » planté dans un blindé, un lance-roquettes à la main qui n'arrive pas à envoyer ses têtes explosives ailleurs que dans le rebord du blindé, soit juste sous son nez ? Un autre pour sa part n'arrivait plus à faire feu sans lourder ses roquettes sur la rambarde du pont depuis lequel il canardait, sous son nez donc une fois encore. Etrange leitmotiv ludico-nasal, chacun en conviendra. Ne reste au joueur qu'à patiemment tirer sur l'adversaire bloqué, 1 chargeur, 2 chargeurs, 3 chargeurs, et zou.

Oh, un pasage dans une grotte, on voit pas ça tous les jours.
Linéaire et sans IA, Payback est donc affreusement facile et dénué d'intérêt. Certes, il arrivera que l'on meure, mais le plus souvent, c'est parce que de nos jours, on a un peu perdu l'habitude de voir des types apparaître dans notre dos au milieu d'une zone que l'on vient de soigneusement nettoyer. Zone dont on aura de plus éprouvé la pauvreté du level-design. Il reste pourtant un point de détail qui n'a pas été mentionné. Soldier Of Fortune s'est fait connaître pour diverses raisons, l'une d'elles, si ce n'est la principale, était sa gestion des points d'impacts qui rendait le jeu particulièrement gore. On retrouve ici cet aspect. Effectivement, si vous tirez sur une épaule, vous avez toutes les chances d'emporter le bras avec. Voilà, voilà, voilà, preuve est faite qu'une dose minimale de gore ne suffit pas à faire un jeu, tout juste un mauvais clone de ce qu'était SoF en 2000. Belle performance de Cauldron qui prouve que son pédigrée de qualité ne ment pas et d'Activision qui a flingué une licence pourtant porteuse en lui collant une image de surbouse auprès des joueurs qui n'ont pas connu l'époque où elle brillait.