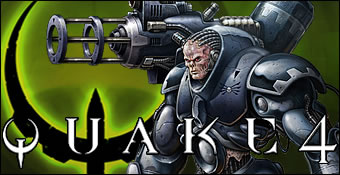 "C'est Doom Of Duty, non ?" C'est à peu près ce que je me suis dit la première fois que j'ai vu tourner Quake 4 à l'E3. Un sentiment qui ne m'a jamais vraiment quitté. Se déroulant à la suite des événements de Quake 2, le quatrième volet de cette série au scénario peu constant vous place dans les charentaises spatiales du space marine Kane, jeune recrue partie combattre la menace Strogg sur leur bien nommée planète : Stroggos (tada !). Puisque Activison a sciemment et massivement pourri le seul retournement scénaristique du jeu, je peux déjà vous expliquer qu'après environ 3 heures de pratique vous aurez la joie d'assister à votre propre transformation en Strogg. Une séquence particulièrement amusante bien qu'un tantinet gore au terme de laquelle le jeune héros se verra partiellement stroggifié. Comprenez qu'on lui ôtera quelques parties organiques de son petit corps musculeux pour les remplacer par des substituts mécaniques graisseux et surtout d'une atroce couleur orange, ce qui, entre nous, est tout de même le plus affreux dans tout ça. Outre l'intérêt dramatique indéniable de la scène, la chose a également pour avantage de vous offrir l'accès à certaines technologies des Stroggs, essentiellement leurs terminaux de contrôle, ce qui vous donnera la possibilité d'ouvrir des portes jusque-là verrouillées. Et ça tombe bien, parce que Quake 4, c'est avant tout une grande histoire de portes, et de couloirs aussi un peu. Beaucoup en fait.

Les explosions sont impressionantes et maisse admirer la gestion des particules.
Inutile de chercher, Quake 4 est ce qui se fait de plus classique dans le genre, un titre parfaitement linéaire ponctué d'objectifs évoluant toutes les 5 minutes et qui sont autant de carottes servant de prétextes gratuits à la progression. Va là-bas, sors d'ici, escorte l'ingénieur, reste en vie, et "où qu'il l'ingénieur ? Tu l'as oublié dans le bidule retourne le chercher imbécile"... Un véritable simulateur d'esclaves qui vous contraindra d'ailleurs à faire quelques allers et retours bien pesants. Tout ça au milieu d'environnements plus variés que ceux de Doom 3 mais tout aussi linéaires. Certes, on trouve quelques séquences en extérieur, mais la claustrophobie reste néanmoins de rigueur avec une succession de couloirs et de portes coulissantes débouchant sur une nouvelle succession de couloirs et de portes coulissantes. Des portes qui parfois, et pour une raison qu'on ne s'explique pas, ne s'ouvrent qu'une fois qu'on a tué tout ce qui est en vie. On se dira alors que si le jeu ne mise pas sur l'usage des neurones, c'est qu'il entend bien assurer le spectacle et l'ambiance, et offrir une action digne de ce nom. Vous avez joué à Doom 3 ? Bien, alors ajoutez quelques soldats alliés qui vous suivent de temps en temps et augmentez le nombre d'ennemis, vous aurez une vision assez proche de ce que peut être Quake 4. Une sorte de Call Of Duty de l'espace qui mise sur une flopée de scripts et de petites scènes fort banales. Car Quake 4 ne nous épargne aucun des poncifs poussifs du genre. Or, si un "poncif poussif" est une belle allitération en "sif", ce n'est pas ce qui se fait de mieux pour mettre un jeu en scène. En dehors de la stroggification, dont le secret est depuis longtemps éventé, on assiste à un étalage de séquences de jeu prévisibles. Trop souvent on se prend à lâcher un soupir, un de ceux qui veulent dire "rah non pas ça... ah ben si ça". Ou bien on peste contre des longueurs, des scènes de parlotte qui durent et s'éternisent, sans parler des traversées de couloirs sombres au bout desquels on sait pertinemment que l'on va se faire allumer. Quake 4 est aussi prévisible que la fin d'un téléfilm romantique du dimanche sur M6. De la part des créateurs du FPS, on attendait mieux.

Observation 1 : le strogg saigne.
Alors il nous faut nous tourner vers l'action qui fort heureusement, quand elle se lance, a le bon goût d'être assez nerveuse et plutôt sympathique pour qui aime le style "rentre dedans". Les Stroggs ne sont certes pas très futés, mais ils sont solides et opposent une résistance coriace. On peut réellement retirer un certain fun dans la fureur qui peut parfois se déchaîner. Mais là encore, rien n'est parfait. Je l'ai dit, des longueurs se glissent souvent entre deux phases de combat, des moments au cours desquels on fonce droit en se disant qu'on finira bien par atteindre la prochaine phase un peu intense. De plus, ici aussi la banalité s'installe, les armes sont classiques, pas très nombreuses et se voient souvent toutes dominées par une mitrailleuse disposant d'une lampe torche incorporée. Oui, dans Quake 4 aussi, il fait tout noir, mais dans Quake 4, les spaces marines ne se fournissent pas chez LIDL, ils ont des lampes sur leur flingues eux. Bref... Alors comme pour éviter de trop ressembler à un jeu standardisé de 1995, id Software et Raven ont eu recours à deux petits artifices visant à donner une pointe d'originalité, deux éléments qu'ils ont puisé dans la mode actuelle, ce qui fait que du coup, ça n'a rien d'original : les équipiers et les véhicules. En ce qui concerne les premiers, n'espérez pas donner des ordres, simplement, fréquemment, vous devrez agir en compagnie des membres de votre escouade. Des boulets la plupart du temps dont la spécialité est de se planter sur votre route et de mettre un temps fou à comprendre qu'ils dérangent. Les véhicules pour leur part sont tout bêtement ratés. Peu maniables et d'un intérêt discutable, certains passages à leur bord ne sont pas sans rappeler les pires moments de l'hydroglisseur d'Half-Life 2, tout un programme.

Quake 2 : le retour !
Si sur PC, Quake 4 profitait d'un moteur 3D au poil, sur Xbox 360, les choses n'en vont pas de même. On réalise rapidement que les textures ont été revues à la baisse, ne se montrant pas à la hauteur des attentes sur une telle console. Mais c'est principalement le frame-rate qui s'avère source de mécontentement avec un taux d'images/seconde pas bien élevé et assez capricieux, n'hésitant pas à chuter dès que l'action commence à s'exciter un peu trop. Les éclairages dynamiques, en revanche, ont su conserver leur qualité. Quant au multijoueur, si l'on pouvait déjà lui reprocher son manque d'originalité sur PC, il faut en plus constater que sur Xbox 360, le nombre de participants a été divisé par deux, passant de 16 à 8. L'intensité se maintient, mais on ne peut que regretter un tel choix. Enfin, les collectionneurs sauront apprécier la présence d'un disque bonus contenant diverses vidéos, dont un making of, et surtout la version complète de Quake 2. Voilà une excellente idée, mais au final on a du mal à se demander si on ne passera pas plus de temps sur Q2 que sur son descendant.