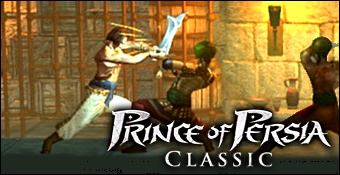 ... Et pourtant c'est ce que nous propose Gameloft. Ah magie du Xbox Live permettant de renouer avec un lointain passé vidéoludique sans lequel nous devrions uniquement nous taper aujourd'hui des 50 Cent Versus Gigi D'Agostino Hyper Blast Alpha 2. Oui mes bons amis, Prince Of Persia a marqué le genre action/plates-formes au même titre qu'un Another World et le retrouver aujourd'hui est comme tourner les pages d'un incunable recélant mille trésors, des secrets nous dévoilant ce qui fait d'un jeu un bon jeu. Pourtant, sur ce point, PoP ne paye pas vraiment de mine. Vous y incarnez un prince qui a une heure pour sauver une pauvre princesse prisonnière au sommet d'un gigantesque palais, fief d'un vizir forcément méchant et répondant, forcément, au nom de Jaffar. Vous allez alors devoir éviter des pièges de plus en plus retors et pervers au fil des étages tout en vous défaisant des quelques gardes postés ici et là. Dans l'absolu, rien ne change avec Prince Of Persia Classic du level-design à la durée de vie limitée à une heure sauf que... Sauf que, Gameloft s'est tout de même fendu en deux pour que ce titre se pose d'emblée comme un incontournable. En effet, si l'aventure rappellera de très bons souvenirs aux vieux de la vieille qui ont déjà eu la chance de toucher à l'original, les équipes de développement ont inséré divers petits ajouts à commencer par deux modes de jeu inédits : Chrono et Survie. Si le premier parle de lui-même sachez que le second vous demandera ni plus ni moins de terminer le soft sans perdre une seule vie et là, autant vous accrocher à tout ce que vous pouvez.

Quand le talent se met au service du jeu vidéo...
Il faut en effet savoir que PoP Classic propose, comme son modèle, un vrai challenge. Ok, on profite de Continues infinis mais n'oubliez pas que votre pire ennemi est ici le temps. Cependant, ce remake dispense quelques checkpoints afin de simplifier la vie du joueur. Malgré tout, sachez que rien n'est gagné sachant que les combats restent malheureusement frustrants. Bien qu'on puisse utiliser un panel de mouvements plus complet que dans l'original, il est assez énervant de voir que chaque affrontement peut rapidement virer au cauchemar. La faute à un temps de latence trop important entre la parade et l'attaque. Toutefois, si vous mettez à profit l'intervalle entre le moment où vous bloquez un coup et celui où le garde frappe, vous aurez environ une seconde, une seconde et demie se déroulant au ralenti pour attaquer plus vite. A part ça, tout est une question de réflexe, de rapidité et d'analyse pour savoir par où passer. A ce sujet, n'oubliez pas de suivre une petite luciole qui vous renseignera sur le chemin à prendre afin d'atteindre le plus vite possible la sortie de l'étage. En conclusion, PoP Classic fait hommage à son modèle avec ses formes gracieuses et son gameplay qui, bien que calqué sur celui d'origine, s'avère plus impressionnant et surtout plus pratique. Loin d'être un coup d'épée dans l'eau, ce remake est un véritable coup de cimeterre vers le ciel. Alléluia.