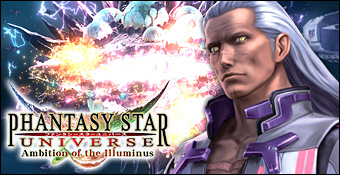 Pour ce faire, il fallait d'abord satisfaire les joueurs qui reprochaient le manque de charisme de Ethan Weber, le héros que l'on contrôlait dans le mode solo. Qu'à cela ne tienne : dans Ambition of the Illuminus, vous incarnez un personnage créé par vos propres soins, à choisir parmi les quatre races du jeu (Humains, Newmans, Beasts et CASTS) et à personnaliser selon votre goût. Il faut dire que depuis que Ethan est passé du côté obscur de la force, il n'a plus les faveurs de personne, et surtout pas des Guardians : recherché suite à une tentative d'assassinat sur leur président, il semble même s'être rangé du côté des Rogues. C'est ce que vous découvrez dès vos premiers pas dans le mode histoire : alors que vous faites votre apprentissage aux côtés de Laia, votre instructrice chez les Guardians, vous êtes amené à contrecarrer une tentative d'enlèvement de la Grande Prêtresse, orchestrée par les frères Vol et commanditée par... Ethan lui-même ! Plus tard, tandis que vous suivez la piste d'Ethan sur la planète Moatoob, vous tombez sur Magashi, une vieille connaissance. Il fait désormais partie des Illuminus, une organisation fondamentaliste qui a juré d'exterminer toutes les races du système, et prétend qu'Ethan les a rejoints... Qu'en est-il vraiment ?

Ethan est toujours là, mais de l'autre côté cette fois-ci.
Ambition of the Illuminus s'inscrit donc dans la continuité de l'épisode précédent, en proposant un scénario classique, mais que l'on suit sans trop de déplaisir. Hélas, on a une nouvelle fois du mal à s'attacher aux différents personnages, qui manquent de profondeur et qui ont des réactions bien trop caricaturales. Autre impasse que ne pouvait sans doute éviter cette extension : incarner un Guardian anonyme en formation est un point de départ sympathique, mais le problème est que cela vous contraint à occuper un rôle de faire-valoir dans l'espace scénaristique. C'est bien simple : pendant une bonne partie du jeu, c'est Laia qui prend toutes les initiatives, vous disant où aller et quoi faire. Votre personnage subit donc les événements, d'un air détaché et sans mot dire, durant les nombreuses cut-scenes. Du coup, en dépit du soin apporté à la création de votre avatar, il est bien difficile de s'impliquer dans cette histoire qui vous fait jouer les seconds couteaux. De plus, à l'instar de Phantasy Star Universe, son extension laisse peu d'initiatives au joueur. Le système de jeu à l'architecture rigide et obsolète l'enferme dans des missions cloisonnées. Ces dernières consistent en outre en une succession peu réjouissante de portes/monstres/trésors/cinématiques.

Non vraiment, les graphistes devraient arrêter les substances hallucinogènes.
Chaque mission est néanmoins l'occasion pour vos compagnons de vous déléguer généreusement le premier rôle : le monster bashing, c'est pour vous ! L'IA n'a en effet guère évolué depuis le premier volet : le comportement de vos coéquipiers est toujours aussi erratique lors des combats (il faut les voir parfois rester plantés sans agir), et il est toujours impossible de leur donner des ordres. Heureusement, les missions principales qui constituent le mode histoire sont plutôt faciles. Hormis quelques boss qui pourront vous poser des problèmes, vous franchirez vite les 10 chapitres de Ambition of the illuminus. A l'issue de chaque chapitre complété, vous débloquez l'accès à une nouvelle planète où vous attendent, aux comptoirs dédiés, plusieurs missions secondaires. Elles se révèlent assez rébarbatives, et sans grand challenge pour peu que vous disposiez d'un bon stock de potions. Vous pouvez donc vous y adonner au leveling si l'ennui ne vous fait pas peur, ainsi qu'y glaner quelques Mesetas et un meilleur équipement.

Pour peu que l'IA se soit levée du bon pied, les combats ne manquent pas de dynamisme.
Les mécanismes de jeu n'ont que peu bougé depuis l'épisode précédent. Votre personnage progresse toujours sans que vous ayez beaucoup d'influence sur son évolution, hormis le choix de la classe (Hunter, Ranger, Force, ainsi que d'autres types en multijoueur) qui influe sur les statistiques et restreint l'accès aux armes et aux techniques disponibles. C'est d'ailleurs dans la gestion de l'équipement que l'on trouve les véritables possibilités de customisation de son avatar. Grâce à l'intégration de photons, les armes peuvent disposer de coups spéciaux détonants. Durant les affrontements, qui se déroulent en temps réel, vous pouvez effectuer des attaques au contact ou à longue distance (via un zoom peu pratique). Vous disposez également des classiques TECHNICS portées avec les armes modifiées, ainsi que de la possibilité d'effectuer des combos en respectant un certain timing entre vos coups. Le système d'esquive a été revu, et se couple désormais d'une opportunité de contre-attaque. Enfin, pour tromper l'ennui entre deux missions, de nombreuses boutiques sont à votre disposition, avec de quoi vêtir votre personnage à votre goût, ainsi que des éléments de décoration pour votre chambre. Dans cette dernière, vous retrouverez l'indispensable petite boîte de conserve qui peut stocker vos possessions ou encore synthétiser des objets à l'aide des cartes et des matériaux récupérés.

Les nombreuses boutiques disponibles permettent de personnaliser son équipement.
On a toutefois vite fait le tour des possibilités de Ambition of the Illuminus. Il faut alors se tourner vers le mode multijoueur pour comprendre que, une fois de plus, son intérêt est bien supérieur à celui de l'aventure en solo. Le jeu en groupe est nettement plus motivant, ne serait-ce que pour bénéficier enfin de "vrais" équipiers et pouvoir mettre en place des stratégies lors des combats. On regrette toutefois que la complémentarité entre les joueurs ne soit pas plus poussée. Au rayon des reproches, il est dommage de ne pouvoir bénéficier de son personnage solo dans le mode multi. Cette restriction, qui était bien compréhensible dans Phantasy Star Universe (Ethan étant la seule option en solo) l'est beaucoup moins dans cette extension. Elle entretient de surcroît un problème récurrent : les serveurs sont actuellement remplis de joueurs de haut niveau (transfuges du jeu original), et il semble particulièrement difficile de trouver un groupe adapté pour débuter. Mais gageons que ce dernier aspect soit amené à évoluer, en fonction du succès rencontré par l'extension.

C'est la fête à l'aliasing.
Il faudra pour cela que les nouveaux venus passent outre la réalisation technique hors du coup. Ambition of the Illuminus sur Xbox 360 ne soutient la comparaison avec aucun des ténors du genre sur next-gen. Le jeu n'est pas dénué de tout sens esthétique, mais il souffre d'un manque de polygones et de textures fades qui le rendent visuellement peu attrayant. En outre, la rigidité de l'animation renforce l'aspect anguleux des personnages. Rajoutez à cela un aliasing omniprésent, des personnages qui disparaissent lorsque l'on s'en approche, et des ralentissements inexplicables lors de certaines phases de jeu, et vous obtenez un tableau peu glorieux concernant l'aspect visuel. Sans compter que tout le monde n'appréciera pas le character design kitsch et bigarré. Quant à l'ambiance sonore, elle n'a guère évolué non plus : peu d'effets sonores, des thèmes musicaux qui manquent de dynamisme, et toujours pas de voix dans le jeu. Heureusement, la jouabilité se révèle satisfaisante : l'interface remplit plutôt bien son office et le pad 360 procure un bon confort de jeu. Cette extension reste donc agréable à jouer ; on se demande simplement quand Sega se décidera une bonne fois pour toutes à dépoussiérer sa licence et à profiter de la next-gen.