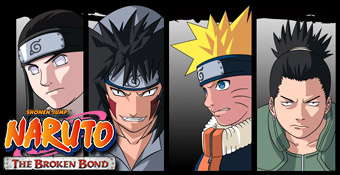 Reprenant le concept du jeu d'action/aventure initié avec Rise of A Ninja, Broken Bond amorce un changement dans la continuité. Ainsi, à première vue, le titre d'Ubisoft ressemble à un copier/coller de leur précédent titre. En apparence seulement car si on y retrouve bien le même contenu, les développeurs ont modifié plusieurs petites choses allant du détail anecdotique à l'élément modifiant complètement la vision que nous avions de certaines séquences. Le mode Histoire ne s'en porte donc que mieux d'autant qu'il représente indubitablement le gros morceau de ce soft. Bien entendu, on y trouve toujours le mode Combat, agrémenté de joutes online, mais malgré les efforts des programmeurs, les rixes demeurent très statiques à l'inverse des affrontements de Ultimate Ninja Storm qui sont bien supérieures. Toutefois, restons sur cet aspect de Broken Bond qui mérite tout de même qu'on s'y attarde un peu.

Le mode Aventure est l'occasion d'incarner plusieurs personnages dont Jiraya et Tsunade.
Tout d'abord, de douze personnages (sans compter ceux à récupérer sur le Xbox Live moyennant quelques ryos bien réels), nous passons ici à 25 combattants, 30 si on compte les déclinaisons. Une excellente nouvelle d'autant que cette fois, vous n'aurez pas besoin de mettre la main au portefeuille pour vous payer la totalité du casting. Vous aurez donc droit aux cinq ninjas du son, Jirobo, Kidômaru, Sakon et Ukon, Tayuya, Kimimaro, Kisame, Zabuza, Kabuto, Shikimaru, Kiba, Choji, Tsunade, Sarutobi, Itachi, etc. De quoi s'amuser via un Tournoi (seul ou en équipe), le Versus ou lors d'un entraînement dans le Dojo. Outre son nombre plus conséquent de persos, Broken Bond propose également de combattre seul ou en équipe (de deux en Mode Combat, de trois en Aventure). Il suffira alors d'appuyer sur la croix de direction pour switcher entre les persos afin de faire durer le plaisir. En parlant de ça, signalons que les rixes sont cette fois plus accessibles. Ainsi, si on retrouve grosso modo les mêmes coups que dans Rise of Ninja ainsi qu'un système similaire afin de lancer les Jutsus, vous pourrez maintenant voir à l'écran les manipulations à effectuer pour réussir ces attaques. Une excellente nouvelle car s'il est encore difficile de les placer dans un combat en mode Normal, le tout est maintenant question uniquement de vitesse et non de mémoire. Mentionnons aussi la plus grande latitude concernant la réalisation desdites attaques à base d'actions contextuelles. Par exemple, dans le cas du Multiclonage de Naruto, on vous montrera dans un premier temps les touches sur lesquelles vous devrez appuyer puis ce sera à vous de jouer. Mais cette fois, pas de panique, il ne sera plus question de fondre sur une touche en une nano seconde, le tout se soldant souvent par un échec. Non, cette fois, vous aurez la plupart du temps tout le loisir d'admirer les séquences, toujours originales bien que moins visuelles que celles de UNS.

Vous aurez très vite la possibilité d'augmenter les attributs de Naruto.
En parlant de visuel, on remarquera aussi quelques petits sfx supplémentaires afin d'accentuer les attaques les plus puissantes. Cette sorte de flash, ponctué par des onomatopées, fait son petit effet même si on regrettera qu'il ne masque en rien la rigidité des affrontements. Les personnages sont toujours aussi patauds et on reprochera à Ubi de ne pas avoir essayé de dynamiser le tout autrement que par des truchements graphiques ou une attaque groupée, très simple à effectuer mais similaire quels ques soient les persos. Dans le même ordre, il est irritant de constater que la téléportation dans le dos de l'adversaire est encore très ardue à utiliser. Pourtant, l'approche d'Ubi a été de rendre le tout plus convivial et abordable même si gagner un tournoi en mode Hard relève du masochisme pur et dur. Bref, si vous réussissez à trouver un ami ou à dénicher un adversaire à la hauteur sur le Live, il y a fort à parier que vous ne voyiez pas passer le temps. Sur ce point, Broken Bond fait mieux que son aîné, grâce à ses invités de prestige et son mode Histoire, plus long et plus intéressant que son ancêtre.
Quelques mini-jeux moyennement intéressants sont disponibles au village de Tankazu.
Il est vrai que s'il était agréable d'avoir droit à une certaine liberté d'action, Rise of a Ninja avait bien du mal à nous tenir éveillé durant les huit heures nécessaires pour boucler le mode Solo. Des quêtes annexes loin d'être passionnantes, des séquences de courses lassantes et plusieurs points de gameplay à améliorer d'urgence. Eh bien, vous pouvez sourire car il semble qu'Ubi nous ait entendu. De fait, si on peste encore à cause de quelques erreurs maladroites, on appréciera que la plupart des défauts de Rise of A Ninja soient ici absents. En premier lieu, sachez que le mode Histoire est plus vaste, comporte toujours une multitude de courses et de défis. Ok, ces fameux défis sont encore loin d'être transcendants mais c'est un tantinet plus sympathique que ceux de RoaN. Vous aurez donc droit à des parties de cache-cache, une recherche de fuyards, une livraison de lettres, une cueillette de chips (sigh !) ou entre autres un jeu de pêche, bien moins fun il est vrai que celui des Breath of Fire. Vous comprendrez que tout ceci sera un moyen comme un autre de déambuler dans Konoha ou le village de Tankazu où vous trouverez sept mini-jeux (tape-serpent, fléchettes, lancer de shurikens, balle perdue...) dans le même style que les défis : bien mais pas top. Quoi qu'il en soit, ces pérégrinations seront de bons moyens pour se rendre compte des petits plus de gameplay de Broken Bond. Par exemple, si on retrouve les courses dans les arbres, celles-ci sont plus courtes, permettent de récolter de l'argent et optent pour la vue subjective. Ca n'a l'air de rien mais ceci accentue drôlement l'impression de vitesse. Un bon point tout comme la jouabilité quelque peu remaniée.

Les courses pour relier deux points sont moins longues et paraissent plus rapides grâce à la vue subjective.
Mentionnons d'entrée de jeu la marche sur les murs qui ne requiert plus une technique de notre part. Cette fois, vous aurez juste à appuyer sur le bouton X puis à le tapoter pour faire en sorte qu'un indicateur reste au centre d'une jauge "de grip" histoire de ne pas tomber. Évolution providentielle nous faisant gagner énormément de temps. De la même façon, on remarque que l'animation, lorsque Naruto percute un obstacle alors qu'il court à toute vitesse, est plus courte que par le passé. Anecdotique, je sais mais lors des courses à travers le village, vous serez bien content de grappiller de précieuses secondes. Globalement la jouabilité a donc subi des changements notables ou non mais il en ressort un bien meilleur contact avec le jeu dans son ensemble. Ceci vient également d'un cheminement mieux maîtrisé même si nous devons une fois de plus faire face à quelques maladresses. La plus évidente à mes yeux concerne ces sempiternels allers-retours dans les niveaux pour rejoindre un point, effectuer un combat puis tout refaire en sens inverse afin de revenir à notre village. Éreintant surtout quand il s'agit d'utiliser encore et encore les mêmes techniques afin de créer un pont de clones pour faire traverser nos persos, utiliser les sens de Kiba ou Neiji pour débusquer des pièges ou l'attaque de Choji pour défoncer des murs. Certes, la plupart des techniques sont inédites mais après 5 ou 6 heures, on s'en lasse.

Moins proche du design de l'anime que UNS, Broken Bond n'en possède pas moins un graphisme très maîtrisé.
A contrario, on appréciera quand même la relative complémentarité des personnages (choisis au préalable) lors d'une mission. En effet, vous devrez constamment passer de l'un à l'autre pour poursuivre votre petit bout de chemin en utilisant au mieux les capacités de chacun. Si cet aspect n'est pas exploité au maximum, les mécanismes de jeu tournant très vite en rond, on considérera aussi que cette astuce permet un peu plus de variété. En parlant de liberté, notez qu'il est maintenant possible de rentrer dans quelques bâtiments et bien que ça ne serve à rien la plupart du temps, l'immersion ne s'en porte que mieux. Enfin, l'évolution de Naruto passera aussi par l'utilisation des points d'amitié vous permettant de booster votre santé, chahkra, force et jutsu. En parallèle, vos ryos et taels seront très utiles pour acheter des rouleaux (défensifs, offensifs) ou des objets (pilule de soin, de force, ramen, kunais) qu'il sera possible d'utiliser en plein combat via un menu d'action rapide. Comme vous pouvez le voir, Ubisoft ne s'est pas reposé sur ses lauriers et bien qu'on trouve encore matière à redire dans le mode Histoire, les développeurs ont soigné leur copie pour ces fêtes de fin d'année. Du coup, on croisera les doigts pour avoir droit à des combats plus punchy dans un éventuel troisième opus mais pour l'heure, vous n'aurez aucune raison pour bouder ce titre peut-être moins fidèle que UNS d'un point de vue visuel mais plus dynamique, agréable et maîtrisé que son aîné.