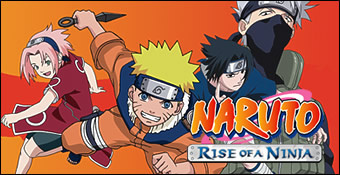 On peut raisonnablement se dire en jouant à Naruto : Rise Of A Ninja qu'Ubi a pris soin de soigner le bébé de Masashi Kishimoto, ne serait-ce que pour prouver à l'industrie japonaise que les Occidentaux peuvent faire aussi bien, voire mieux qu'eux quand il s'agit d'adapter des animes. Ceci dit, nous assistons depuis quelque temps à une véritable petite évolution dans le milieu qui tend aujourd'hui à se généraliser si on prend en compte la décision (étonnante malgré tout) de Konami de confier ses deux prochains Silent Hill à des sociétés externes, américaines et anglaises qui plus est. Cependant, il faut croire que le choix d'Ubisoft a été le bon sachant que Naruto : Rise Of A Ninja est une excellente adaptation, soignée à tous les niveaux, qui revient sur les premiers tomes du manga par le biais d'un mode Aventure de bon aloi.

Réunion au sommet pour un duel mémorable.
A ce sujet, sachez qu'en sus dudit mode, vous trouverez bien entendu une section Baston, subdivisée en deux choix : Tournoi ou Versus. D'ailleurs tant qu'à vous parler de ça, autant apporter quelques précisions sur le système de combat du titre. Avant toute chose, il faut savoir que les développeurs ont essayé, autant que faire se peut, de reproduire à l'identique toutes les techniques spéciales des personnages tout en apportant un peu de sang neuf au genre. Toutefois, on sent bien l'influence des Dragon Ball Z : Budokai ou Tenkaichi, ne serait-ce qu'au niveau des actions contextuelles également présentes dans Rise Of A Ninja. Bref, nous nous retrouvons donc avec douze personnages et autant de décors. Pour ceux que ça intéresse, sont jouables en plus de Naruto, Sakura, Neji, Gaara, Orochimaru, Haku, Kiba, Sasuke, Kakashi, Zabuza, Rock Lee et Shikamaru. Mais le plus intéressant ne vient pas des personnages disponibles mais bel et bien du fameux système de combat dont je vous parlais plus avant. Ainsi, en plus des traditionnels combos qui ne nécessitent qu'une succession de touches, parfois couplées à une direction (ici, pas d'arcs de cercle et c'est tant mieux) pour être réalisés, on pourra profiter de plusieurs petites astuces apportant suffisamment d'éclat et de peps pour rapprocher les joutes du soft de celles du manga.

Attendez que la vague d'énergie atteigne les croissants pour effectuer votre technique spéciale.
Par conséquent, si vous devrez très souvent essayer de placer un enchaînement afin d'envoyer valdinguer votre adversaire à l'autre bout de l'écran pour pouvoir réaliser une technique spéciale, vous aurez aussi la possibilité de vous téléporter dans le dos de votre ennemi. Pour ce faire, il suffira d'appuyer au bon moment sur le bouton de garde (B en l'occurrence) et de profiter de votre avantage. De plus, à mesure que vous vous prendrez des coups, vous ferez grimper une jauge de rage qui, une fois pleine, vous permettra de profiter d'un gain de puissance et de vitesse durant un laps de temps assez court. Toutefois, les techniques spéciales restent le moyen le plus sûr de gagner facilement un affrontement. On regrettera quand même que les combattants n'en aient pas plus à leur disposition puisqu'on en compte généralement trois par perso. Cependant, leurs homologues de papier n'en ont pas plus, ce qui clôt définitivement le débat.

Ces phases de courses sont rigolotes mais on s'en lasse vite.
Pour utiliser ces fameuses techniques, vous devrez dans un premier temps effectuer une manipulation, propre à chaque attaque mortelle. De fait, tout en appuyant sur la gâchette gauche, il faudra rapidement rentrer une paire de directions avec les deux sticks (haut, haut/droite, gauche par exemple) puis concentrer votre shakra symbolisé par des croissants de lune à l'écran. A ce sujet, sachez que vous pourrez en disposer de plusieurs niveaux, ceci affectant la puissance de votre attaque spéciale. Afin d'en profiter, vous devrez simplement laissé appuyée la gâchette après avoir rentré les commandes au stick et attendre qu'une onde d'énergie atteigne chaque croissant. Bien sûr, si vous souhaitez atteindre le troisième palier, ceci vous demandera davantage de temps et vous laissera d'autant plus à la merci de votre adversaire. S'ensuivra alors une cinématique où vous aurez à choisir une succession de boutons (du moins dans le cadre de la technique de multiclonage de Naruto) puis à appuyer au bon moment sur ces derniers pour que chaque phase de l'attaque réussisse. Signalons également que les manipulations seront aussi variées qu'il y a de techniques et qu'il sera parfois question de tapoter rapidement sur un bouton pour contrer une vague d'énergie ou de bouger votre personnage afin que le viseur de l'adversaire ne puisse vous locker.

La puissance des coups est accentuée par de nombreux effets lumineux et une sorte de pause dans l'action.
Jouissives et très réussies, ces prises sont néanmoins ardues à placer, surtout en mode Versus vu que la difficulté y est mal réglée et ce malgré cinq niveaux au choix. D'ailleurs, si lesdits niveaux vont de 1 à 5, je n'ai pas réussi à savoir précisément si le niveau 5 était le plus facile (a priori oui) ou le plus difficile sachant que quel que soit mon choix, les affrontements se sont révélés éprouvants. On regrettera donc que les développeurs aient un peu loupé leur coup sur ce point et que les adversaires ne nous laissent pas une seule nano-seconde de répit. Heureusement que le constat est plus concluant de ce point de vue-là dans le mode Scénario. Ainsi, tout comme dans Naruto : Ultimate Ninja 2, le titre intègre une partie aventure qui, au final, se révèle être son principal centre d'intérêt. Ubisoft a donc opté pour le début du manga (soit les épisodes 1 à 80 de l'anime), alors que Naruto doit tout apprendre avant de devenir hokage. Commence alors une longue quête durant laquelle les missions vont se succéder, tout comme les rencontres mais aussi les échauffourées jusqu'à l'examen final des Chûnins. Si graphiquement, on est tout de suite happé par la beauté du cel shading ou les jeux de lumière, l'aventure met un peu de temps à démarrer. Les premiers objectifs sont lassants et nous obligent à parcourir en long et en large le village de Konoha pour récupérer des pièces de monnaie afin que la plupart des commerçants ouvrent leurs échoppes. Certes, c'est une façon comme une autre de se familiariser avec les déplacements ou à fortiori la jouabilité mais on a vraiment hâte que l'histoire se lance. Il faudra malgré tout attendre environ une ou deux heures avant que les choses sérieuses commencent.

De très nombreux extraits de l'anime nous font découvrir les passages et combats importants de l'histoire.
Passé ce laps de temps, vous aurez, normalement, acquis la capacité de vous déplacer à grande vitesse et vos trois techniques spéciales. A partir de là, vous aurez la possibilité de filer en ligne droite, de remplir quelques quêtes annexes voire de participer à des courses. Pour ce faire, vous n'aurez qu'à parler aux habitants du village qui, en fonction de leur humeur, pourront vous mettre au défi. Eh oui, tout Naruto que vous êtes, vous devrez vous faire aimer de votre entourage en remplissant des missions, justement. Ensuite, les NPC vous accueilleront les bras grands ouverts et vous renseigneront même sur vos objectifs en vous précisant, par un kunai indicateur, l'endroit où vous rendre. Ce niveau de sociabilité sera donc à prendre en compte pour avancer avec plus ou moins d'aisance. Cependant, rien ne vous empêchera de vous fier simplement à une carte où sont représentées les boutiques, courses et autres quêtes, sans parler d'un radar juché dans le bas de l'écran. Malgré tout, on note aussi quelques imperfections dans le gameplay. Par exemple, à divers endroits, vous trouverez des traces de pas, synonymes de concentration de shakra afin de marcher sur des murs ou des plans inclinés. Ok, pourquoi pas mais devoir se concentrer à chaque fois pour pouvoir atteindre le toit d'un bâtiment ou la cime d'un arbre devient vite gavant. Dans le même genre, il est irritant de devoir tout le temps utiliser la technique de multiclonage pour détruire des palissades ou rochers bloquant plusieurs passages. Enfin, on pourra aussi se lasser des courses dans les forêts pour rejoindre deux points éloignés. Ici, il suffira de diriger Naruto afin de le faire passer par des "checkpoints" afin qu'il gagne en rapidité. Une fois de plus, une séquence bien pensée mais qui perd de sa "funabilité" à cause d'une fréquence un peu trop élevée.

Naruto se déroulant dans un univers situé entre le féodal et le contemporain, les décors sont parfois assez atypiques.
Mais qu'on ne s'y trompe pas, si Naruto : Rise Of A Ninja est perfectible, il reste avant tout additif et immersif, les équipes d'Ubi ayant réalisé un boulot admirable à quasiment tous les niveaux. On peut ainsi voir leur bébé aussi bien comme un jeu de baston que comme un titre d'aventure, lui-même ponctué de combats. Pourtant, ces deux genres se marient fort bien vu qu'ils sont tous les deux complémentaires. De fait, si le mode Combat, en solo ou à deux sur une même console ou en online, permet d'utiliser dès le départ toutes les techniques de chaque combattant, le mode Aventure propose en revanche d'utiliser des Mémo clips afin de ressusciter, par quatre fois dans le meilleur des cas. Pour cela, vous n'aurez qu'à opter pour l'avatar d'un de vos compagnons ou adversaires vaincus qui débitera pendant quelques secondes une petite tirade. Durant ce temps, tapotez rapidement sur le bouton d'action et le tour sera joué : votre vie remontera et vous pourrez repartir au combat. En somme, avant chaque mission, n'oubliez pas de faire le plein de Mémo clips chez un marchand, sans oublier les ramens (pour retrouver votre santé en dehors d'un affrontement) ou kunais pour casser une attaque aérienne ou la préparation d'une technique spéciale. En guise de conclusion, que rajouter si ce n'est que preuve est faite que les adaptations vidéoludiques d'animes devront désormais compter sur le savoir-faire des sociétés occidentales. Ubisoft a vraiment ouvert la voie avec ce Naruto : Rise Of A Ninja en espérant que ce ne soit ici que le début de l'aventure.