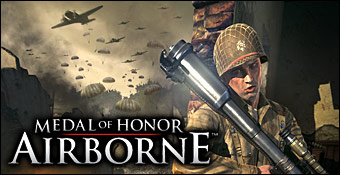 Le saut en parachute, l'argument de vente par excellence avancé tout au long de la campagne marketing de Medal Of Honor Airborne. En incarnant un para, on nous offre la possibilité de choisir où l'on souhaite démarrer notre mission puisqu'une fois largué, c'est à nous de nous diriger vers un point quelconque de la carte. Enfin, quelconque, ça reste à voir et les promesses de liberté s'envolent vite au final. Chaque niveau dispose de deux « safe zones » balisées par des fumigènes verts, des points sur lesquels il est vivement recommandé de se poser car à trop vouloir essayer d'atterrir où bon nous semble, on court surtout le risque presque imparable de tomber au beau milieu d'une unité ennemie qui se fera une joie de nous mettre en charpie. De plus, s'il existe bien des zones d'atterrissage secrètes, c'est uniquement lorsqu'on les traverse à pied qu'elles nous sont révélées. Du coup, on finit vite par abandonner toute velléité aventureuse, ces dernières étant soit bien trop dangereuses, soit parfaitement inutiles. Autant pour la grande révolution du parachute qui selon EA devait nous amener tant de belles choses, au final, ce largage a surtout fait en sorte que le début de chaque niveau se ressemble, une bande de troufions compressés dans un avion, hurlant toutes sortes de complaintes, adieu introductions stylées, bonjour introductions stéréotypées.

On note même des bugs de detection d'impacts.
Néanmoins ce nouveau cru de MoH parvient malgré tout à ajouter une dose de liberté de mouvement à la série. Il est ainsi vrai que le joueur peut choisir l'ordre dans lequel il accomplira ses objectifs et surtout qu'il pourra dénicher un moyen de se faufiler derrière les lignes ennemies ou de grimper sur un toit pour s'installer peinard avec un fusil de snipe, histoire de nettoyer une rue et d'aider à l'avancée de la liberté en Europe. Mais gare aux discours prometteurs qui font du titre un jeu au gameplay ouvert. En somme, si le jeu reste linéaire, il nous donne au moins l'opportunité d'accomplir quelques hauts faits d'armes sans nous les mettre sous le nez comme c'était le cas autrefois par de discrets « hey machin, grimpe là-dessus et fais un carton ». Tout ceci en conservant évidemment cette mise en scène et ce rythme effréné qui fait le charme de la série auprès des fans de ce genre bien précis de FPS. MoH Airborne est nerveux, pourvu d'une bande-son dramatique à souhait et de scènes venant pimenter les missions, bref, tout ce dont on a l'habitude dans la série et qui ne nécessite même plus d'être mentionné.

Mes alliés m'ont laissé tomber, ce qui ne les empêche pas de me parler comme s'ils étaient à mes côtés.
Mais justement, c'est bien ce conservatisme qui commence à sérieusement peser sur la série. Certes, Medal Of Honor Airborne a quelques bons moments à offrir, mais au prix de quelles lacunes ! Dans les faits, on a toujours l'impression de jouer à ce même vieux MoH dont les mécaniques et les objectifs n'ont pas changé d'un iota depuis Débarquement Allié et même si cet Airborne est le meilleur opus que la série ait produit depuis bien longtemps, il est loin, très loin d'être irréprochable et accuse un retard inexcusable sur certains points, à commencer par l'absence de la moindre forme de moteur physique, un manque totalement injustifiable à l'heure actuelle. Mais le pire grief qu'on a envie d'adresser au soft s'applique à son I.A. Ennemie ou Alliée, elle est simplement et complètement dans les choux et cette fois, c'est la fois de trop. Voir en 2007 une I.A. qui rappelle celle du premier volet PC, ça commence à sérieusement pomper l'air. On reconnaîtra que l'intelligence artificielle ennemie donne du fil à retordre et a appris quelques astuces de survie, comme le tir ou le lancer de grenades en aveugle mais compte surtout sur son agressivité, sa capacité à repérer et à faire mouche à des distances invraisemblables et sur son nombre pour nous compliquer la tâche.

Médailles et bonus viennent récompenser vos faits d'armes.
Nous, on comptera sur sa bêtise qui la pousse à courir d'un point à un autre, parfois en rond, sans trop savoir quoi faire, à sortir la tête régulièrement de derrière sa couverture et surtout, classique des classiques, à envoyer à la chaîne des hommes se faire dézinguer derrière une mitrailleuse lourde que l'on tient en respect depuis 3 plombes. Il est même fréquent de voir des Allemands courir bravement en terrain découvert poussés par une irrépressible envie d'en découdre au corps-à-corps. Véridique. Et malheureusement également valable pour nos alliés, pauvres figurants d'une inutilité absolue qui refuseront synthétiquement d'avancer si vous ne faites pas le premier pas. Vous pouvez toujours être fier d'avoir réussi à dénicher un spot de snipe pour dégager un passage, vous finirez par comprendre que vos efforts sont vains puisque vos équipiers n'iront pas prendre position en avant tant que vous-même ne l'aurez pas fait. Conséquences ? Les postes nettoyés sont rapidement repris par l'ennemi, pour une fois réactif. De même, contourner une troupe d'ennemis ne servira bien souvent qu'à se retrouver seul, encerclé par une bonne trentaine d'Allemands pendant que vos équipiers seront restés en arrière, bloqués parfois par deux malheureux soldats. Joie d'avoir le sentiment d'être secondé par une bande de majorettes peureuses. Ce qui finalement est préférable dans la mesure où cela nous évite une habitude extrêmement fréquente et insupportable de nos chers alliés : venir se coller en plein dans notre ligne de tir. Mais vraiment en plein dedans, à croire que c'est inscrit dans leur comportement.

Mais bon sang de bois...
Du coup, une fois de plus, Medal Of Honor nous transforme en super-héros, seul homme qui compte réellement dans la guerre, ce que les Allemands ont bien compris au point de s'attaquer à nous à l'arme antichar (!) sans même prêter attention aux autres hommes présents qui, de toutes façons, ne servent à rien. Voilà comment on se retrouve avec des ennemis dans le dos, en plein milieu de nos propres troupes !! Que l'on s'attarde sur le gameplay ou sur l'aspect hollywoodien, cette I.A. dénuée de crédibilité est dans les deux cas dommageable à l'expérience de jeu. Et encore, je n'ai pas mentionné les quelques séquences où l'adversaire respawne à l'infini tant que vous ne franchissez par la zone déclenchant le script suivant.

... vous allez me foutre la paix oui !
Enfin, difficile également de faire l'impasse sur la durée de vie du titre. Même si certains passages peuvent se montrer plus ardus, le jeu reste globalement assez facile, avec des niveaux blindés de médikits et des chutes qui n'affectent en rien votre santé, on traverse donc les missions assez vite. Or, des missions, on n'en compte que 6 et il faut entre 1 heure et et 1h30 pour les terminer. Ce qui nous donne une durée de vie d'à peine plus de 6 heures. C'est particulièrement court et c'est d'autant plus agaçant que le jeu est loin d'être donné, puisque sur PC, il atteint les 60 euros chez certains revendeurs, ce qui reste, heureusement, très rare. Bien sûr, le mode multi pourra prolonger l'expérience mais quand on s'offre un titre historique, on est en droit d'attendre une campagne solo plus consistante.