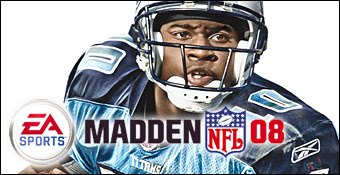 Cette saison, les habitués de l'une des nombreuses franchises d'Electronic Arts vont retrouver un contenu solide, en partie connu et pas vraiment modifié, qui s'appuie sur les grands classiques que sont les modes Superstar, Franchise, les mini-jeux et le Hall Of Fame. En marge des matches amicaux, des entraînements et de la tonne de menus secondaires, ce Madden cru 2008 est l'occasion d'opérer une bonne grosse mise à jour au niveau des effectifs et des forces en présence de la NFL qui s'est achevée la saison dernière par une victoire des Colts. Sur Xbox 360, il est aussi question de mise à niveau graphique avec un travail particulier sur les animations des protagonistes, amateurs de contacts rugueux et de provocations diverses. Difficile d'y échapper tant il est coutume d'en voir durant les matches les plus décisifs du Super-bowl où le seul gain de la possession du ballon au moment du toss déchaîne la foule venue nombreuse. Dans cet habile mélange entre accessibilité made in EA et commandes avancées grâce aux innombrables combinaisons, jetons une rétine sur ce qui a changé dans Madden.

La profondeur de champ affichée par Madden NFL 08 est saisissante.
Les développeurs ont en ce sens parié sur le "Read and React" (Analyser et Réagir). Ce système pousse en réalité les premiers efforts opérés sur lé précédent volet, tendant à permettre au joueur de lire rapidement l'action et d'en tirer des conclusions immédiates. Concrètement, de nouvelles icônes apparaissent au-dessus des joueurs, indiquant leur point fort, qu'ils soient quaterbacks, porteurs de ballon, receveurs éloignés ou rapprochés, hommes de ligne offensive ou défensive ou d'unités spéciales. Ainsi, en un coup d'oeil, le joueur peut corriger sa tactique en fonction des faiblesses affichées par le placement de son adversaire. Dans le même ordre d'idée, la transmission de balle est favorisée par le "focus receveur". Comme son nom l'indique, cette subtilité, qui s'utilise avant le snap, focalise l'attention du quaterback sur l'un des potentiels receveurs. A effectuer avant le snap également, les "Defensive Hot Route", une action qui permet de modifier l'affectation de la zone ou du joueur à marquer, ce qui est une nouveauté particulièrement utile dans la mesure où tout un tas de combinaisons lui sont dédiées. Concernant le gameplay, c'est à-peu-près tout ce que l'on pourra noter d'exclusif à cet opus.
L'une des nouveautés du jeu, le "Read and React".
Le mode franchise a été de son côté affiné avec l'apparition de deux nouvelles fonctions majeures. La première prend source pendant la période de draft de l'intersaison. Il s'agit désormais de faire en sorte de recruter des joueurs susceptibles de devenir des perles rares. En effet, si, au bout d'une à trois saisons, l'un de vos joueurs affiche une icône diamant, cela signifie qu'il peut se sublimer et jouer au-delà de ce qu'indiquent vos stats. A partir de là, l'objectif est d'exploiter au mieux son potentiel en le conservant évidemment dans l'effectif mais aussi et surtout en l'utilisant un maximum. A l'inverse, certaines recrues peuvent décevoir (icône bombe dans ce cas) au cours de cette même période. Là aussi, il est possible de renverser la vapeur en plaçant ce type de joueur dans des situations où il peut faire basculer la rencontre. L'autre nouveauté répond au nom de "Super Slim" qui consiste à simuler une rencontre du calendrier mais tout en y assistant afin de pouvoir intervenir à n'importe quel moment. Si votre équipe est en difficulté par exemple. Enfin, dernier détail, vos trophées et bagues remportés çà et là s'affichent désormais dans une vitrine et peuvent être remis en jeu face à un adversaire humain, Offline ou Online. De quoi mettre un peu de piment dans les rencontres...