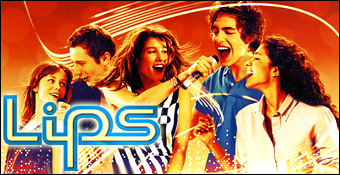 Tout comme l'excellente édition Playstation 3 de Singstar, Lips utilise une paire de micros sans fil. De bonne facture, ces derniers sont lumineux et se paient même le luxe de détecter quelques mouvements pour se transformer en maracas ou en tambourins. En outre, ils sont tellement sensibles qu'un simple souffle suffit pour qu'ils reconnaissent notre voix sur l'une des 40 chansons disponibles. De Virtual Insanity (Jamiroquaï) à Fake Plastic trees (Radiohead) en passant par Let's Groove (Earth, Wind and Fire) ou Another One Bites the Dust (Queen), la tracklist devrait satisfaire sans difficulté le grand public auquel elle se destine. Qu'on soit fan de métal (Nirvana), de pop (Ace of Base, Duffy), de rock (Blondie, Ruby) ou encore de R'n B (Rihanna, Superstar), il y en a vraiment pour tous les goûts. Néanmoins, certains joueurs regretteront sans doute l'absence totale d'artistes francophones. A la place de Christophe Maé, Céline Dion ou Gérald De Palmas, on trouve donc des chanteurs typiquement américains comme Johnny Cash et Ben E. King. Qu'importe, la quasi-totalité de la playlist est composée de hits mondialement connus qui suffiront largement à mettre le feu dans votre salon.

Les 40 titres anglophones sont variés et connus.
Une fois qu'on a sélectionné le morceau sur lequel on souhaite chanter, plusieurs possibilités s'offrent à nous. On peut paramétrer la longueur des chansons et le background vidéo (clip officiel ou images de synthèse), choisir de jouer seul ou à deux, ou encore s'essayer à deux mini-jeux. Le gameplay, consistant à suivre les lignes de chant qui défilent à l'écran, ressemble à s'y méprendre à celui de Singstar. Toutefois, la détection de mouvement des micros est mise à contribution pour jouer des percussions ou exécuter certains gestes octroyant des points bonus. On se retrouve ainsi à prendre des poses ridicules dans le salon, sous les yeux médusés du cousin Bertrand, malencontreusement réveillé par le grabuge. Sans se démonter, on lui tend alors le second micro afin de l'inviter à rejoindre instantanément la partie en cours. Sachant qu'il n'a réussi à aligner trois notes sur Singstar, l'humiliation est garantie. Mais ô surprise, voici que Bertrand nous claque un high score de folie sur Personal Jesus (Depeche Mode) ! Que se passe-t-il ? Aurait-il pris des cours de chant accélérés avec Armande Altaï ? Non, la raison du triomphe de Bertrand est toute simple : Lips est extrêmement indulgent avec la prestation vocale des joueurs.

L'icône blanc à droite de la ligne de chant indique un geste à effectuer avec le micro.
Que l'on soit un chanteur confirmé ou une véritable casserole, la seule chose qui importe vraiment dans Lips est de respecter à peu près le timing des paroles et d'effectuer certains mouvements pour déclencher des bonus. On peut mâcher la moitié des mots, on peut chanter faux, on peut même souffler dans le micro ou le frotter sur la moquette, on obtient forcément une bonne note. N'importe qui peut décrocher toutes les médailles et atteindre le rang ultime du classement en s'appliquant un minimum et il est impossible d'augmenter la difficulté alors que techniquement, c'était tout à fait faisable. A tel point que ce système de notation ultra-permissif s'avère finalement incapable de refléter les compétences réelles des chanteurs. Ceci explique sans doute qu'il n'y ait aucune compétition online et que le multijoueur offline soit tellement pauvre. En effet, alors que Singstar propose pas mal de challenges à plusieurs, Lips ne permet de se mesurer qu'à deux en Affrontement, Duo ou Combat Vocal. Exit les fabuleuses batailles par équipe et les compétitions acharnées à 6 ou 8...

Pas toujours facile de se concentrer sur les paroles.
Il faut bien reconnaître qu'au niveau de ses modes de jeu, Lips est vraiment très pauvre. En solo, on peut toujours essayer d'éteindre une bombe à retardement ou de s'échanger quelques bisous dans l'un des deux mini-jeux disponibles avant de se rendre compte qu'il n'y a décidément pas grand-chose à se mettre sous la dent. Et il ne faudra pas espérer que les choses changent en se connectant au Xbox Live puisqu'il ne dispose pas de matches online ni même d'une communauté. Normal : on ne peut pas s'enregistrer en train de chanter ni brancher la webcam pour se filmer. Par ailleurs, il n'y a actuellement que 7 chansons à télécharger (160 MS points la chanson + son clip). Remarquez, on peut aussi uploader des chansons à partir d'un lecteur de musique, genre iPod, mais il faudra se résoudre à se passer de l'image et des paroles. Autant chanter dans sa voiture ! Au final, la fonctionnalité de Lips la plus séduisante reste le Jukebox qui permet de composer une playlist et de la laisser tourner sur la télévision en attendant que quelqu'un active un micro. Dans une soirée entre amis, ça peut faire son petit effet. A condition de prendre le soft pour ce qu'il est, à savoir un simple karaoké de salon.