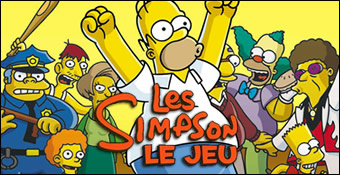 Tout d'abord, remercions comme il se doit Electronic Arts de ne pas être tombé (pour une fois ?) dans le piège de l'adaptation bête et méchante de long-métrage. Ainsi, Les Simpson Le Jeu n'est en rien un titre inspiré du premier film sorti il y a peu. Ce titre possède donc un scénario original, bien que se basant sur plusieurs épisodes de la série, tout en jetant un regard critique sur l'industrie du jeu vidéo. Quelque part, ça ne devrait pas nous étonner vu qu'à travers la série, les scénaristes ne se sont jamais fait prier pour jeter des piques à plusieurs politiciens, grandes institutions ou bien encore la chaîne les diffusant, la Fox. Pourtant, c'est encore trop rare dans notre domaine de prédilection et il faut de ce fait bien comprendre à quel point ce soft est précieux. Ainsi, si il n'y a pas de vraie réflexion sur le jeu vidéo et ses dérives, on pouffera devant nombre des excellentes répliques des protagonistes qui ne sont que le reflet de questions que nous nous sommes posées un jour ou l'autre. En somme, les scénaristes du show s'en sont donnés à coeur joie et plus d'une dizaine d'heures durant, les joueurs vont pouvoir se délecter d'un soft entièrement dédié à notre passion sous couvert d'un humour omniprésent.

Et un hommage, un !
D'un point de vue scénaristique, comment bouder ce titre qui semble partir dans tous les sens mais qui au final n'est qu'un gros épisode spécial Halloween avec tout ce que ça implique d'univers et d'histoires différents. Cependant, pour fédérer le tout, signalons quand même une attaque extraterrestre menée par nos deux E.T. préférés, Kang et Kodos, bien décidés à mettre la main sur notre bonne vieille planète bleue. Pour essayer d'enrayer ladite invasion, après avoir fait la nique au maire Quimby et sauvé les arbres d'une forêt, notre famille va donc se voir projetée dans un univers vidéoludique qui n'est pas sans rappeler celui qui est le nôtre actuellement. A partir de là, ce n'est rien d'autre que du bonheur à l'état pur, enfin presque, si on excepte les problèmes de jouabilité mais nous y reviendrons plus tard. Comme je le disais plus haut, Les Simpson Le Jeu revisite différents jeux vidéo tout en saupoudrant le tout de multiples clins d'oeil à la série sans parler des références indirectes à Star Wars passant par une explosion de scierie ressemblant à s'y méprendre à celle de l'Etoile Noire ou au "sarcophage" de Tahiti Bob emprunté à Dark Vador. Bref, du Simpson quoi !

Marge ne supporte que les couleurs criardes et les crooners à la voix suave.
De fait, la grande force du titre d'Electronic Arts est de ne pas se prendre au sérieux une seule nano-seconde. Tout le monde en prend pour son matricule, à commencer par Electronic Arts et par le biais d'ennemis, d'affiches ou de niveaux, de multiples jeux sont ainsi parodiés avec énormément de respect. D'ailleurs, on devra plutôt parler d'hommage que de parodie. Si Asterix XXL 2 avait déjà suivi cette voie avec succès, Les Simpson Le Jeu va encore plus loin dans la débandade et ne recule devant rien pour nous faire rire. Ainsi, comment rester de marbre devant ce Sonic tout rabougri enfermé dans une gigantesque roue à hamster se faisant la réflexion qu'il ne sait même plus pourquoi il ne peut pas piffrer le docteur Robotnik. En somme, entre des clones de Madden ou de Ryu nous lançant de grandes tirades métaphoriques avant de nous envoyer un Haddoken dans la figure, on jubile comme des gamins devant notre écran. Mais ce n'est pas tout car au-delà de ces références éparses, certains niveaux sont directement inspirés par de véritables jeux vidéo.

Bel exemple de mélange entre la parodie et l'utilisation des traits de personnalité des personnages de la série.
Si ce n'est un secret pour personne, plusieurs softs ont donc fait les frais de l'imagination tortueuse des scénaristes, à commencer par Medal Of Honor, Grand Theft Auto (qui étrangement n'a pas subi trop de coupes malgré les desiderata de Rockstar), Everquest, etc. Et une fois encore, le pari est gagné sur toute la ligne. Les parodies sont exquises et réussissent l'exploit de mélanger l'histoire des personnages de la série ou d'utiliser au mieux quelques traits de caractère pour rendre encore plus drôle la visite de ces contrées imaginaires. Par exemple, le stage Medal Of Homer (dans lequel les français en prennent plein la tronche... Ah le coup de l'école de capitulation pour aveugles, hilarant) s'inspire de l'histoire de Burns et de Grand-pa Simpson tout en utilisant le background et les musiques du jeu d'Electronic Arts. Dans le même esprit, le niveau Neverquest nous confronte à Patty et Selma grimés en un dragon ayant quelques soucis avec la clope et nous offre en prime deux passages d'anthologie dont un renvoyant à Gauntlet avec vue d'origine et générateur de monstres d'époque. Rajoutez-y une apparition de Will Wright en grand méchant, un stage japonisant avec des combats façon RPG, plus de quarante minutes de cinématiques au rendu proche de celui du show et vous obtenez alors un jeu respectueux de A à Z du bébé de Matt Groening. Mais alors que tout semble idyllique, il me faut tout de même vous parler des quelques défauts du titre.

Lisa a entendu Bouddha et lui a serré la main.
Par conséquent, si l'aventure solo se compose de 18 stages, tous ne possèdent pas la même durée de vie. Bien que certains réclament plus d'une demi-heure, voire une heure si vous voulez récupérer tous les objets (synonymes de bonus) ou les clichés du jeu vidéo (idée très marrante mais malheureusement sous-exploitée), d'autres se torchent en moins de dix minutes. Cependant, ceci reste rare même si dans l'absolu, les Défis contre-la-montre nous prouvent qu'il est possible de terminer le tout rapidement. Au sujet des autres modes de jeu, même si ça n'en est pas un à proprement parler, sachez qu'il est possible de vous amuser en coopératif dans la plupart des niveaux. Au final, la durée de vie se résume à une dizaine d'heures ce qui est limite même pour un jeu de plate-forme/action. Dans la façon de procéder, on note un certain classicisme qui n'est pas pour autant péjoratif. Tout se déroule donc dans la ville de Springfield, qu'il est permis de visiter avec plus ou moins de liberté. Disposés à des points stratégiques, les arrêts de bus vous permettront de vous téléporter à divers endroits de la cité ou de changer de personnage, les quatre membres de la famille étant disponibles. Les quatre ? Et Maggie alors ? Ne vous en faites pas, le petit bout de chou est aussi de la partie mais restera tout le temps avec Marge. Néanmoins, la pupuce saura tout de même se montrer parfois très utile en rampant dans des conduits tel un Solid Snake en pyjama afin d'activer des interrupteurs inaccessibles aux autres personnages.

Il sera à un moment question de secourir les Simpson, version 8 bits. Hilarant.
Ainsi, pour faire avancer le scénario, vous devrez vous rendre à des endroits précis pour débloquer un niveau et ainsi de suite. A chaque niveau, un duo spécifique sera associé. Vous ne pourrez alors pas choisir de former votre propre duo puisque ces derniers seront imposés par les stages. En effet, chaque membre des Simpson, après avoir trouvé le manuel du jeu ainsi que le guide officiel, se découvrira des pouvoirs pour le moins inédits qu'ils mettra à profit pour progresser. Homer pourra alors se transformer en boule géante de graisse ou en bonbon humain alors que Bart endossera le célèbre costume de Bartman pour planer ou utiliser un grappin ainsi qu'un lance-pierres meurtrier. Lisa, en tant que voix de la raison et fine mélomane, usera de son saxophone pour étourdir les ennemis ainsi que d'un pouvoir de lévitation lui permettant de manipuler une main de Bouddha géante. Pratique pour user de différents pouvoirs élémentaires ou soulever de lourds objets. Enfin, Marge, toujours aussi pragmatique, fera entendre sa morale bien pensante à l'aide d'un mégaphone pour rassembler les foules qui lui obéiront au doigt et à l'oeil. Il faudra alors constamment switcher entre les deux persos disponibles pour profiter de leurs capacités respectives et ainsi progresser.

Ce combat est impressionnant mais assez difficile compte tenu de la méthode pour venir à bout du géant.
Malheureusement, la jouabilité en elle-même souffre de plusieurs tares irritantes à commencer par une gestion manuelle de la caméra constamment requise. En voilà un cliché... Qui n'est étrangement pas mentionné dans le jeu. Pour le compte, il faudra constamment bouger l'objectif pour savoir précisément ce qui se passe mais ceci ne résoudra pas une gestion des sauts maladroite. Je tiens quand même à préciser que ces soucis ne brident pas le plaisir du joueur mais il est regrettable de constater que ces quelques erreurs, facilement évitables, soient présentes dans la version finale. On retiendra aussi quelques choix de gameplay malvenus (sur la façon de procéder) plombant notamment le combat contre Dodu Donut. Malgré tout, ce ne sera pas suffisant pour rebuter l'amateur de plates-formes, d'humour et à fortiori le Simpsononophile. En guise de conclusion, on ne peut que se féliciter d'avoir enfin droit à un jeu utilisant la franchise de bien belle façon. Classique dans son approche du genre mais jouissif de bout en bout, ce titre bourré de bonnes idées se pose comme la meilleure adaptation existante de la série de Matt G. qui trouve ici un parfait homologue vidéoludique, sorte de prolongement de pixels fantasmé pendant de nombreuses années par des millions de personnes. Techniquement gracieux, plein de facéties, ultra référentiel, Les Simpson Le Jeu pose malgré tout un genou à terre à cause d'une jouabilité imparfaite et divers points de gameplay qui auraient mérité d'être approfondis. Mais en dépit de ces peccadilles, vous aurez compris de vous-même qu'il est impensable de passer à côté de ce titre si vous pouvez dire avec précision ce qu'il en retourne dans les épisodes 3F24, 5F19 voire AABF20 du show éponyme.