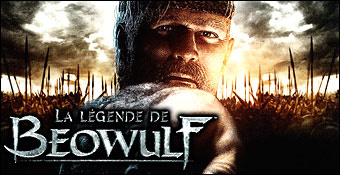 Plutôt que de miser sur le beat'em all lambda, Ubisoft a opté pour un titre un peu plus évolué, sorte de croisement entre Freedom Fighters (bon jeu méconnu) et God Of War (excellent jeu reconnu). Le résultat aurait donc dû être bon, voire excellent sachant que les petits gars d'Ubi sont quand même loin d'être des manches. Eh bien, croyez-le ou non mais c'est tout le contraire dans le cas présent. Beowulf est en effet tout ce qu'il y a de moyen puisqu'en singeant ses modèles, tout en voulant y injecter un peu d'originalité, les développeurs se sont complètement plantés. Dommage car le soft n'est pas exempt de qualités. Sa barbarie joue même pour lui, les joutes et autres passes d'armes sanglantes donnant un vrai souffle épique aux parties. Malheureusement, c'est loin d'être suffisant pour cacher les nombreuses carences d'un beat'em all obligé de cohabiter avec une IA navrante et une construction brinquebalante. Mais commençons par le commencement.
En trifouillant bien les niveaux, vous pourrez trouver des armes légendaires comme ce bouclier.
Un petit tutorial se passant dans votre village natal vous apprendra que Beowulf est un type qu'il ne fait pas bon énerver. Bref, après avoir couru sur vos petites jambes, escaladé quelques falaises, vous devrez anéantir une horde de crabes géants afin d'en faire du surimi pour vos amis. Passé ce préambule, viendra le moment d'affronter trois serpents de mer gigantesques, non retenus dans le casting de God Of War. Seulement armé de vos pitis poings, ce sera alors le moment de faire parler votre nature de berserker en utilisant votre énergie pour profiter pendant quelques instants d'une force surhumaine. A partir de là, il sera plus simple d'assommer les anguilles géantes afin d'utiliser les actions contextuelles pour leur monter sur le palto et leur enfoncer leur corne dans leur unique oeil. Ah, y a pas à dire, mais ça fait du bien la violence dans les jeux vidéo. Bref, une fois que vous aurez fait vos preuves, vous serez cordialement invité à aller traîner vos guêtres au Danemark afin d'aider le roi Hrothgar (veuillez insérer n'importe quel jeu de mots un brin limite) aux prises avec le monstre Grendel depuis 11 hivers. C'est à partir de là que le vrai jeu commencera puisque vous aurez vos hommes sous vos ordres, point commun avec le Freedom Fighters de Io Interactive donc.

Chantez pour faire venir Grendel. Allez encore une fois : A, à, à, la queuleuleu !
Dans l'absolu, si vous pouvez vous battre seul, vous devrez toujours avoir un oeil sur vos compagnons qui pourront être au maximum au nombre de douze. Notez que pour atteindre ce nombre, vous devrez les trouver dans des endroits cachés ou récolter des runes qui vous serviront également à débloquer des mécanismes... Une fois que vous aurez une horde de soldats prêts à répondre au moindre de vos désirs, vous pourrez vous en servir pour attaquer (heureusement d'ailleurs), ouvrir des portes, ramer. Pour cela, il faudra utiliser un menu d'actions rapides grâce auquel vous pourrez ordonner à plus ou moins d'hommes de se rendre à un point ou utiliser un booster héroïque lors des combats afin d'encourager vos guerriers. Cependant, pour user de ces encouragements, vous devrez au préalable vous battre vaillamment en enchaînant par exemple les combos. Une fois fait, vous n'aurez qu'à ouvrir le menu décrit plus haut et appuyer sur une touche pour offrir à vos camarades du baume au coeur. Enfin, la dernière possibilité servira à encourager une fois de plus vos soldats effectuant une action spécifique. Il s'agira alors d'appuyer au bon moment sur deux touches qui apparaîtront à intervalles réguliers sur un cercle histoire d'imprimer la cadence. Notons qu'une scène très sympathique, basée sur ce mini-jeu, propose de battre le rythme pendant que vos hommes poussent la chansonnette. Plutôt marrant même si au final, cette interface de commandement est surexploitée.

Etre berserker a du bon, mais faites attention lorsque vous redeviendrez un simple humain tout chétif.
Tout ceci m'amène d'ailleurs aux trop nombreux soucis du titre. Tout d'abord, comme je le disais, le fait de diriger nos hommes est mal exploité et sert le plus souvent à pousser de lourds objets obstruant le passage. A ce sujet, on pouffera devant l'impossibilité d'emprunter un chemin à 95% dégagé parce que nos escla... Camarades, n'ont pas fini leur dure besogne. De plus, il arrive parfois que nos hommes soient attirés par des statues malveillantes. Très bien sauf que dans ce cas de figure, ils ne bougent plus d'un pouce et ne se défendent absolument pas contre les ennemis. Irritant, surtout lorsqu'on est loin de la scène et qu'il faut alors se précipiter vers eux pour détruire ladite statue afin qu'ils restent en vie. D'ailleurs, on regrettera aussi qu'il faille constamment faire attention à ce que nos soldats ne meurent pas, auquel cas, c'est le game over assuré. Enervant d'autant que nos compagnons sont généralement aussi forts que des fillettes armées d'un bout de bois et ce même en utilisant le boost héroïque. Ce constat vaut aussi pour certaines missions plutôt énervantes durant lesquelles vous devez secourir rapidement des vierges, des villageois, etc. A ce sujet, on pourra aussi trouver dommage qu'Ubi ait opté pour une progression si peu inspirée en alignant simplement les combats contre des hordes d'ennemis. Le hic est que si on peut utiliser plusieurs armes (épée, hache, pique), elles se cassent tellement vite qu'il faudra obligatoirement soit trouver un râtelier d'armes à proximité pour dégotter une autre arme, soit finir le combat à mains nues, en berserk de préférence. Cependant une autre astuce consiste à mettre à profit les actions contextuelles.

Non mais les mecs, c'est plus simple que ça n'y paraît. N'oubliez pas de sauter par contre !
Ainsi, en appuyant rapidement sur la touche B, vous pourrez empoigner un monstre puis choisir une des quatre actions disponibles chacune liée à un bouton du pad. Vous aurez alors la possibilité de rouer votre adversaire (ou un boss) de coups, de l'achever (en le démembrant), de le lancer ou de lui voler son arme. Bien sûr, en sus de ces actions contextuelles, vous pourrez bloquer les assauts grâce à un bouclier, effectuer des esquives, des roulades ou des déplacements latéraux. Il n'empêche que face à une vingtaine d'ennemis en même temps, on a tôt fait de succomber et de recommencer encore et encore les mêmes scènes. Pour en terminer avec les écueils, comment faire l'impasse sur ces astuces du pauvre consistant à empêcher le joueur de gravir des petites buttes de 1m50 de haut en l'obligeant à faire tout un tour histoire de combattre et d'utiliser une fois de plus l'interface de commandement afin d'actionner un mécanisme ? Navrant surtout qu'entre-temps, on aura eu droit à des séquences de "plates-formes" où il faut sauter de prise murale en prise murale pour atteindre des endroits hauts perchés. Bref, bien que Beowulf propose quelques moments intéressants et dispose d'une légère customisation de guerriers en passant par le château d'Herot (lieu où vous pourrez aussi parler avec différents protagonistes dont la reine Wealthow ou acheter des améliorations berserk), on a du mal à prendre son pied devant ce jeu. La faute à une accumulation d'erreurs qui vont de la plus flagrante (énorme redondance dans ce qu'on nous demande de faire, capacités fluctuantes de Beowulf selon les situations) à la plus anecdotique (l'absence de mini-map pour se repérer dans des niveaux souvent tortueux). Si Beowulf possédait la force de 30 hommes, le jeu quant à lui aurait largement mérité un prix de vente de 30 euros, ce qui est loin d'être le cas, malheureusement.