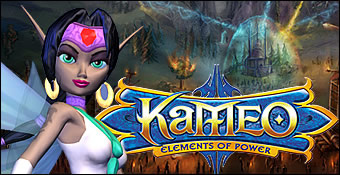 Père de Starfox Adventures, Perfect Dark, Conker, Rare fait partie de ces sociétés qui insufflent une âme à leur création. Entretenant plusieurs points communs avec Oddworld Inhabitants (Lorne, reviens nous !!), cette société a toujours conçu ses univers non pas autour d'un personnage central mais bel et bien autour d'une façon de penser, de voir le jeu vidéo comme un moyen d'exprimer des idées, aussi loufoques soient-elles. Ainsi, il est aisé de reconnaître un jeu estampillé Rare au premier coup d'oeil. Kameo n'échappe pas à cette règle, mieux, il en franchit les limites en utilisant la puissance de la Xbox 360 pour donner vie à un monde fantastique (dans tous les sens du terme) régi par la beauté et les bonnes idées. Bien qu'Elements Of Power se soit fait désirer pendant de longues années, nous pouvons désormais l'affirmer haut et fort : Oui, ce jeu est un bijou. Oui il fait figure d'indispensable sur la console et Oui, le mariage entre la puissance technique et l'artistique vient d'être consommé pour donner naissance à une oeuvre plaisante, passionnante, stimulante.

Voici un des rares boss du jeu. Malheureusement, même en connaissant la technique, vous allez galérer.
Pourtant, le scénario de Kameo ne fait pas figure d'exception en confirmant la règle qui veut que l'originalité soit un vecteur de créativité. Ici, il est question de princesse elfe, de trolls assoiffés de pouvoir, de sages mystiques, d'un précepteur octogénaire, de chevaliers masqués ou encore de guerriers élémentaires. Cependant, en associant tous ces acteurs tout en y ajoutant une grosse louche de beauté graphique saupoudrée d'un peu de magie, on obtient un résultat qui doit autant à L'Histoire Sans Fin qu'au Seigneur Des Anneaux. Ne cherchez donc pas à être étonné par la qualité de l'histoire (qui comporte tout de même quelques surprises) mais plutôt par sa narration qui vous mènera dans des endroits disparates noyés sous les flots, perdus dans les nuages ou enfouis dans les profondeurs de la Terre. Maintenant que nous avons notre scénario, comment allons-nous le faire prendre vie ? Eh bien que diriez-vous d'un jeu de plates-formes/action faisant la part belle aux gigantesques batailles, aux affrontements contre des trolls de 8 mètres de haut et aux énigmes tirant partie de vos capacités ? Topez-là, l'affaire est dans le sac.

Le mode Coopératif n'apporte rien mais il est stupéfiant de voir que l'aspect graphique est du même niveau qu'en solo.
Et comme nous sommes dans un jeu vidéo où tout ou presque est permis, pourquoi se borner à incarner une héroïne quand on peut jouer le rôle de 11 personnages ? Ceci m'amène à vous parler de la véritable structure du jeu sur laquelle tout repose. Kameo : Elements Of Power fait donc intervenir une elfe du nom de Kameo qui va pouvoir bénéficier au fil de l'aventure du pouvoir de 10 monstres chacun lié à un élément comme le feu, la glace, la terre, etc. Pour ce faire, vous devrez au préalable affronter un monstre de l'ombre (qui se fera de plus en plus puissant au fil de la progression) retenant prisonnier un pauvre petit bout de chou qui se transformera ensuite en un redoutable guerrier dont vous tirerez profit. Le plus intéressant dans tout ça est que chaque monstre dispose de plusieurs pouvoirs que vous pourrez débloquer en ramassant des fraises. Cependant, le fait d'améliorer les pouvoirs de vos compagnons ne sera pas obligatoire, seules les deux capacités de base étant essentielles pour passer certains endroits, affronter des ennemis ou résoudre des énigmes.

Il faut réussir à dénicher des fruits mais une fois que vous en aurez en poche, vous pourrez améliorer vos capacités.
Vous aurez donc la chance de pouvoir vous transformer en dragon pour brûler vos adversaires, de nager dans des profondeurs abyssales à l'aide de Grand Bleu, de boxer en tant que plante vénéneuse, d'empaler des ennemis sur votre dos grâce à la force de Chilla, etc. Le tour de force n'est donc pas tant de disposer de pas mal de possibilités mais plutôt d'avoir pensé en parallèle à la simplicité d'un gameplay quel que soit le personnage qu'on contrôle. En gros, tout tourne autour des gâchettes qui vous serviront à utiliser vos deux pouvoirs de base ainsi qu'une attaque spéciale en appuyant sur les deux touches. Rien de plus simple mais c'est diablement suffisant. A ceci, on rajoutera tout de même le fait de pouvoir disposer d'une puissance accrue une fois que vous aurez vaincu assez d'adversaires. Ainsi, plus vous frapperez d'ennemis et plus vous aurez de chance de remplir une jauge de Carnage. Une fois que cette dernière sera pleine, l'action passera au ralenti (inévitable !) et vous aurez alors le loisir de frapper vos adversaires en vous déplaçant plus rapidement. Le petit truc qui fait toute la différence vient du fait que la durée de cette attaque variera en fonction de votre capacité à frapper de plus en plus d'ennemis. La porte ouverte à de sempiternels duels post-matrix ? Pas de doute mais dieu que c'est bon.

Une fois la jauge de Carnage remplie, vous pourrez bénéficier d'une puissance accrue.
Cependant, si on ne peut nier que les combats mettent en exergue les facultés de vos avatars, on est parfois décontenancé par l'aspect "démo technique" de ceux-ci. Ok, la Xbox 360 est capable de bien belles choses mais pourquoi avoir voulu à tout prix nous en mettre plein la vue au détriment du confort de jeu ? Bien que ce genre de problèmes ne soit pas très fréquent, il arrive que l'écran soit tellement aspergé de gouttelettes d'eau ou de sève qu'on n'y voit plus rien. Le surplus d'ennemis est aussi un problème dans le sens où à certains moments, on perd complètement le nord, dépassés que nous sommes par des centaines d'adversaires qui nous assaillent de tous les bords. D'un autre côté, il est très jouissif de pouvoir galoper sur notre cheval de trait (un Epona-like mais sans gnome vert pour nous brailler dans les oreilles) au milieu de centaines de combattants ou de pouvoir assister à des batailles mettant en scène des légions entières de trolls. Le plus impressionnant est que rien ne nous empêche de descendre de cheval et de participer à l'affrontement. Sidérant et très prometteur en ce qui concerne les jeux à venir.

Le fameux aspect "démo technique". Et encore, dites vous-bien que dans le cas présent, ça reste jouable.
D'ailleurs, comment ne pas encenser les prouesses graphiques de ce titre ? Kameo est un enchantement de chaque instant. Les atmosphères éthérées laissent la place à des passages chaotiques où les météorites s'écrasent sur votre passage avec bruit et fracas, les jeux de lumière donnent vie à des décors a priori banaux, les textures sont incroyablement belles et les animations des personnages ont tendance à vous faire pousser des cris de surprise contentée. Kameo est un authentique chef-d'oeuvre graphique, même si ici aussi, nous n'évitons pas quelques petits défauts liés à un surplus inutile de particules (lucioles, bulles...) ou une représentation des fonds marins un peu décevante. Pour rester dans le rayon des remontrances, citons également une aventure qui se veut légèrement trop facile (à deux ou trois passages près), quelques soucis de caméra ou l'obligation de passer par un grimoire pour changer de transformation (seules 3 étant disponibles par le biais d'un menu d'action rapide). A cela, on peut aussi rajouter un mode Coopératif en splitté qui ne sert à rien puisqu'il permet uniquement de rejouer plusieurs niveaux de l'aventure solo. A ce sujet, pourquoi ne pas avoir opté directement pour une aventure pouvant se jouer avec un ami dans son intégralité ? Ce fut une bonne idée d'autant que la qualité graphique ne perd rien de sa superbe lorsque l'écran est scindé en deux.

Les cavalcades permettent d'admirer les environnements. Attention tout de même à ne pas vous faire voler votre canasson.
Kameo est au final la parfaite vitrine des capacités de la Next-gen de Microsoft. Superbe d'un point de vue visuel, des possibilités bien exploitées, un gameplay convaincant malgré quelques légers problèmes, une construction solide et synonyme de nombreuses surprises, le résultat se veut à la hauteur de nos espérances. De plus la bande-son est d'une qualité magistrale grâce à des compositions qui ont un côté philharmonique très emphatique. Bien que la gamme de bruitages soit variée, on retiendra aussi un doublage français de bonne qualité quoi qu'un peu effacé par moments. On peut aussi regretter qu'il n'y ait pas plus de boss et qu'on retrouve à intervalles réguliers les mêmes passages qui font malgré tout le jeu d'une ingénieuse coopération entre les différentes créatures. En définitive, ces défauts pèsent bien peu dans la balance et ne brideront en aucune façon le plaisir que vous ressentirez en traversant ce conte de pixels. Rare réussit donc son entrée sur Xbox 360 et si Kameo n'est pas parfait, il préfigure déjà les grands hits qui trouveront refuge sur la Next Gen de Microsoft.