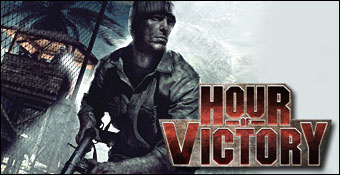 D'emblée, Hour Of Victory se démarque de ses petits camarades au sens où il ne propose pas au joueur de s'engager dans une bataille spécifique ou une campagne historique, telle la libération de nos fiers bocages normands. Non, le soft relate les aventures d'un trio d'experts, rassemblés par la hiérarchie alliée afin d'empêcher les Nazis d'aboutir à la fabrication de la bombe atomique. Leur mission, votre mission, sera bien sûr déterminante quant à l'issue de la guerre et vous fera vous balader aux quatre coins de l'Europe. Vous vous promènerez ainsi dans les rues poussiéreuses d'une ville d'Afrique du nord avant d'être fouetté par le blizzard en Bavière, et tout ça sans que le titre ne s'embarrasse vraiment d'un quelconque liant scénaristique. Mais passons, car l'histoire d'Hour Of Victory n'a effectivement rien de mémorable, et venons-en à ce qui attire le chaland, à savoir la bidoche, les flammes et le plomb.

Les trois compères en image.
En fait, tout le gameplay d'Hour Of Victory repose sur un seul et unique principe : la possibilité de choisir entre trois personnages différents aux capacités bien définies, avant chaque nouvelle section d'un niveau. Accueillons donc Ross, le gros bourrin de service dont la principale caractéristique est de pouvoir résister à plus de bastos que ses collègues. Il est également en mesure de solliciter ses muscles saillants afin de pousser des objets encombrants, qui vous vous en doutez, se feront une joie d'obstruer certains passages. Vient ensuite Taggert, spécialiste des opérations spéciales. Le lascar privilégie l'infiltration et peut donc se dissimuler et se déplacer silencieusement. Il utilise un couteau qui servira indistinctement à saigner du troufion dans le noir, de dos, pendant la pause pipi, ou à couper des fils barbelés et à crocheter des serrures. Enfin, le troisième larron se nomme Bull et sa passion dans la vie, c'est de loger des suppositoires en fonte dans la boîte crânienne de l'adversaire moyen, à plus de deux kilomètres de distance et avec un fusil de sniper si possible. Comme tout bon tireur d'élite qui se respecte, il pourra retenir sa respiration pour gagner en stabilité, sauter plus loin que ses camarades, mais surtout utiliser un grappin à des endroits spécifiques afin d'atteindre des zones inaccessibles au commun des mortels.

Euh... C'est pas comme si j'étais en train de te tirer dessus là !
L'idée est sympathique, puisqu'elle permet en théorie de rejouer chaque niveau avec chacun des personnages, et ainsi de le redécouvrir (faisant par la même le bonheur des chasseurs de succès, qui pourront donc en obtenir 3 par niveau). L'ennui, c'est que le level-design d'Hour Of Victory est carrément mauvais et les fameuses interactions spécifiques à chaque combattant relèvent en fait d'un gameplay primaire et daté. En tant que sniper, il vous suffira par exemple de vous approcher d'une corde suspendue à un mur de deux mètres de haut, d'appuyer sur X, pour voir votre modèle de légèreté se hisser misérablement en haut. J'espère qu'on me pardonnera mon matérialisme primaire, mais n'importe quel soldat digne de ce nom devrait être capable de faire cette petite ascension. Même constat pour ces ridicules cadenas qui bloquent l'accès à certaines salles ou bâtiments. Pourquoi diable Taggert est-il le seul capable de les rompre, puisqu'une balle de n'importe quelle pétoire devrait largement suffire ? Eh bien parce que sans cela, Hour Of Victory n'aurait sans doute aucune raison d'être.

Progresser en haut de cette rue ne prendra guère de temps.
Mais même si on essaie d'être tolérant envers ces petites insultes à la logique la plus primaire et de se dire que, bon, Hour Of Victory possède sa propre logique interne, on risque malgré tout de parvenir à une conclusion assassine. La faute à une réalisation décevante qui accumule les bugs graphiques (la démo disponible sur le Xbox Live reflète tout à fait la qualité finale du soft) ainsi qu'à une I.A. catastrophique qui rend les combats franchement inintéressants. Les soldats ennemis courent dans tous les sens sans aucune logique, vous ignorent ou tentent misérablement de se dissimuler en veillant à ce que leur tête, ou tout autre appendice corporel soit bien en vue. Certains iront même jusqu'à se coller des grenades tout seul. Dans ce contexte, se débarrasser des légions d'adversaires ne présente guère de difficulté, du moins jusqu'à l'avant-dernier stage, où leur nombre vous compliquera un peu la tâche. Parlons enfin du maniement qui là encore se révèle lacunaire. Le réticule de visée réagit avec lenteur (et ce même lorsqu'on aura augmenté la sensibilité au maximum), la vision est ballottée au rythme des pas de votre avatar, au point de rendre le jeu brouillon et difficilement lisible. Quant à l'aide à la visée (qu'il est heureusement possible de désactiver), elle fausse complètement la donne et s'évertuera souvent à vous faire tirer sur le tonneau derrière lequel se dissimule un ennemi plutôt que sur sa tête, pourtant bien visible.
Bull le sniper, dans toute sa splendeur.
Ajoutons à cela un système de gestion des dégâts calqué sur Call Of Duty et qui se matérialise par un halo rouge pétant gênant et trop long à disparaître, des phases de conduite de véhicule encore moins maniables que le reste, et enfin des vibrations du pad qui semblent être passées à la trappe (une visite dans les menus et plusieurs changements de manette n'auront pas résolu le problème sur notre version) et vous obtenez un jeu insipide et déplaisant à traverser. Hour Of Victory apparaît donc comme un jeu développé à la va-vite et qui méritait sans doute mieux. En l'état, nous ne saurions vous conseiller que de passer votre chemin et de retourner vers des titres moins originaux mais plus solides, et surtout plus divertissants.