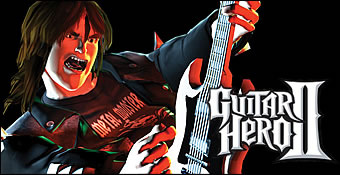 On ne fera pas l'affront d'expliquer une fois de plus en détail ce qu'est Guitar Hero ni ce qui fait son charme indicible, ses mécaniques de jeu qui parviennent si bien à émuler de façon simplifiée les sensations d'une vraie guitare. Sur le principe, rien n'a changé, on pratique toujours Guitar Hero sur un accessoire épousant la forme d'une gratte, dotée de ses 5 touches de frettes qu'il faudra "pincer" en suivant les indications d'une partition à l'écran, sans oublier de gratter ses cordes avec la touche centrale faisant office de médiator. En revanche, oubliez la SG de la version PS2 puisqu'ici on trouve une guitare inspirée de la gamme X-Plorer de Gibson, aux formes anguleuses. Du côté des bons points, on note que les touches sont sensiblement moins bruyantes et plus souples. Côté mauvais point on regrette l'attache de sangle située sur le manche, pas pratique du tout. Tout ce qu'on a déjà vu dans le précédent volet est toujours en place, le star power qui s'active en levant sa guitare après avoir enchaîné une suite de notes spéciales, les techniques de hammer et pull off, etc. Mais qu'est-ce qui change donc ?

Vous pouvez répetez la section que vous souhaitez.
Eh bien avant d'entrer dans le gros du sujet, on reviendra sur les fameux hammer on et pull off, ces techniques de base à la guitare reproduites ici, qui permettent de jouer plusieurs notes rapides en ne grattant qu'une fois la ou les cordes. Rendus plus réactifs, ces artifices s'exécutent aujourd'hui beaucoup plus facilement et ne se limitent plus à deux notes, collant d'autant plus à la réalité (enfin dans une certaine mesure, évidemment). Une modification qui a son importance quand on jette un oeil à la playlist de 40 chansons reprises auxquelles s'ajoutent une vingtaine d'autres de la scène "amateur". Sans s'attarder sur la question des genres et des titres choisis, on s'intéressera avant tout au fait qu'il s'agit souvent de titres rapides qui exigeront de vous une sacrée dextérité. Guitar Hero 2 se focalise bien plus sur la vitesse et la performance, là où Guitar Hero premier du nom insistait sur les riffs incontournables et les mélodies entêtantes. De manière générale, il faut bien admettre que cette suite se montre moins accessible que le premier volet et que le mode Moyen, malgré tout plié en une après-midi par un joueur aguerri, suffit déjà à en faire baver. Le mode Difficile est une souffrance quant au mode Expert, j'en fais des cauchemars dans lesquels Red Octane a ajouté des accords à 3 boutons. Bien sûr, tout cela ne vient pas des chansons en elles-mêmes mais de la façon dont elles ont été transcrites par les développeurs, une approche plus technique, avec notamment un travail de la main droite assez efficace, avec changement de rythme, contretemps et tout ce qu'on peut imaginer. Une hausse de la difficulté compréhensible pour une suite, mais assez mal dosée quand on constate l'écart qu'il peut y avoir entre le mode Moyen et le mode Difficile.

Life Wasted, pas le meilleur choix dans le catalogue de Pearl Jam.
Un écart qui justifie la présence de l'entraînement. Dans cette section, vous pourrez pratiquer un morceau ou une partie d'un morceau (couplet, refrain, solo, final etc.) dans n'importe quel mode de difficulté et en choisissant 4 niveaux de ralentis. "Comme en vrai" diront ceux qui ont déjà eu recours à cette méthode d'apprentissage. Il est simplement regrettable d'avoir à recharger chaque section une fois qu'on arrive à son terme au lieu de disposer d'une option de mise en boucle. Evidemment, une question risque d'en tarauder certains : conçu comme un jeu, ai-je vraiment envie de passer des heures sur Guitar Hero à travailler durement comme avec une vraie guitare pour apprendre un titre alors que je pourrais le faire, précisément, avec une vraie guitare. Une question à vous poser si vous êtes gratteux, personnellement j'ai résolu le problème en lâchant l'affaire dés qu'il a fallu que j'apprenne par coeur des suites de boutons de couleurs.

Prendre des captures d'écran sympa en jouant à Guitar Hero, c'est pas facile, facile.
Mais cet écueil est loin d'être fatal au titre. Comme il est dit en début d'article, les sensations restent inchangées et Guitar Hero réserve son lot de très bons moments avec sa playlist hétéroclite. Des années 70 à nos jours, on passe de Black Sabath (War Pigs) aux Foo Fighters (Monkey Wrench) en traversant les Guns n' Roses (Sweet Child O'Mine), Nirvana (Heart Shapped Boxe), tout ça après avoir redécouvert les Stones (Can You Hear Me Knockin') et la surf music de Dick Dale (Misirlou Theme) et un paquet d'autres que je vous enjoins d'aller consulter sur le site officiel du jeu. Les genres sont donc variés, du rock qui grince des dents, du metal qui arrachent les doigts, de l'instrumental planant et même du rockabilly (simplement grandiose, vive les Stray Cats). De mémoire et parce que se sont des morceaux que je viens de jouer à l'instant, des titres tels que Killing In The Name de Rage Against The Machine, John The Fisherman de Primus ou Stop de Jane's Addiction passent extrêmement bien et on est très heureusement surpris de trouver la toute simple Message In A Bottle de Police. En grande partie parce que ce sont de grands noms du rock.

Les hammer on et pull off répondent très bien.
D'autres titres quant à eux laissent un peu plus sur leur faim soit par leur aspect nettement moins cultissime que ce qui était proposé par Guitar Hero 1 soit par la frustration qui en découle. En effet, quand on regarde la liste d'artistes, on se réjouit, quand on regarde les chansons choisies, on s'interroge. Pourquoi de Van Halen on a décidé de prendre You Really Got Me quant on aurait pu opter pour d'autres opus plus percutants ? De même, pourquoi Heart Shaped Box de Nirvana, particulièrement peu intéressante à jouer ici, et non Smells Like Teen Spirit ou la moins connue et bien meilleure Aneurysm ? On s'avoue aussi un peu déçu par de grandes absences, comme celle de Led Zeppelin toujours pas à l'honneur. Mais tout ceci reste une affaire de goûts. En revanche, préparez-vous à un ou deux petits chocs psychologiques en écoutant les reprises gravées sur la galette, certaines libertés ayant parfois été prises... Ainsi les paroles de Killing In The Name ont été un tantinet policées, pendant que Heart Shaped Box se retrouve avec un solo 3 fois plus long qu'à l'origine. Si, si, il y a un solo à l'origine. Mais ce sont surtout certaines voix qui chatouillent les oreilles. Tout le monde n'est pas Zach De La Rocha (RATM) et encore moins Layne Staley (Alice In Chains) et à l'écoute, on se fait un peu mal de temps à autres. Enfin, ce sont des broutilles mais tout de même. Profitons en pour citer les nouveaux titres de cette version Xbox 360 : Life Wasted (Pearl Jam), hush (Deep Purple), Rock And Roll Hoochie Koo (Rick Dirringer), Salvation (Rancid), Possum Kingdoms (The Toadies), Dead (My Chemical Romance), Billion Dollar Babies (Alice Cooper), The Trooper (Iron Maiden)
Si le jeu en ligne est toujours absent, vous pourrez au moins poster vos scores.
Mais bien sûr, la grande nouveauté de Guitar Hero 2 c'est son mode coopératif qui prouvera enfin à la face du monde non musicien que les bassistes sont des fumistes. Avec son nouveau mode coop, GH 2 vous propose d'opter pour deux solutions, soit une guitare lead et une rythmique, soit une guitare et une basse. On est assez loin du truc super révolutionnaire auquel on s'attendait. Cette coopération est sympathique, mais manque singulièrement de convivialité au final, chacun s'amuse de son côté, mais il n'y a guère d'interaction entre les deux joueurs, en dehors du fait qu'il faille activer le Star Power de concert. Toutefois, on ressent bien une pointe d'émulation de l'un vers l'autre, lors des parties à deux. De plus, assez peu de morceaux laissent un gros espace sonore et mélodique à la basse, ce qui limite le nombre de chansons véritablement appréciables dans cet exercice dans la mesure où il arrive qu'on se rende à peine compte que la section basse joue ou pas. Bon, bien sûr, avec Primus, ça saute un peu aux oreilles. Du coup, on peut insulter ces feignasses de bassistes avec leurs 4 cordes, et ça, c'est la preuve que Guitar Hero a su rester proche du rock.