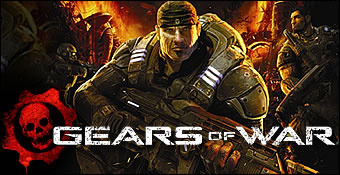 Pour vivre heureux, vivons cachés. De cette maxime, les Locustes en ont tiré des enseignements mais pas nécessairement les meilleurs pour la race humaine qui exila ce peuple il y a fort longtemps dans les entrailles de la planète Sera. Désireux de reprendre leurs biens, soucieux de retrouver la chaleur du soleil, animés par une haine farouche envers leurs geôliers arrogants, ces êtres implacables quittèrent le territoire des Morlocks pour réclamer une vengeance légitime. Les armes se levèrent de part et d'autre des deux camps et la guerre débuta sous une pluie de cendres annonciatrices de lendemains orageux. Si le scénario de Gears Of War fleure bon la série B, avec ses bidasses boostés aux hormones et aux gueules patibulaires, c'est pourtant de ces lignes que naîtront les fabuleux moments à venir. Intensité, surprise, jouissance, peur, tous ces sentiments s'attachent à un synopsis famélique qui se borne à ressasser la lutte éternelle entre les hommes et une race extraterrestre mais dont de talentueux développeurs ont réussi à extirper moult idées servant à la conception d'une mise en scène fulgurante... Quand Aliens et Predator côtoient Apocalypse Now.

Le mode solo se boucle rapidement mais le refaire en coop. en décuple la durée de vie.
Telle une balle de fusil, Gears Of War risque de vous être fatal. Si Microsoft nous avait prévenu que rien ne serait plus comme avant, comment se préparer à un tel déferlement de fureur ? Véritable hallali à l'encontre de l'espèce humaine, l'oeuvre d'Epic Games se montre tellement généreuse à l'égard des joueurs qu'on ne peut que tendre les mains en acceptant le cadeau. Pourtant, ce jeu d'action n'a, à première vue rien de bien sensationnel, du moins d'un point de vue structurel. Ainsi, on y incarne un marine, élevé par une haltère et un tube de stéroïdes, accompagné de quelques camarades de jeu eux-mêmes constitués à 90 % de muscles. De vraies gueules de porte-bonheur en somme, des mecs, des vrais, des machines de guerre, ultimes remparts contre une invasion d'extraterrestres puissamment armés et guidés par un inextricable appétit de vengeance. Le but du jeu ? Vous l'aurez sûrement compris mais pour les quelques planqués qui nous lisent et qui n'auraient pas encore saisi, le tout se résume en deux mots : survivre et combattre !
Se cacher est une donnée essentielle du gameplay de Gears Of War.
La lumière s'éteint, un marine s'éveille et le joueur trépigne. Le premier point fort de Gears Of War, outre sa fabuleuse patte graphique, est de ne pas s'embêter d'un prologue trop explicatif afin de plonger le joueur dans l'enfer de la guerre. Si on peut trouver cette entrée en matière un brin prétentieuse, l'idée n'est pas innocente. Tout d'abord, elle laisse la porte ouverte à d'autres épisodes (ce qui semble une évidence vu la fin ouverte de ce segment) qui pourraient s'attarder sur la relation entre les Locustes et les humains, revenir sur ce qui s'est déroulé avant le premier opus ou approfondir l'univers du jeu. Ensuite, cette absence d'ouverture scénaristique a l'avantage de désorienter le joueur qui ne sait absolument pas ce qu'il va affronter. La première rencontre avec nos ennemis devient dès lors beaucoup plus probante, violente, les concessions s'évaporant au rythme des borborygmes bestiaux émaillant chaque salve de balles. En effet, c'est au terme d'un mini tutorial nous expliquant les bases du gameplay qu'on devra affronter un premier groupe de Locustes, sorte de mixe entre un G.I. et les aliens de Doom. Si de prime abord, on ricanera devant ces ennemis ressemblant à des sauvageons armés de gros calibres, on aura tôt fait de ne pas se fier aux apparences pour chercher un bout de décor où se planquer, histoire de recharger en attendant la suite des événements.
Cette seule phase en véhicule est courte mais renvoie délicieusement à une séquence de Pitch Black.
Ceci m'amène à vous parler du gameplay de Gears Of War qui dispose de plus d'un tour dans sa besace. Tout d'abord, l'interaction avec le décor est omniprésente puisqu'il est possible de se cacher derrière quasiment n'importe quel élément ou de passer rapidement de l'un à l'autre. Il vous suffira donc d'appuyer sur le bouton A pour que votre marine se mette accroupi derrière un canapé, un bloc de béton, ou de laisser appuyer ladite touche afin de courir directement vers la cachette la plus proche. Ca n'a l'air de rien mais sachez que cette possibilité fait en grande partie la force du titre. De fait, on se plaît à se retrancher n'importe où, à effectuer des roulades ou à sprinter pour s'abriter en guettant une accalmie salvatrice. Une autre idée de gameplay concerne le rechargement des armes qui peut se faire de façon plus ou moins efficace. Ainsi, lorsque vous arriverez à court de balles, une jauge apparaîtra sous l'icône d'arme. Vous devrez alors appuyer au bon moment, lorsque l'indicateur arrivera dans une zone spécifique, pour obtenir davantage de munitions, réaliser un chargement rapide et ainsi éviter l'enrayement de votre flingue.

Un des plus beaux ciels du jeu vidéo observe le féroce Berserker en pleine charge. Terrifiant !
En parlant d'armes, notez que vous pourrez switcher entre quatre modèles par le biais d'un menu d'actions rapides, accessible à l'aide de la croix de direction. Si on retrouve les habituels pistolets, mitraillettes (ici couplées à une tronçonneuse !), fusils à pompe ou grenades, on peut aussi utiliser un arc futuriste tirant des flèches explosives ainsi qu'un appareil de ciblage relié à un satellite envoyant un rayon laser une fois la victime lockée. Cependant, si cette dernière arme reste une des plus efficaces (surtout contre les monstres les plus imposants), elle ne peut être activée qu'une fois à l'extérieur. Quoi qu'il en soit, vous aurez assez de répondant pour faire face à vos opposants d'autant qu'il est également possible de jouer l'aventure principale seul, avec un ami en écran splitté ou sur deux écrans séparés en LAN. A ce sujet, on peut féliciter les programmeurs qui ont abattu un boulot titanesque afin que le coopératif soit aussi réussi que le mode solo, tant sur le plan graphique que sur celui de la jouabilité. Certes, l'action est moins lisible mais il est réconfortant de se savoir épaulé par un compagnon d'armes qui réfléchit avant d'agir. Habile transition pour vous entretenir des quelques défauts que nous avons pu constater au gré de nos pérégrinations.

Si le jeu est moins porté sur l'horreur qu'un Resident Evil, il conserve tout de même quelques plans très Doomesques.
Premièrement, si vous êtes constamment escorté par plusieurs membres de votre escouade, ces derniers ont tendance à se jeter dans la mêlée, la tête la première, ou au contraire à rester bêtement devant un ennemi en attendant de se faire dessouder. Le plus énervant est que dans certains cas, le Game Over intervient si un de vos coéquipiers passe de vie à trépas. Vous devrez alors rapidement vous approcher de sa carcasse pour lui porter secours en espérant qu'il daigne se mettre à l'abri après coup. A l'inverse, il arrive parfois que vos compadrés fassent preuve d'initiative en choisissant les bonnes options aux bons moments. Mais ne vous y méprenez pas, l'immersion est malgré tout totale car sans temps morts. Les gunfights succèdent aux gunfights, les corps explosent, les Locustes hurlent et si le bestiaire ne comporte pas beaucoup d'individus différents, on a tout de même droit à quelques monstruosités de taille gigantesque qui ne sont pas forcément les plus difficiles à battre malgré leur statut de boss.

Grâce à la croix de direction, vous pourrez choisir rapidement une des armes en votre possession.
Un des autres écueils à formuler concerne le manque de variété dans les situations. Ainsi, on a juste droit à une phase en véhicule (qui doit beaucoup au film Pitch Black) sur l'ensemble des cinq actes constituant le mode Solo, ainsi qu'à quelques actions contextuelles banalisées par leur côté anecdotique. Mais finalement, est-ce un vrai reproche qu'on peut formuler sachant que Gears Of War est un pamphlet glorifiant la surenchère de douilles, de tripes et de hurlements ? Si je vous laisse répondre à cette question, je puis cependant vous mettre en garde contre la dépendance occasionnée par cette démonstration de brutalité dont le chef d'orchestre se nomme Berserker. Si ce fou furieux ne représente en rien le chef de file des Locustes, il vous offrira pourtant quelques souvenirs mémorables. En effet, lorsque vous aurez le malheur de le rencontrer, cette sorte de Nemesis vous chargera tel un taureau pour essayer de vous éliminer d'un simple coup d'épaule. Bien entendu, tout sera mis en oeuvre pour accentuer cette rencontre, de l'environnement confiné au temps limité pour se débarrasser du monstre en passant par le timing requis pour éviter les attaques du Berserker qui dispose pour la peine d'une animation absolument fantastique. Bref, on sent la puissance de la bête et on frémit à chaque fois qu'elle commence à courir vers nous !

Un grand merci à Rivaol pour la prise de ce superbe screen qui reste un de mes préférés.
Si ceci est donc dû à un travail de design et d'animation, l'immersion passe aussi par de petits détails qui prennent toute leur importance une fois l'oeil rivé à l'écran. L'exemple le plus marquant est sans nul doute la caméra placée à hauteur du bassin lorsque notre personnage commence à courir. L'impression d'assister à un reportage de terrain, avec un cameraman suivant péniblement les mouvements de troupe, est parfaitement rendue et offre un cachet inimitable à ces montées d'adrénaline lors desquelles il convient de courir pour survivre. Au final, le solo de Gears Of War est de courte durée (entre neuf et dix heures environ en Normal) malgré quelques embranchements à choisir, mais se vit intensément d'un bout à l'autre. Et comme chaque gâteau se doit d'avoir sa cerise, nous terminerons avec le multi qui permet à 8 joueurs de s'affronter à travers trois modes de jeu issus du Deathmatch sur quelques maps qu'on aurait souhaité un peu plus vastes. Mais le plus étonnant est que le multijoueur de Gears Of War privilégie l'approche tactique, au rentre-dedans musclé. Il faudra donc se cacher, avancer à pas feutrés et surprendre vos adversaires pour obtenir la victoire. En conclusion, s'il ne peut prétendre au statut de jeu culte, Gears Of War se pose tout de même comme un des plus grands morceaux de bravoure de ces dernières années. Un titre évident sur Xbox 360, aussi percutant qu'un coup de poing dans la figure, aussi jouissif qu'un Starship Troopers, aussi macho qu'un second rôle de Predator !