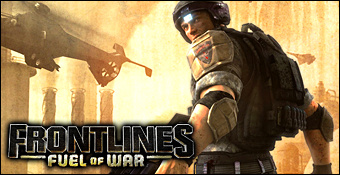 A l'origine de Frontlines : Fuel Of War se trouve le studio Kaos fondé par d'anciens développeurs de Trauma qui avaient sévi sur Battlefield. Rien d'étonnant donc à ce que Frontlines frappe par sa ressemblance avec la série de DICE, aussi bien en multi qu'en solo. Dans un futur pas très éloigné, la disparition quasi totale des ressources pétrolières plonge le monde dans une nouvelle guerre globale opposant le bloc de l'ouest (USA et une partie de l'Europe) à son vieux rival de toujours, le bloc de l'est (Russie et Chine). Boum badaboum allons donc nous foutre sur la tronche au milieu du désert ou sur la Place Rouge. Contrairement à Battlefield, Frontlines peut se targuer de proposer une campagne solo qui reprend simplement les principes de son mode multi mais en y ajoutant un scénario, un poil de mise en scène et des bots plus malins que la moyenne. Du coup, ce qui est habituellement un simple entraînement devient ici un segment à part entière du jeu. Un petit segment ceci dit car on boucle sans problème cette campagne en 6 heures, 8 au maximum si vous êtes du genre à traîner en route.

La campagne solo joue la carte de la mise en scène façon apocalypse nucléaire.
De plus, sans être déplaisante, la campagne n'a pas de charme particulier lui permettant de rivaliser avec un Call Of Duty 4. Son scénario convenu est agrémenté de quelques séquences à grand spectacle, dont un bombardement nucléaire, et s'efforce surtout de justifier l'approche par objectifs du gameplay qui sert de base au multijoueur. On trace donc sa route assez vite, en essayant de combler une intelligence artificielle pas très affûtée surtout du côté des alliés qui semblent totalement incapables de se rendre utiles. Il arrivera même assez fréquemment que l'on se retrouve bien seul sur un objectif, se demandant où cette bande d'empotés de la rangers est allé se fourrer. Malgré tout, on s'ennuie rarement, en dépit du manque de patate des armes, et on en profite pour apprendre les bases du jeu, ses commandes, ses divers objectifs, ses drones et le pilotage des véhicules.

Plus vous brillerez dans votre rôle, plus vos possibilités augmenteront.
Une fois qu'on a bien appris sa leçon, on peut alors se diriger vers le véritable coeur du jeu, le multijoueur. Théoriquement jouable jusqu'à 50 sur 360, pour l'heure sur une seule map, Frontlines semble pourtant toujours bloqué à 32, ce qui est déjà pas mal ceci dit. D'autant plus qu'il faut bien ça pour profiter d'un titre qui mise tout sur le teamplay. A noter que la version PC accueille de son côté 64 joueurs. Ceux qui connaissent Battlefield prendront vite leurs marques. Chaque carte comprend un certain nombre de points de capture qu'il faut occuper pour faire avancer la ligne de front jusqu'à dominer la zone. Outre cette progression, chaque objectif possédé équivaut à de nouveaux points de respawn, à plus de véhicules ou de munitions. C'est classique depuis l'avènement de Battlefield, mais ça fonctionne toujours.

Choisissez votre point de respawn et votre classe, à la Battlefield.
Pour pimenter un peu les choses, il vous faudra choisir votre classe à chaque retour sur une map. Assaut, Assaut lourd, Sniper, Antivéhicule, Forces spéciales ou encore corps-à-corps composent la liste mais il faut encore y ajouter les rôles qui définissent des fonctions précises et graduées. Le soutien au sol peut réparer les véhicules ou apporter un appui feu supplémentaire pendant que le technicien IEM sert d'éclaireur mais utilise surtout son matériel électromagnétique pour perturber les engins ennemis. Le technicien drone pour sa part fait usage des appareils téléguidés au sol ou dans les cieux afin de percer les lignes adverses. Enfin le responsable des frappes aériennes désigne les cibles qui seront touchées par un bombardement. Plus vous serez efficace dans votre rôle, plus vos possibilités d'actions évolueront. A titre d'exemple, d'un simple mini-hélicoptère explosif, vous passerez à un mini-char d'assaut équipé d'un mortier.

"Get down, get down !"
Malgré son côté "déjà-vu", le multi de Frontlines fait finalement mouche puisque, à condition de tomber sur une partie bien remplie, les matches sont assez emportés et rythmés. Malheureusement, quelques problèmes entachent le jeu, pas au point de le rendre rebutant, mais au moins de lui faire perdre des points. En premier lieu, en matière de gameplay, on s'explique mal certaines lacunes. Lors du choix de la classe, aucune indication ne vous permet de connaître la répartition actuelle de votre équipe. A-t-on trop d'Antivéhicules ? Pas assez d'Assauts Lourds spécialisés dans la réparation ? Ne vais-je pas être le 24ème sniper de mon équipe ? Plus gênant, pour un jeu basé sur le teamplay et la coordination des efforts, Frontlines ne permet de communiquer qu'avec un micro-casque. Contrairement à la majorité des jeux du genre, il est impossible, à moins de rejoindre une escouade, d'utiliser un raccourci permettant de demander des renforts sur un point contesté ou de concentrer les efforts sur un autre. C'est peut-être le cas chez Kaos, mais tous les joueurs ne se servent pas de leur micro-casque. Fatalement, on observe quelques ratés en cours de jeu dus en grande partie à un manque de coordination des joueurs. Autre petit regret, l'absence de mode de jeu annexe au mode Frontlines qui aurait permis de se détendre un peu entre deux gros matches. On terminera avec la mention de quelques bugs dont un s'avère particulièrement agaçant. Une gestion un peu trop approximative des collisions a en effet la vilaine tendance à bloquer les drones dans des éléments de décor. On espère vite voir débarquer un patch pour arranger ça.