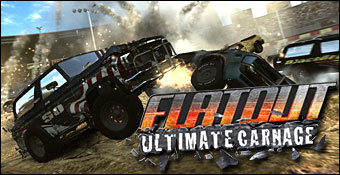 N'attendez pas de la vraie bonne grosse nouveauté avec ce troisième FlatOut. Les développeurs de chez Bugbear ont davantage tenu à annoncer la couleur quant à leur capacité à proposer un titre techniquement aux petits oignons. Ultimate Carnage est donc une sorte d'intermédiaire qui porte bien son nom puisqu'il se présente sous la forme d'un Full Auto sans les armes, avec un goût prononcé pour la destruction des environnements et une interaction optimale avec n'importe quel élément du décor. Autrement dit, la claque graphique intervient en priorité lorsqu'un bâtiment entier, une station essence ou un chantier s'effondre, explose ou subit la foudre des pilotes qui traversent panneaux, bidons, pneus, grillages, barrières et poteaux sans trop se soucier de l'incidence que cela peut avoir sur le tracé. Un circuit qui fourmille d'obstacles en tout genre, que l'on soit en ville ou en pleine campagne. En ce sens, le point fort du jeu est avant tout de vous inciter à jouer avec cette interaction pour poser des difficultés à vos onze adversaires, toujours prêts à venir chatouiller vos ailes et pare-chocs...

Vous allez entrer dans un bâtiment en flammes, prévoyez les extincteurs.
En dépit du manque de nouveautés, FlatOut propose une variété de types de courses qui combine vitesse, destruction et second degré avec le désormais célèbre concept de rag dolls utilisé pour donner un côté party-game au titre dans des mini-jeux très drôles. En fonction de la progression en mode carrière ou en naviguant çà et là dans les menus, on peut donc participer à des courses classiques à douze, à des contre-la-montre, à des derbys deathmatch en arènes (avec l'objectif d'être le dernier survivant dans l'arène), à des "beat the bomb" ou encore des cascades qui emploient le pilote comme un projectile. Dans ce dernier cas, la liste des attractions est longue : saut en hauteur, bowling, saut à ski, curling, plongeon, anneaux enflammés, foot américain, royal flush, basket-ball, fléchettes, baseball, football... Le tout dans un but commun, celui de faire souffrir le pilote éjectable en l'expulsant de l'habitacle vers des cibles, des zones ou encore des quilles si on prend l'exemple du bowling. Autant d'épreuves connues sur le bout des doigts certes, mais on y revient sans se faire prier et on profite d'une qualité graphique de haut vol.

Voici le genre de bug graphique que l'on rencontre trop fréquemment dans FlatOut.
Comme indiqué plus haut, l'essentiel des modes de jeu de FlatOut 2 est repris à l'identique ou presque dans Ultimate Carnage, du solo au Xbox Live en passant par le "mutli" avec une seule manette. On retrouve donc un mode carrière qui combine tous les types de courses dans trois classes différentes (Derby, Course et Route), un mode Carnage (composé de 36 défis en Courses Carnage, Beat the bomb, Cascades et Derby Deathmatch), un mode Xbox Live (qui reprend le même type de courses qu'en solo mais dans des parties privées ou avec classement), une liste d'événements uniques et un dernier mode Party qui permet de jouer jusqu'à 8 avec une seule manette en suivant un ordre défini ou personnalisé de plusieurs cascades consécutives, avec une logique de classement à points. En résumé, l'exhaustivité affichée est un bon moyen de masquer en partie l'absence d'originalité dans cette version Xbox 360 et suffira sans doute à convaincre les néophytes qui n'ont pas eu la chance de goûter aux deux premiers épisodes. Il va sans dire qu'à l'inverse, un joueur qui a fait le tour de FlatOut 2 sur PS2 ou Xbox ne verra pas autant d'intérêt à investir dans ce troisième opus.

Les mini-jeux sont toujours aussi idiots. C'est pour ça qu'on y revient...
Ultimate Carnage se veut fun avant tout et simple à prendre en main. Evidemment très arcade, il mise beaucoup sur la capacité du joueur à éviter de trop importants impacts contre des éléments "lourds" du décor. Du coup, on a rapidement l'impression de contrôler un véhicule destiné à ne terminer la course que sur trois roues tant les pièges sont innombrables et les glissades trop souvent non maîtrisées. Une certaine frustration en ressort d'ailleurs, notamment lorsqu'une tentative de queue de poisson se transforme en une incapacité à décoller de la voiture cible, postée en travers de vous, solidement accrochée au pare-chocs avant. Sans parler de la tenue de route désastreuse des véhicules, ce qui vous obligera régulièrement à user et abuser de la touche "remise en place". Des sensations parfois décevantes mais qui passent assez vite au second plans avec un peu de pratique et une utilisation judicieuse de la nitro. Notons qu'en parallèle, il est possible de glaner quelques crédits supplémentaires en infligeant des dégâts aux concurrents, histoire d'être qualifié de casseur, de maître artificier ou de bulldozer...