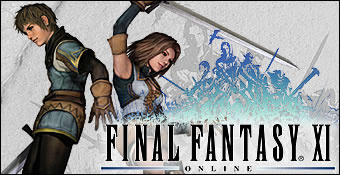 Comme vous avez sans doute déjà parcouru le test de la version PC ainsi que le dossier relatif, vous devez commencer à connaître le principe du jeu dans ses grandes lignes. Néanmoins, les quêtes commencent éternellement par l'évocation des arcanes des ancêtres, seules utiles en temps de guerre. Il est donc légitime de se replonger quelques peu dans les mécanismes du soft. Dans le principe donc, Final Fantasy XI se fond parfaitement dans les rouages classiques du MMO en proposant plusieurs races accessibles dès le départ de l'aventure, à savoir les Hume (humains), les Tarutaru, les Gilka, les Mithra ou les Elvan (elfes), tout en vous permettant de modifier quelques caractéristiques physiques de ces diverses peuplades. Vous êtes donc libre de concevoir dans les grandes lignes votre avatar, qui évoluera visuellement durant l'aventure en se couvrant de diverses armes et armures visibles immédiatement sur sa personne. Motivant grandement dans la progression, le fait d'avoir la possibilité de s'offrir l'équipement aperçu au détour d'une ruelle sur un personnage inconnu autorise le joueur à se plonger dans une course à la performance, vitale pour ce genre de jeu. De fait, vous irez de quête en quête, glanant ces dernières au gré du déroulement du scénario ou en répondant aux demandes de certains PNJ. Mais le véritable intérêt du soft est bien évidemment de s'associer à d'autres joueurs "humains" dans le but d'effectuer des missions en collaboration, au sein desquelles vous pourrez nouer de vrais contacts basés sur la confiance et réfléchir à des tactiques d'assaut réalistes. Le fait de rencontrer des compagnons qui vous répondent, interagissent totalement et s'adaptent à la situation est une expérience relativement forte, fondant en partie l'addiction ressentie au lancement d'un MMORPG.

Certains décors sont tout de même splendides.
Vous partirez donc en terrain connu si vous êtes un habitué des schémas classiques du RPG, même si quelques petites subtilités sont à prévoir, notamment dans le cadre de votre évolution personnelle. En effet, la majeure partie des RPG expose un système de progression équilibrée, vous donnant accès à des niveaux relativement élevés au bout d'une quarantaine d'heures de jeu. Une règle qui ne s'applique pas du tout dans Final Fantasy XI, bien plus avare en points d'expérience et plus frustrant dans son ensemble. Prosaïquement, si vous partez à la chasse aux monstres dans l'espoir de rentrer dans le cycle infernal du level-up, vous vous rendrez rapidement compte que vos efforts sont pratiquement vains. Et pour cause, lorsque l'on voit qu'il faut environ quarante heures de jeu pour se hisser à un pénible niveau 20, on regarde avec un effroi respectueux les rares personnes affichant le niveau 50 ou plus. Un principe qui a la base n'est pas vraiment problématique, symbolisant simplement un choix ludique, mais qui le devient aisément en raison d'une construction assez chaotique. Dans les faits, la majorité des actions dignes d'intérêt, à savoir l'obtention d'un chocobo, la possibilité de voyager en aéronef ou bien la capacité à initier un job de support apparaissent entre les niveaux 18 et 20, ce qui vous oblige à vous acharner littéralement à la tâche durant de longs, très longs moments. D'autant qu'il vous faudra encore terminer des quêtes précises pour obtenir définitivement ces quelques privilèges. Missions qui s'avèrent souvent terriblement difficiles, nécessitant quasi-obligatoirement une aide extérieure. Ne tentez pas de jouer au guerrier solitaire dans ce soft, vous ne pourrez que vous en mordre les doigts. Néanmoins, cette obligation restreint grandement votre éventail de possibilités et se pose parfois comme un frein à votre avancée. Si un seul mot devait résumer ce système, ce serait laborieux.

Attention à bien vérifier le niveau des ennemis avant de vous lancer dans le combat.
Entendons-nous bien, la série Final Fantasy est l'une des plus réussies et des plus profondes dans le monde du RPG à mon avis et j'ai pris un réel plaisir à parcourir les plaines de Vana'diel sur la version PC. Néanmoins, les limites purement ludiques du soft se montrent sans perdre de temps et fondent un mur infranchissable entre le joueur et l'univers qui s'expose devant lui. Etre obligé de se battre contre des créatures insignifiantes durant des heures et des heures pour avoir enfin la possibilité de chevaucher un simple chocobo est une perspective clairement décourageante et ce même quand on est habitué à divers MMORPG. A ce titre, Lineage 2 par exemple, se révèle bien plus agréable et vous rétribue véritablement pour vos efforts. Toutefois, il est certain que Final Fantasy XI affiche d'innombrables possibilités, comme la fusion d'objets, la gestion de la Mog House, le système ingénieux du Linkshell, ou bien le pouvoir de mener de front deux jobs en en plaçant un comme support. Mais cela n'est pas entièrement suffisant pour contrecarrer la frustration latente. Fort heureusement, tant au niveau du design que de l'ambiance musicale, Final Fantasy XI est une mine d'émotions et d'étonnements divers. Placé sous la coupe de l'innovant Koichi Ishii, déjà responsable de la majorité des titres issus de la mythologie Mana (Legend Of Mana et Secret Of Mana pour les plus célèbres), et du directeur artistique Ryosuke Aiba, au même poste sur Chrono Cross et Xenogears, FF XI est un habile mélange fort bien équilibré. Sorte de melting-pot entre l'aspect européen d'un Vagrant Story, voire d'un Final Fantasy XII plus récemment et une patte typiquement japonaise au niveau du chara design et du rendu des divers environnements, l'apparence de ce onzième opus reste un bonheur pour les amoureux de la saga, qui retrouveront l'ambiance typique inscrite dans une carapace nouvelle. Une évasion pourtant cruellement entachée par un moteur vieillot, à peine optimisé depuis son apparition sur PS2 et faisant pâle figure face à des titres même moins récents. Néanmoins, il s'avère très facile de s'ancrer dans cet espace fantastique si l'on parvient à être charmé par la forme plus que par la technique.

Certains "liens" se nouent au fil des aventures communes.
D'autant que la partition musicale s'avère particulièrement réussie, même si les morceaux se révèlent un peu trop absents durant les longues phases de recherches. Composée par le trio gagnant Nobuo Uematsu, Kumi Tanioka (FF Crystal Chronicles) et Naoshi Mizuta (Parasite Eve 2 et Hanjuku Hero 4), la bande sonore de Final Fantasy XI brasse des sonorités orientales et de longues plages aériennes qui donnent un aspect éthéré au titre, tout en le conservant dans le giron FF. Un ensemble homogène, original et apaisant, laissant exploser des thèmes de combats rythmés et des pistes relatives aux donjons clairement inquiétantes. Un accompagnement de choix avec lequel vous découvrirez les nouveautés présentes sur les trips extensions directement intégrées au jeu. Vous aurez donc droit à six nouveaux jobs, incluant le Samurai, le très charismatique Ninja, le Chevalier Dragon pouvant invoquer un wyvern, le Corsaire, le Marionnettiste et enfin le très intéressant Mage Bleu, capable d'apprendre les sorts des adversaires qu'il rencontre. De plus, vous pourrez évoluer dans quatorze zones inédites, allant d'une profonde jungle à un volcan, en passant par un archipel plus que charmeur. Ouvrant une voie royale sur des centaines d'heures de découvertes supplémentaires, ces ajouts pour la plupart dignes du plus grand intérêt densifient encore un peu plus le monde de FF XI. Toutefois et pour finir, le titre de Square-Enix souffre de trop grosses lacunes de construction et d'un manque d'attrait immédiat pour réellement percer dans le monde cruel du MMO. Arrivant bien trop en retard par rapport à une concurrence cherchant activement l'innovation pure, le soft se trouve quelque peu dépourvu dans ses mécanismes archaïques. Il reste tout de même un bon jeu, riche, vecteur d'une ambiance forte, mais trop "austère" pour convaincre totalement. Son atout est d'être seul sur la machine de Microsoft. Mais pour combien de temps ?