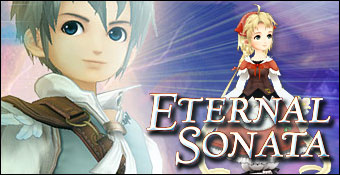 Eternal Sonata, autrement appelé Trusty Bell dans le fief d'Hirohito, est un titre inspiré à bien des égards. Si de prime abord, on pourrait se croire dans un univers "barbiesque" où chaque sentiment ne semble être la résonance d'une chape de couleurs criardes venant inonder le moindre décor, la vérité saute aux yeux très rapidement. Ainsi, derrière cet univers bigarré se cache une histoire originale et bien plus intéressante qu'elle n'y paraît. Vous pouvez cependant oublier les exactions philosophiques d'un Xenogears ou les dénonciations écologiques d'un Final Fantasy VII puisqu'en sus et place, Namco nous invite à côtoyer le compositeur Frédéric Chopin alors à l'orée de sa mort. De cette idée atypique va pourtant découler tout le scénario du soft qui prend ici des airs de biographie sonore et ludique. Cependant il convient d'être clair dès le départ.

Alice au pays des merveilles n'est pas loin.
Le scénario d'Eternal Sonata, sous des faux airs de RPG japonais "rose bonbon", entreprend de nous conter les derniers jours de Chopin cloué dans un lit par la tuberculose. Toutefois, l'histoire ne se passe pas dans notre monde mais dans l'esprit du compositeur, dans ses rêves plus exactement. Découpé en chapitres, le titre nous livre alors une sorte de métaphore bariolée des événements vécus par Frédéric Chopin. Le petit plus vient ici du fait que chaque chapitre s'ouvre sur un diaporama composé de photos des lieux ayant émaillé l'histoire de l'artiste et servant ainsi de préambule culturel à ce que nous allons vivre quelques instants plus tard. On se rend alors compte que les personnages principaux et leurs pendants négatifs ne sont que des représentations directes ou indirectes, dont le trait est bien évidemment forcé, "mangaisé", des personnes ou institutions ayant joué un rôle dans la vie de l'homme de musique. Au final, la balance est équilibrée et bien que l'histoire renvoie à celle de plusieurs RPG (avec la lutte du Bien contre le Mal, son lot de bons sentiments, de rencontres improbables ou de situations à la limite de la niaiserie), plusieurs références ou allusions situent le scénario d'Eternal Sonata dans la sphère des jeux de rôle avisés, astucieux et donnant envie de se documenter sur le sujet influençant directement l'oeuvre.

Pour paraphraser une damoiselle helvétique : Ce Piccolo... Qu'il est chou !
L'autre point très important du jeu décortiqué dans ces lignes est bien évidemment la musique, muse du maître au même titre que George Sand ou sa patrie Varsovie. Ainsi, le jeu profite d'une fantastique bande-son, qui évoque tout de même un peu trop les précédents travaux de Motoi Sakuraba. Pour rester dans le sujet, on émettra deux petits bémols. Premièrement, il est regrettable que les accords de Chopin ne s'invitent principalement que pour illustrer les diaporamas évoqués plus avant, et bien que plusieurs thèmes symphoniques soient hantés par le spectre musical du Polonais on aurait apprécié une once d'originalité supplémentaire pour illustrer encore un peu mieux les propos des développeurs. Le second point qui m'a légèrement déçu vient de la véritable influence de la musique sur le jeu en lui-même. De fait, si les noms des héros (Allegretto, Piccolo, Polka...) puisent dans la vaste gamme d'instruments ou de danses, on pourra être surpris qu'au final la musique en tant que telle soit bien moins mise en avant que dans un titre comme Steambot Chronicles. On eut par exemple apprécié de pouvoir jouer au piano entre autres choses. En sus et place, il sera uniquement possible de réécouter des morceaux de Chopin et de lire des informations sur ceux-ci.

Piccolo, justement, pourra photographier les ennemis et revendre les clichés à des marchands.
Cet aspect déçoit d'autant plus que les partitions qu'on peut trouver un peu partout dans le monde de Trusty Bell ne servent au final qu'à obtenir des objets plus ou moins rares. Pour se faire, vous aurez simplement à parler à tous les NPC que vous croiserez en espérant tomber sur un fin mélomane qui vous proposera un petit "boeuf". Vous devrez alors choisir la partition qui vous intéresse puis la jouer conjointement avec celle de la personne vous faisant face. S'en suivra alors un mélange de notes, limpide ou non, et une note associée (de A à F), synonyme d'un grand "rien du tout" dans le pire des cas ou de précieux item s'il en ressort une mélopée harmonieuse. Why not mais pourquoi ne pas avoir permis au joueur, tout comme dans The Legend Of Zelda : The Windwaker pour ne citer que ce dernier, de jouer directement la partition via un mini-jeu ? Quoi qu'il en soit, nous tenons là un des problèmes de l'entreprise conjointement à une durée de vie assez faible. Eternal Sonata pêche en effet par une longévité réduite qui trouve en son New Game+ une sorte d'écho salvateur mais qui ne représente pas pour autant la solution miracle. En somme, le tout manque de quêtes annexes et la difficulté relative n'arrange pas les choses. Néanmoins, la progression passe à travers le piège des temps morts, opte pour des combats qu'on peut éviter (les ennemis étant visibles) et à part quelques cinématiques longuettes ou deux ou trois passages fort mal agencés (qui a parlé du fort Fermata ?), la construction est un modèle du genre.

Arrivé au Niveau groupe 3, la possibilité d'utiliser quatre techniques spéciales vous est offerte.
En parlant de ça, venons-en au système de jeu qui, quoique très classique par bien des côtés, n'en reste pas moins agréable. Comme je viens de le dire, si on peut être dispensé d'affrontements, ceux-ci restent le seul moyen de booster les caractéristiques de vos héros. On prend donc son courage à deux mains et on se lance dans la mêlée, seul ou avec deux amis, petite astuce déjà présente dans Tales Of Symphonia. Premier constat, nous sommes bien dans un jeu estampillé Tri-ace, ou plutôt Tri-crescendo. Si ceci se voit au niveau du design très rond des personnages ou bien de la floraison d'effets spéciaux à chaque coup porté, cela se remarque également dans la façon d'aborder les rixes. Pour revenir au coeur du débat, précisons d'emblée que le tout ne se joue par au tour par tour mais via un semi-temps réel si je puis m'exprimer ainsi. Pour être précis, disons que la façon de combattre est liée à vos Niveaux Groupe (au nombre de six et qu'on peut débloquer au fur et à mesure de notre avancée) conditionnant le nombre d'attaques spéciales qu'on peut utiliser durant un combat ou bien la façon dont la jauge d'action fonctionne. Cette dernière est très importante vu qu'à chaque fois que vous vous déplacerez ou effectuerez une action, elle baissera inexorablement. Et c'est à ce moment-là que le côté stratégique des échauffourées prend tout son sens.

Si vos partitions s'accordent parfaitement avec celles d'autres musiciens, vous serez généreusement récompensés.
Ainsi, outre le fait de devoir matraquer le plus souvent les touches d'action pour maltraiter les ennemis, il faudra faire attention à plusieurs points. Le premier concerne la position de vos personnages par rapport à l'adversaire. En somme, si vous êtes dos à un monstre, vous ne pourrez parer ses coups ou contre-attaquer en appuyant sur les touches adéquates au bon moment. De fait, vous devrez prendre en compte le temps que vous demande une attaque spéciale et bien penser votre stratégie à l'avance afin de positionner vos personnages à la fin de chaque tour d'action. De plus, il est aussi possible d'utiliser une succession d'attaques basiques (en tapotant la touche A) pour faire monter le niveau de nos techniques spéciales, celles-ci étant alors démesurément puissantes. En parlant de ça, sachez que ces techniques varieront si vous vous trouvez dans la lumière ou dans l'ombre, ceci étant aussi valable pour certains monstres pouvant changer de forme selon l'endroit où ils se trouvent. Cet aspect rend les combats passionnants d'autant qu'il est permis d'utiliser les ombres des adversaires ou des nuages passant au-dessus de la surface de combat. Nonobstant les vraies qualités du système, on déplorera malgré tout une IA des adversaires très moyenne équivalant à de grosses pertes de temps dans leurs déplacements et nous simplifiant d'autant plus la tâche. Au rayon des petites choses qui fâchent, citons en outre la résistance bien trop importante des créatures rallongeant inutilement les combats contre les ennemis communs. Heureusement, que la fuite reste dans ces cas-là une bonne alternative.

Retenez bien que vos attaques varient en fonction de l'ombre et de la lumière.
En conclusion, que penser d'Eternal Sonata ? Eh bien pour ceux et celles qui n'auraient pas encore compris que je suis tombé sous le charme du bébé de Namco Bandai, je ne pourrai que vous inciter à vous procurer cette délicieuse friandise dont le principal écueil est de se savourer trop vite, la durée de vie se résumant à 25 heures environ. On pourra prolonger le plaisir en passant un peu de temps à photographier les monstres pour remplir notre bourse de deniers ou via la traditionnelle phase de level-up (afin de débloquer toutes les techniques de chaque individu) mais en l'état, la brièveté de l'aventure pourra vous faire hoqueter. Bien entendu, si vous faites fi de ceci et des défauts énoncés plus avant, vous n'aurez plus qu'à ouvrir votre sensibilité et vos oreilles, pour pleinement apprécier cette symphonie vidéoludique.