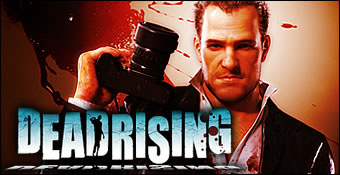 Grand moment surréaliste, après quelques heures de jeu, quand Jessie la blonde à lunette s'étonne de nous voir tachés de sang... Est-elle sérieuse ? Bon sang, je viens de tronçonner la chair dégueulasse d'une trentaine de morts vivants agglutinés les uns sur les autres ! Le rire, irrésistible, survient. Quoi que puisse répondre Franck, le moment est tellement bouffon que notre cerveau se contente petitement de régler les affaires courantes. Il y a vraiment moyen de se bidonner dans le mall de cette petite bourgade américaine appelée Willamette depuis l'apparition de cette déliquescente délinquance, qu'une bande de guignols tente de repousser.

Si vous avez lu et aimé Brume - paranoïa de King, cette séquence va vous faire plaisir
Franck, d'abord, en parfait touriste parachuté à la John Mac Lane, est un drôle d'oiseau de la presse sensationnelle, un "fouille-saletés" qui oublie trop souvent de fermer l'objectif sur ce qui ne le regarde pas. Son équipe de bras cassés est un duo d'agents fédéraux qui mettront peu de temps à révéler leur totale incompétence. Le complexe commercial est représenté par deux visages. Le versant humain, c'est le gardien, un des rares personnages à témoigner un peu de mesure et de raison face aux événements. Beaucoup moins amicaux, les psychopathes sont les employés des différents services du mall, qui, maintenant dépossédés de leurs fonctions et donc leur raison de vivre, se sont laissés croquer par la folie. De véritables petits patients dignes du docteur Carpenter. Vient la galerie de survivants, souvent grotesques, parfois touchants, éparpillés dans le complexe. Dans l'autre camp, quelques ombres : celles de Santa Cabeza, Carlito et Isabella. Et enfin, bien sûr, il y a les zombies, nos "chairs" et damnés pairs d'outre-tombe, par lot de cent, partout, un véritable concert de putréfaction. Il y a dans cet excès dévastateur autre chose que les visions triviales de Romero, un effet comique différent, qui se rapproche davantage du chef-d'oeuvre de Joe Dante, le second Gremlins. Naturellement, on ne sait pas d'où ils viennent ni pourquoi les gens de Santa Cabeza couvent le drame en essayant d'abattre les maigres indices recherchés par les agents fédéraux, quand ils ne s'en prennent pas directement à eux. Ion perturbateur dans cette alchimie explosive de personnages et de situations, Franck n'avait pas prévu de couvrir un tel carnage mais doit pourtant survivre 72 heures avant qu'un hélico ne vienne le reprendre. C'est son seul impératif.

Marre de ressembler à un orang-outan qui fait la tronche ? Adoptez le style du Baron de Rotschild 47
Evolution cerbère du Beat'em All, Dead Rising est un jeu à trois sens de lecture. Primo, vous pouvez épouser la trame narrative qui vous conduira au fin mot de l'histoire. Le fil rouge est échelonné par des CAS, soit des étapes dont vous devez respecter l'horaire et la position géographique. Rater un de ces rendez-vous conduit à l'expiration de tous les autres CAS mais pas à la fin de la partie. Vous n'apprendrez donc rien de plus sur l'histoire mais l'hélicoptère viendra toujours vous chercher à la fin des 72 heures. Un exemple signifiant de CAS : aller chercher à l'épicerie une trousse à pharmacie pour désinfecter rapidement la plaie sanguinolente de Brad. Le CAS est affilié à la salle de sécurité, là où se trouve le blessé, et vous devrez vous y rendre avec les précieux médicaments dans un temps donné. Les CAS sont regroupés dans des chaînes distinctes qui forment des mini récits à l'intérieur de la trame complète. Telle partie s'intéressera à un personnage, telle autre à un événement en particulier. A l'intérieur d'une même chaîne, les CAS se succèdent sur un rythme rapide, on vous donne au mieux un quart d'heure, en temps réel, entre chacun. Un timer de 15 minutes serait court dans les codas de Dead Rising ? Oui, parce que le mall est à l'image de toute bagatelle américaine : démesurément grand. Cette architecture, disposée en anneau, avec un parc au milieu et quatre étages différents, est plus dangereuse que les zombies. Avec l'omniprésence d'un sablier qui se vide, il faut très rapidement prendre ses marques malgré le bazar ambiant, trouver des raccourcis, comme le passage secret entre les deux toilettes, et situer les points chauds. Le parc, par exemple, qui nous permet de couper pour joindre deux sections de l'anneau, peut être très dangereux tant que vous n'aurez pas lourdé ces "bully" de soldats et récupérer leur jeep. Même chose pour le Food Mail à certaines heures de la nuit. Ce dynamisme de l'environnement est formidable pour l'apprentissage mnémotechnique des lieux, mais un peu trop défavorisant pour des premières heures de jeu quand il y a toujours un chronomètre derrière. Une fois qu'on peut se repérer à vue sans ouvrir toutes les 5 secondes sa carte, et qu'on est monté en puissance, notre navigation devient certes plus efficace, mais il aurait éventuellement fallu prévoir, avant l'amorce des missions, une petite phase tampon, sans chronomètre d'aucune sorte, pour investir un peu ce cadre passionnant.

Ironie très certainement involontaire envers les possesseurs de 33 cm qui auront du mal à lire les textes.
Reste aussi le problème de la salle de sécurité. Pôle central de l'action, c'est là-bas que démarre la majorité des chaînes de CAS et c'est là-bas qu'il faut rapatrier les survivants. Cela ne poserait pas de problème si il n'était pas aussi astreignant de passer de ce QG au reste du mall : vous devez d'abord filer dans un conduit puis utiliser un ascenseur où vous attend perpétuellement une tripotée de tripoteurs et enfin traverser un entrepôt tout aussi rempli. C'est long et c'est très répétitif. Ces déplacements inutiles, si ce n'est pour un besoin de réalisme ce qui est assez paradoxal, servent toutefois l'intensité du rythme. En ce sens, c'est une réussite car vous ne pourrez que rarement dévier de votre chemin si vous avez choisi la voie des CAS. Capcom assure une rejouabilité d'une forme assez nouvelle et excellente à son titre. Par contre, si les chaînes de CAS sont de toute façon liées entre elles, vous avez souvent un peu de temps pour vous entre la fin d'une série et le début d'une autre. Il devient dès lors possible de vaquer quelque temps à d'autres préoccupations que l'intrigue.

Ca va, j'ai le temps alors ...
Seconde lecture du jeu donc, adopter une position de samaritain en allant au secours du maximum de rescapés et en triomphant des psychopathes. Le gardien supervise les opérations des écrans de contrôle et vous rapporte la position et le compteur de chaque mission. La pression du temps aidant, les sauvetages ont toujours une certaine saveur. Les perpétuelles simagrées des malchanceux ne sont pas étrangères à ce plaisir, et il faut parfois employer quelques astuces pour les convaincre. La forme des escorte est toutefois très primitive. Vous pouvez les faire suivre, leur ordonner une position d'attente, les conduire en voiture, les soutenir sur vos épaules ou bien carrément les porter sur votre dos. Ces deux dernières configurations sont étranges : les zombies ne vous attaquent pas ! J'avoue que le pourquoi m'échappe et les missions concernées deviennent forcément trop simplistes. A contrario, toutes les séquences "à la ICO" sont des morceaux de bravoure qui demandent une certaine anticipation : bien choisir son trajet, avoir quelques armes mastoc sur soi et mettre régulièrement en attente son équipage pour nettoyer la crasse qui s'est accumulée dans certains passages étroits.

Une condition sine qua non pour progresser sans accroches : prévoir un nutriment sur soi pour se soigner à toute heure.
Le rayon des psychopathes met à jour, selon mon ressenti, la seconde faiblesse de Dead Rising : sa peine à assurer le fun et la démesure dans les affrontements mano a mano. Pendant tous les combats de masse face aux zombies, il se distingue pourtant de tous les autres beat'em all. Le nombre d'armes et d'ustensiles meurtriers agencés dans le centre commercial est époustouflant et d'un cartoon à toute épreuve, s'inspirant encore une fois des pitreries des Gremlins mais aussi très certainement du récent Shaun Of The Dead (le jeté de CD vaut bien celui des vyniles). Ce serait ballot de paraphraser la preview bien avancée de Logan alors complétons un peu sa liste des moyens idiots à découvrir : excavateur qui fait aussi moulin à baffes, extincteur qui tache, machette pour découper du vietcong ou encore le vélo le plus craint par les zombies du monde entier. Ce qu'on retiendra avant tout, malgré un bon tiers de farces et attrapes, c'est l'efficacité et le spectacle impayable procuré par cet arsenal sur des lots compacts d'ennemis. Mais, étrangement, face aux personnages aussi extrêmes que le clown tortionnaire, l'armurier parano ou le GI boucher (l'interdiction aux moins de 18 ans est sévère, mais de très peu) la démesure fait place à l'ennui. Quand il ne s'agit pas de combats de gladiateurs aux techniques d'approches redondantes et brouillones, il convient de détruire à distance avec une arme à feu. Le dynamisme du combat devient alors nul avec ce système de visée par dessus l'épaule sans possibilité de déplacements.

Un sniper sera pour le moins utile lors de la seconde rencontre avec Carlito
Plutôt que ces galères, on préférerait presque se contenter de traîner nos guêtres dans le mall de Willamette, cette formidable fourmilière ludique qui permet justement un troisième sens de lecture : traquer toutes les attractions de ce "zombieland". Au sens propre, comme un vrai tour de manège, comme au sens figuré : prendre des photos de scènes violentes, érotiques, dramatiques et que sais-je encore, trouver les abeilles qui maintiennent en vie les groupes de morts vivants, mélanger des aliments pour produire des synthèses absurdes ou régénérantes, faire son pretty woman dans toutes les friperies possibles, celles consacrées aux gamins compris, etc... Beaucoup de cet enrobage sert la montée en puissance de notre personnage par le biais de points d'expérience, les PP. C'est ainsi, avec l'extermination du peuple Z et l'accomplissement des différentes missions, que vous obtenez régulièrement de nouveaux mouvements, principalement de défense, et l'amélioration de vos aptitudes (vitesse, santé, attaque, etc...). Du volume, du renouvellement, un rythme à trois vitesses, de l'humour, du sang et de la cruauté, sans parler de la gifle technologique, Dead Rising est bien le parvis du gore et son mall le plus jouissivement ludique agora de 2006.