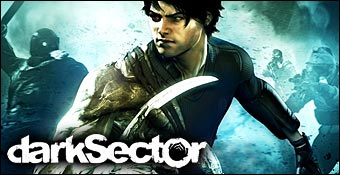 Avant de nous plonger dans les recoins obscurs d'un univers qui ne fait guère de concessions, tâchons de nous intéresser au pourquoi du comment. Apprenez donc, jeunes joueurs avides de sensations fortes, que Dark Sector nous invite à suivre les pérégrinations d'Hayden Tenno, un agent secret - disons plutôt tueur pour plus de clarté - qu'on aura chargé de mettre fin aux sinistres agissements d'un scientifique russe nommé Mezner. Ce dernier serait en fait parvenu à mettre ses sales pattes sur une arme biologique développée au cours de la Seconde Guerre mondiale. Une arme que le bougre n'hésitera pas à tester sur la population d'une petite cité d'Europe de l'Est. Manque de bol, Hayden se vautre lamentablement, plante la mission, et entre malencontreusement en contact avec un autre agent, pathogène celui-là. Le virus en question ne tardera pas à se repaître de ses muscles pour mieux les remodeler. Peu à peu, Hayden va perdre son humanité pour se transformer en tout autre chose : une arme. Et si la mutation pourrait être ralentie par un vaccin qui entrera rapidement en sa possession, l'homme à la moumoute de Chantal Goya préférera flirter avec la noirceur qui s'insinue peu à peu dans ses veines. Car le poison, tout destructeur qu'il soit, fait tout de même de lui un surhomme. Tout juste ce dont Hayden a besoin pour accomplir la mission dont on l'avait chargé initialement. Plongé dans un univers où les miliciens locaux tentent d'enrayer l'épidémie qui transforme d'honnêtes citoyens en zombis difformes et avides de chair fraîche, Hayden n'a plus qu'une chose à faire : trancher pour mieux régner.

Il n'y a pas dire, Hayden est moche. Mais pour découper les ennemis en tranches, il s'y connaît.
Pour Hayden, la première manifestation de l'infection - outre une patte de crapaud visqueuse en guise de bras - se trouve être l'apparition dans ses doigts d'une sorte de shuriken géant au comportement de boomerang. Baptisée "Glaive", cette arme devra être mise à profit non seulement pour éviscérer des ennemis, mais également pour résoudre quelques menues énigmes disposées çà et là par des développeurs désireux de nous faire croire à la toute puissance de notre matière grise. Mais nous reviendrons plus tard sur cet aspect précis du gameplay. Car ce qui vous (nous ?) intéresse en priorité se trouve probablement être les combats. Et cela tombe bien, c'est ce que le soft sait faire de mieux. Etrange croisement entre Resident Evil et Gears Of War, Dark Sector multiplie avec véhémence les rencontres violentes. Pour lui, plus c'est glauque et plus ça gicle, mieux c'est. Et pour mieux nous permettre de nous fondre dans cet innommable maelström de tripes volantes, Digital Extremes nous a mitonné une prise en main au poil. Tout comme dans Gears Of War justement, Hayden se met à couvert à la moindre pression d'un bouton, fait des roulades, saute par dessus les obstacles, court comme Marcus Fenix (avec un mouvement de caméra similaire) et blaste tout ce qui bouge en se penchant prestement hors de sa cachette. Il aime également pulvériser ses ennemis au corps-à-corps, à grands coups de finish moves pas propres.

Avec un Glaive enflammé, rien ne vous résistera.
Mais comme nous y faisions allusion précédemment, ce qui différencie Dark Sector de Gears Of War tient indubitablement au Glaive. Certes, Hayden tombera effectivement sur des armes classiques au cours de son aventure : mitraillettes, fusils d'assaut, pompes des familles et grenades. Mais en dehors de son fidèle pistolet, qu'il pourra d'ailleurs utiliser en même temps que le Glaive, la plupart de celles-ci disposent d'un dispositif d'autodestruction et partiront en fumée au bout de quelques secondes si elles tombent entre vos mains. Ne restera plus dès lors qu'à récupérer des roubles plus ou moins bien planqués dans les niveaux et solliciter des marchands profiteurs à des moments précis. Ces derniers pourront effectivement vous fournir des armes déverrouillées, délivrées de leur explosif. On aura même la possibilité d'améliorer ces dernières en récupérant des upgrades, elles aussi dissimulées dans les niveaux. Mais quoi qu'il en soit, on en reviendra toujours au Glaive, véritable chef d'orchestre de Dark Sector, qui permettra notamment de récupérer des objets à distance, d'activer des interrupteurs et de trancher du soldat ou du zombi (on notera d'ailleurs que le bestiaire s'inspire dans une large mesure des créatures lâchées par Capcom dans Resident Evil).

Leur repas interrompu, les zombis deviennent tout de suite moins fréquentables.
Plus drôle, en faisant traverser un brasier à votre Glaive, celui-ci s'enflammera pour devenir plus destructeur. Même combat pour l'électricité et la glace. En plus d'exterminer vos ennemis avec plus d'efficacité, un Glaive chargé permettra de surmonter certains obstacles. On pourra ainsi brûler une membrane noirâtre qui bouche régulièrement le passage, geler une étendue d'eau pour la traverser, ou activer un mécanisme en mal d'énergie. Le jeu propose régulièrement de petites énigmes, pas bien compliquées, qu'on devra donc résoudre pour continuer à avancer. A ce titre, il faudra régulièrement contrôler la trajectoire du Glaive, en temps ralenti, exactement à la manière de tous les projectiles d'Heavenly Sword sur PS3. Bref, les énigmes de Dark Sector dépendent plus de votre adresse que de vos facultés de réflexion. On ne criera donc pas au génie, mais ces petites périodes de calme entre deux tornades de tripaille et vols de grenades ont le mérite d'apporter un peu de variété à un titre qui s'avère tout de même très répétitif, surtout vers la fin. Cela dit, alors que l'infection progresse dans le corps d'Hayden, de nouveaux pouvoirs surgiront peu à peu pour tenter d'égayer un poil le carnage. Générer un bouclier de protection pour dévier les tirs ou devenir invisible seront autant de petites réjouissances qui permettront, avec plus ou moins d'efficacité, de donner une nouvelle teinte aux affrontements.

En contrôlant la trajectoire du Glaive, on pourra résoudre des énigmes et jouer au sadique.
Malheureusement, Dark Sector ne va pas sans un petit cortège de défauts agaçants, à commencer par une IA en mousse (certains monstres parvenant même à se tuer tout seul), une structure linéaire et un rythme moins soutenu que dans les références vidéoludiques mentionnées précédemment. C'est ainsi que dans certains niveaux, on aura parfois l'impression de revivre la même fusillade à chaque nouvelle salle. Malgré l'obtention régulière de nouveaux pouvoirs, on risquera fort de s'ennuyer, notamment dans la dernière partie du jeu. Cela tient sans doute au fait que les monstres qu'on affronte sont très souvent les mêmes et que les décors proposés manquent tous d'originalité (entrepôts, ruelles, égouts, cimetière). Dans un autre registre, la gestion des corps-à-corps ne s'avère pas forcément très probante, avec quelques petits soucis de collisions et des coups qui ne portent pas. Enfin, à force de glaner des idées à droite et à gauche, il est indéniable que Dark Sector finit par manquer cruellement de personnalité. Le titre de Digital Extremes apparaît en effet moins brutal que Gears et nettement moins effrayant qu'un Resident Evil. Pour un peu, si nous étions mauvaise langue, on pourrait dire que Dark Sector fait plus figure de copie plus ou moins heureuse que d'un titre indépendant. Cela dit, même si tous les éléments constitutifs de Dark Sector sembleront familiers aux joueurs réguliers, l'ensemble se révèle suffisamment cohérent pour que le jeu parvienne tout de même à divertir, ne serait-ce que par l'intensité de ses combats. Cette réussite, on la devra également à une réalisation solide et des graphismes de très bonne facture, et ce en dépit de quelques animations bancales.
Les effets de lumière sont très soignés.
Une fois l'aventure terminée, ce qu'on fera sans doute en une huitaine d'heures (Dark Sector ne propose pas de mode difficulté, à part un mode Folie qu'on débloquera une fois l'aventure terminée une première fois), on se dirigera alors vers le multi, jouable à 10 et finalement très accessoire. On devra effectivement se contenter de deux petits modes de jeu pas originaux pour un sou. En Infection, un joueur incarne Hayden tandis que les autres revêtiront l'uniforme de l'armée. Le but pour les soldats consistera à descendre le pauvre agent. Evidemment, le soldat qui portera le coup fatal se transformera immédiatement en Hayden et connaîtra à son tour les affres de la proie affolée. L'autre mode répond au doux nom d'Epidémie et relève tout simplement de la bataille rangée entre une équipe de soldats russes et une escouade d'agents. Dans chaque équipe, un chef, qu'il faudra bien évidemment découper pour marquer des points. Bref, là encore, on fait dans le classique et on aura vite fait le tour des 5 cartes proposées. Mais de manière générale, Dark Sector s'impose tout de même comme un bon divertissement, à même de tenir en haleine les joueurs assoiffés de sang que nous sommes. Beau et riche, le titre n'évite pas pour autant un certain nombre d'écueils et de petits problèmes en tout genre. Et si l'aventure manque clairement d'originalité, elle s'avère néanmoins prenante et suffisamment bien conçue pour convaincre.