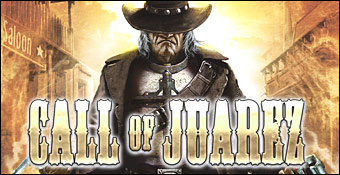 Bien que le western soit un genre cinématographique qui recèle de nombreuses pépites, le jeu vidéo l'a toujours plus ou moins délaissé, au profit des films de guerre se déroulant pendant la Seconde Guerre mondiale. Pourtant, on peut trouver cet état de faits étrange, surtout en ce qui concerne le genre FPS qui à l'instar du western n'est rien sans un bon vieux revolver. Si on put penser à une espèce de revival du genre, tant au cinéma grâce à un phénoménal Open Range pour ne citer que ce dernier, que dans le monde du jeu vidéo à l'aide du Gun d'Activision, il faut croire que le western n'est pas près de faire les beaux jours de nos consoles, du moins quantitativement parlant. Call Of Juarez est donc d'autant plus précieux qu'il aligne les références en citant Sergio Leone ou Sam Peckinpah à tour de colts. De fait, le résultat a bien entendu des airs de déjà-vu mais a contrario, il offre au joueur une vision plus rafraîchissante que celle de bien des First Person Shooters.

Techniquement, la version Xbox 360 s'en sort bien malgré un aliasing très prononcé.
Sans vouloir paraphraser l'ami Killy qui s'était fendu d'un zoli test sur PC, faisons un rapide survol du jeu avant de voir de quoi il en retourne sur Xbox 360. Ainsi donc, Call Of Juarez se découpe en plusieurs chapitres qui seront autant de raisons de diriger Billy, un jeune homme accusé de meurtre et le révérend Ray qui va devoir reprendre les armes, rattrapé par son passé de desperado, en partant à la poursuite du premier personnage nommé. Cette construction sera alors l'occasion de profiter d'un double gameplay, Billy étant plus souvent amené à contourner ses ennemis en faisant preuve de discrétion pendant que Ray fera autant parler son revolver que sa bible. A ce propos, penchons-nous sur les nombreuses idées qui émaillent le titre afin de lui offrir une véritable personnalité. Comme je le disais juste avant, les deux personnages jouables sont synonymes de deux gameplays différents sensés être complémentaires. Dans l'absolu, c'est le cas, même si on note aussi plusieurs petits problèmes qui agacent.

Les duels apportent peu au jeu tout en se voulant une figure obligée du genre qui se devait d'être dans Call Of Juarez.
Commençons par Billy. Moins expérimenté et résistant que son némésis de pistolero, il ne pourra la plupart du temps que s'aider de son fouet pour venir à bout des nombreux mercenaires et autres loups qui se dresseront sur sa route. Ledit fouet l'aidera aussi à s'agripper aux arbres, poutres, pour progresser dans des niveaux dédiés à la plate-forme et l'infiltration. Malheureusement, ces passages s'avèrent la plupart du temps soporifiques ou peu jouables, de vrais soucis d'amplitude étant à signaler lorsqu'on nous demande de nous balancer dans des endroits étriqués. Si par la suite, il sera possible d'utiliser un arc ou de parcourir les vastes prairies à cheval (à ce sujet, la scène de la chasse aux lapins est tout de même représentative des problèmes de rythme du soft), les séquences rattachées au jeune homme auraient gagné à être un peu plus dynamiques. A l'inverse, celles de Ray ne laissent aucun temps morts tant les fusillades s'enchaînent sans discontinuer.

Le Multijoueur est plus développé que sur PC et promet quelques belles échauffourées.
Bourru, sans pitié et prompt quand il s'agit de faire parler ses pétoires, Ray pourra bénéficier de divers types de fusils et revolvers pour faire passer la sainte parole. D'ailleurs une idée assez drôle consiste à utiliser sa bible afin de réciter des psaumes pour déstabiliser vos ennemis. Cependant, la plupart du temps, vous n'aurez de cesse de vous retrancher derrière des éléments du décor pour recharger, récupérer les armes jonchant le sol (plutôt utile vu qu'à partir d'un certain temps d'utilisation, vos armes chauffent jusqu'à ne plus fonctionner du tout) ou vous concentrer histoire de profiter d'un ralenti simplifiant les choses face à plusieurs renégats. Ledit ralenti s'avère d'ailleurs assez utile surtout si vous réussissez à bien ajuster les deux cibles pour tenter les headshots. Malheureusement, la jouabilité étant moins précise sur Xbox 360 que sur PC, cette technique perd de son utilité. On retrouve également les fameux duels durant lesquels vous serez face-à-face avec un "boss". Que dire de ces derniers si ce n'est qu'au-delà de leur présence quasi obligatoire, car intimement liés à l'univers du western, ils n'apportent pas grand-chose au jeu.

Une fois sortis leurs flingues de leurs étuis, vous pourrez profiter du mode Concentration et du ralenti qui va de paire.
En somme, le jeu en lui-même se laisse savourer même si la version Xbox 360 conserve pas mal de bugs et autres petits soucis. Ainsi, il arrive parfois que des personnages se bloquent comme si ils étaient atteints de catalepsie, ceci nous permettant même de terminer des missions avec beaucoup plus de facilité. L'IA comporte autant de hauts et bas que sur PC et on regrettera que la longueur des chapitres soit extrêmement variable d'un niveau à l'autre. Dans tout ça, la durée de vie du mode solo est acceptable (entre 9 et 10 heures à la louche) et il est à noter que cette version next-gen dispose de plusieurs ajouts non négligeables en matière de contenu. Si on laissera vite de côté le mode Duel proposant d'affronter des durs, des vrais, de par l'Ouest, on pourra également profiter de trois missions supplémentaires une fois terminé le jeu une première fois. En sus, le Multijoueur s'avère plus riche que celui PC avec ses modes Duel par équipe, Hold-up, Ruée vers l'or, Capturer le sac, Wanted ou Evénements historiques s'inspirant de dates fortes du Far West. Si le tout se montre convivial, précisons tout de même qu'on aurait aimé pouvoir rejoindre directement une Partie Rapide en cours et que le Respawn automatique n'aurait pas été de trop. Au final, bien que le jeu souffre de plusieurs déséquilibres alourdissant les missions ou la jouabilité, il n'en reste pas moins qu'on s'amuse en jouant au bébé de Techland. On en viendrait presque à espérer une éventuelle suite qui gommerait les défauts et autres approximations de son aîné. Mais en attendant que la poudre s'envole et que les corps tombent.