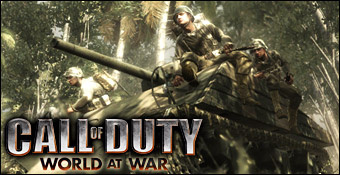 Si la décision d'Infinity Ward de délaisser la Seconde Guerre mondiale au profit d'un conflit moderne et fictif avait ouvert de nouveaux horizons au studio créateur de la série Call of Duty, on s'étonne encore du choix fait par Activision et Treyarch de revenir à ce contexte historique pourtant vu et revu, un choix qui les expose de plus à l'inévitable goût de réchauffé de bien des séquences. Respectant le code de la série, World at War adopte deux points de vue différents dans sa campagne solo. Nous aurons donc d'un côté les aventures du soldat Miller perdu dans le Pacifique et du petit Dimitri parti de la chute de Stalingrad jusqu'à la prise de Berlin. Chacun de leur côté, ces deux braves garçons vont vivre la guerre, nous, du nôtre, on alternera entre les deux. Si globalement ce nouveau volet ne tranche pas radicalement avec les autres épisodes dont il reprend bien des astuces, on peut déjà noter le changement de ton de World at War qui se veut résolument plus cru et moins timide dans son approche de la guerre. On le voit dès la séquence d'intro qui se déroule dans un camp de prisonniers japonais en pleine séance de torture, puis dans la violence des combats qui laissent des corps déchiquetés sur les champs de bataille. Plus tard, c'est dans le destin de Dimitri que s'exprimera cette violence, un soldat aux ordres d'un officier fanatique épris de vengeance qui n'a de cesse d'encourager ses troupes à massacrer, piller et brûler l'Allemagne.

Délogez les snipers perchés dans les arbres à coups de barbecue de poche.
C'est d'ailleurs cette violence débridée et toute guerrière qui fournit au jeu ses trop rares grands moments de mise en scène, lorsqu'on se retrouve au milieu d'une boucherie et qu'on nous demande d'y prendre part ou d'exécuter des soldats afin de leur épargner une fin plus atroce encore. Evidemment, qu'on ne se fasse pas trop d'illusions, l'atrocité de la guerre est plus souvent mise en évidence lorsqu'on joue un soldat soviétique que lors de notre incarnation du jeune Miller. Lui, il joue du lance-flammes à volonté et transforme le Japon en désert aride, mais on évite d'en faire des tonnes sur la question dans le jeu. Difficile également de ne pas citer cette séquence qui reste l'un des grands moments du jeu, la traversée en duo de Stalingrad, fusil de snipe à l'épaule. Certes, ça rappelle fortement l'excellent niveau de Prypiat dans Call of Duty 4, mais ça fonctionne. De même, la scène finale de la prise du Reichstag vaut le détour.

Vu le nombre de grenades qui vous arrivent dessus, mieux vaut prendre l'habitude de les renvoyer.
L'ennui, c'est que si chez Infinity Ward on sait mettre en scène le chaos pour le rendre immersif, tout en sachant maîtriser le rythme et réserver des surprises constantes, chez Treyarch, on se contente de générer du chaos. Un très joli chaos au demeurant, avec tout de même de bonnes idées, mais dans l'ensemble, les divers niveaux de cet opus font plus penser à un florilège des plus grosses scènes d'action proposées dans les autres volets qu'à un véritable nouvel épisode. Si on lui pardonne, c'est simplement parce qu'il le fait bien mais sans parvenir aux dimensions épiques et surprenantes de son prédécesseur. En clair, tout ceci est très bien, mais sent terriblement le réchauffé. Ce qui ne signifie pas qu'on s'ennuie ou que World at War soit à oublier. Les amateurs des anciens volets qui ne sont pas lassés par ce contexte historique suranné y trouveront certainement leur compte et pourront profiter de l'ajout du lance-flammes qui reste une arme aussi vicieuse qu'amusante. Presque trop d'ailleurs tant il devient simple de traverser un niveau en brûlant tout sur son passage, la bête étant d'une efficacité hallucinante et gavée de munition illimitées. Autre raison de donner sa chance au titre, le fait qu'il profite du moteur de CoD 4 et donc de certaines améliorations comme la gestion de la résistance des matériaux qui bouleverse la façon dont on utilise la couverture. Il ne sera plus question ici de rester sagement assis derrière un bout de bois qui ne sera qu'une protection bien maigre face à un déluge de plomb. Et du plomb, vous n'en manquerez pas.

Ce nouveau CoD est nettement plus violent que les autres.
De chair non plus d'ailleurs, notamment à cause des soldats kamikazes japonais qui n'hésitent pas à se jeter sur vous baïonnette en main. Certes, ils ont l'air bien neuneus, mais on est régulièrement surpris par ces attaques suicides. Le problème, c'est que ça témoigne d'une attitude générale pas très futée des protagonistes du jeu. On touche là aux véritables défauts du titre. L'IA en premier lieu oublie le côté intelligent de son acronyme et préfère se reposer sur l'agressivité et la précision infernale plutôt que sur un minimum de mobilité. Du coup, si elle nous donne du fil à retordre, ce n'est pas parce qu'elle sait éviter les ennuis, mais surtout parce tant que vous n'avancerez pas jusqu'au script suivant, les ennemis réapparaîtront indéfiniment. Quant à vos alliés, ils sont purement là pour faire de la figuration. Si vous n'avancez pas, ils n'avancent pas, pire encore, il est très fréquent de réaliser qu'ils sont loin derrière et ce décalage a souvent tendance à nuire à la crédibilité de l'ensemble. Bien sûr, il y a l'autre extrême, celui qui va au contraire pousser vos alliés à se jeter au milieu de la masse adverse pour une grande séance de pugilat que rien ne justifiait. Etrange. Le résultat de tout ceci, c'est qu'en certaines occasions, on finit par avoir un peu l'impression de mener seul une guerre contre une armée de scripts qui ne nous laisse même pas l'illusion du choix. Là encore, on touche aux différences qu'il existe entre les deux développeurs.

Rendez la monnaie aux soldats "Banzaïs"
On achève donc cette campagne solo (en moins de 6 heures) avec un goût doux amer. Meilleure que ce qu'on attendait, elle est pourtant loin de laisser un souvenir impérissable une fois qu'on a quitté la partie et il faut pratiquement faire un effort de mémoire pour se souvenir des passages les plus marquants alors que l'I.A bancale, elle, on s'en rappelle. Reste à voir le contenu supplémentaire de la galette et pour le coup, Treyarch a été plutôt généreux. Tout d'abord, une fois la campagne bouclée, vous débloquerez le fameux mode Nazi Zombie dans lequel, enfermé dans un bâtiment, vous gagnerez de l'argent à chaque zombie dégommé. De l'argent avec lequel vous pourrez acheter des armes et surtout réparer vos barricades. Rigolo, mais pas non plus suffisant, ce qui tombe bien puisqu'on doit encore mentionner le mode coopératif qui permet de refaire les niveaux de la campagne solo à 2 en écrans splittés ou à 4 en ligne. Enfin, il y a bien sûr le multijoueur à proprement parler dont le contenu ne surprendra pas les joueurs de CoD 4 puisqu'il repose exactement sur les mêmes principes appliqués au contexte WWII et avec de nouveaux Atouts.