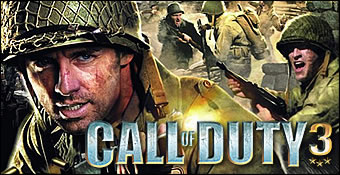 Frère ennemi de Medal Of Honor, Call Of Duty n'a, comme son concurrent de toujours, jamais cherché à cacher ses origines cinématographiques. Mieux, il s'est libéré des entraves de certains films pour porter à son paroxysme l'ambiance chaotique née des combats qui ont émaillé la Seconde Guerre mondiale. Le but d'Activision n'était donc pas de concevoir le FPS le plus réaliste possible mais au contraire de reprendre les mécanismes de n'importe quel film de guerre en plaçant le joueur au coeur même de l'action pour que l'immersion soit totale. Pourtant, de ce parti pris est né un véritable paradoxe. En effet, si nous retrouvions bien tous les éléments d'un Jour le plus long, Il faut sauver le soldat Ryan, Les canons de Navarone ou Frères D'Armes dans notre console, le fait est que le joueur ne s'était jamais autant senti spectateur. Progression millimétrée, événements pré-calculés, linéarité optimale afin d'être aux premières loges pour ne rien manquer de l'esbroufe technique, tout fut mis en oeuvre pour que nous n'en perdions pas une miette et ce, parfois, au détriment de notre implication dans ce qui se passe à l'écran. Loin de se remettre en question, Treyarch a poursuivi ses expérimentations avec CoD 2 en maximisant l'impact visuel notamment sur la Xbox 360. Bien entendu, CoD 3 poursuit dans cette voie et si le film se savoure de plus en plus, le jeu, lui, a un peu de mal à s'émanciper de ses origines.
Le snipe est un exercice délicieux... Surtout lors des parties multijoueurs.
1944 : Normandie. Les Allemands n'en ont plus pour longtemps mais ils opposent toujours une résistance féroce aux Alliés. Les campagnes françaises sont couvertes de sang, le visage de la France est meurtri mais l'espoir n'est pas mort. C'est dans ce climat de tension extrême que vous, fier soldat américain, allez prendre part à une des plus grandes batailles de l'histoire. Une fois le décor planté, il est temps de balancer les bombes et de faire hurler les Allemands. Et là, on en a pour notre argent. Comme je le disais plus haut, CoD 3 est la représentation absolue du jeu pop-corn. Certes, on a notre rôle à jouer dans l'histoire mais le plus souvent, on reste pantois devant toute cette fanfare d'explosions en attendant que nos compatriotes éliminent le gros des troupes ennemies. D'ailleurs, si vous voulez faire durer le plaisir, optez dés le départ pour le mode Normal ou Difficile afin de ne pas terminer trop rapidement les 14 chapitres constituant le mode Solo.

Visez les cibles afin que votre tank démolisse ce qu'il y a à démolir.
Malheureusement, ce choix influe seulement sur la résistance des ennemis et leur nombre. En fin de compte, on se rend compte que CoD 3 est un jeu trop facile pour plusieurs raisons. Premièrement, le fait de retrouver très rapidement sa santé une fois qu'on se met à l'abri permet de pouvoir y aller comme une brutasse puis de se planquer en attendant de repartir au combat. Ensuite, vos compagnons vous mâchent souvent le travail en tuant un grand nombre d'adversaires avant même que vous ayez pu faire quoi que ce soit. Enfin, l'IA calamiteuse nous offre quelques grands moments de n'importe quoi avec des adversaires attendant cinq secondes avant de tirer alors que vous êtes devant eux ou en se laissant prendre à revers comme des débutants. On peut d'ailleurs s'étonner d'une telle absence d'intelligence pour un aussi gros jeu et c'est encore plus flagrant quand on compare le titre de Treyarch avec un F.E.A.R., pour ne citer que lui.

Les combats au corps à corps se comptent sur les doigts d'une main dans la campagne solo.
Pour masquer ces carences intellectuelles, on aurait pu penser que les développeurs auraient multiplié les nouveautés de gameplay mais une fois encore, c'est un peu la désillusion. Néanmoins, on a maintenant droit à quelques attaques surprises de soldats (à l'image des assauts des SDF de Condemned) qui nous obligeront à tapoter rapidement sur deux boutons pour dévier l'attaque, puis à appuyer sur une touche spécifique afin de neutraliser l'assaillant. Pourquoi pas, mais vu que ce genre de scènes n'intervient qu'à quatre ou cinq endroits précis, le tout fait vraiment office de gadget. On retrouve aussi ces fameuses actions contextuelles lors de posages de bombes mais ici aussi, ce n'est guère probant vu qu'il n'y a aucun challenge à la clé. Pire, ces passages sont assez nombreux et vite soûlants. Pourtant, la diversité est bel et bien le maître mot de CoD 3 qui aligne des séquences diverses et variées : repérage de cibles pour indiquer à un char où tirer, pilonnage de véhicules avec un mortier, conduite de jeeps (relativement loupées ceci dit) ou de tanks, etc. Mais malgré cette succession de petites surprises, la progression s'enlise vite dans une certaine routine, la faute en incombe aussi à des environnements plus homogènes que ceux du dernier volet. Par contre, cet aspect est tempéré par la beauté des décors, des textures et surtout des effets spéciaux. On a beau constater pas mal de bugs graphiques (soldats qui traversent les murs, corps qui disparaissent...), on reste quand même pantois devant ce jeu "Michael Bayesque". En parlant de ça, j'allais omettre de préciser qu'on peut désormais rattraper les grenades jetées à nos pieds pour les renvoyer à l'adversaire. Bien entendu, le tout doit se faire très rapidement, bien entendu, on utilise rarement cette possibilité mais elle a au moins le mérite d'exister et de nous faire économiser nos propres munitions.

Ce chapitre sera l'occasion d'en découdre avec le Baron noir. Sensations garanties.
Une fois qu'on aura terminé le mode principal après une huitaine d'heures de jeu, il sera temps de se connecter sur le Xbox Live pour une petite partie en multi. qui peut accueillir jusqu'à 24 joueurs. Ici, cinq modes de jeu vous attendent : Guerre, Capture du drapeau, CDD un drapeau, Quartiers généraux et enfin Combat & Combat équipe. Du très classique en somme mais qui remplit bien sa fonction avec des échauffourées de haute volée où il est aussi important de bien maîtriser son fusil que de connaître la topographie des lieux pour attaquer ses petits camarades tel un ninja. Bref, CoD 3 est la copie quasi conforme de son aïeul et opte pour la solution de facilité qui consiste à améliorer l'aspect cinématographique de l'oeuvre au détriment du gameplay qui ne peut s'enorgueillir que d'une ou deux nouveautés pour le moins dispensables. Est-ce à dire que la série d'Activision doit absolument évoluer pour perdurer ? On serait tenté de répondre par l'affirmative même si on ressort une fois de plus complètement lessivé de l'aventure, certes très courte mais pour le moins efficace.