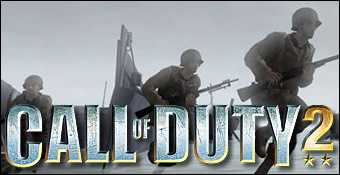 Russie, Afrique du Nord et Normandie, autant de lieux que l'on nous aura fait visiter un bon nombre de fois à travers une palanquée de FPS historiques obnubilés par la Seconde Guerre mondiale. 3 régions bien différentes servant de théâtre aux 3 campagnes de Call Of Duty 2 qui reste fidèle à ses habitudes en faisant goûter au joueur les joies de la guerre par les yeux de 3 soldats, russe, britannique et américain. Une constante qui s'enrichit cependant de la possibilité d'accéder directement à la seconde campagne (britannique) dès lors que l'on a terminé une mission de la première. Un bon moyen de laisser au joueur la possibilité de varier un peu son itinéraire touristique. Avant même d'aller plus loin, il convient de dire un mot sur les trois parties du jeu, bien dépaysantes. C'est à Stalingrad que l'on renouera avec Call Of Duty, au coeur de la ville assiégée mais âprement défendue par des soldats soviétiques vendant chèrement leur peau dans une guerilla géante. C'est ensuite l'Afrique du Nord que vous irez visiter en compagnie des britanniques affrontant Rommel et ses blindés, alternant les traversées de zones désertiques sans couverture avec les combats de rues dans des villes labyrinthiques. Et finalement, vous pourrez boucler l'aventure avec les américains lors du Débarquement, vécu d'une perspective originale que je vous laisse découvrir. Tous ces fronts sont autant de lieux dans lesquels vous vivrez quantités de situations variées ne laissant jamais la place à un quelconque ennui. D'une part en raison d'un rythme particulièrement bien maîtrisé mais également de la diversité des phases d'actions. Progressions difficiles, prises d'assaut de bâtiments ennemis, raids nocturnes, embuscades, traversée d'un pipeline surplombant les forces ennemies, phases en véhicules etc. Autant de scènes toujours spectaculaires, comme le veut le genre, mais rendues plus immersives que jamais grâce à quelques menues corrections apportées par les développeurs à leur concept de base.

C'est salissant la guerre.
Bien sûr, le principe reste inchangé et Call Of Duty 2 fait toujours autant appel aux scripts chargés de mettre le jeu en scène, qu'il s'agisse de vous faire survoler par des avions en flamme ou de vous faire tomber dans une embuscade particulièrement stressante. Mais deux points clefs du jeu ont su s'améliorer, à commencer par le level design. Très souvent, et en particulier dans les villages africains, il est possible de trouver quantité de voies alternatives dans les décors, chose impensable dans une série qui prônait, comme sa soeurette Medal Of Honor, une progression sur un seul et unique rail. Ici, le rail est bordé d'une flopée de chemins permettant de contourner un groupe d'ennemis pour les prendre à revers ou de côté. Une liberté d'action, plutôt réduite il est vrai, mais qui est déjà une vraie bouffée d'air frais dans le jeu et qui s'ajoute à une architecture de niveau qui sait se renouveler pour enchaîner les situations de domination ou d'infériorité. Des niveaux de bonne taille d'ailleurs et desquels il émane une sensation d'espace qui change de la claustrophobie des "couloirs de plein air" qu'on a pu connaître.

Les écrans de fumée à double tranchant.
Bien sûr, cette construction intelligente va de pair avec le recours massif aux scripts qui, comme je le disais plus haut, assurent un spectacle toujours aussi incroyable. Evidemment, ces sections pré-écrites du jeu concernent toujours les comportements des ennemis mais savent pourtant travailler de concert avec une IA tout à fait convenable. S'il arrive qu'on assiste à des scènes stupides et que les nazis aient encore un peu tendance à se jeter sur vous, on peut en tout cas s'estimer heureux de les voir fuir vos grenades, vous les renvoyer ou encore effectuer des tirs en coin et s'adapter à vos actions. On est loin de FEAR, mais bien, bien au delà de Call Of Duty premier du nom. En couplant cette IA au level design, on arrive véritablement à jouer avec nos ennemis, faisant diversion d'un côté pour mieux les frapper d'un autre. Avec en sus des scripts bien sentis, on se retrouve plongés dans une action continue et prenante. En gros, on est immergé, ce qui reste la clef de voûte de ce style de shooter. Une immersion qui doit énormément à l'aspect effréné du jeu qui réussit à la perfection à rendre cette guerre numérique crédible. Bien sûr, il y a la réalisation qui joue énormément sur ce point, avec sa bande-son chaotique ou ses hordes de soldats ennemis dont l'apparition ne semble pas due à une intervention magique mais bien à l'arrivée de renforts, il y a également le fait qu'Infinty Ward est parvenu à faire oublier le côté super soldat du jeu. Le joueur se retrouve véritablement plongé dans un bourbier infâme comme un pauvre soldat toujours accompagné par au moins une dizaine de camarades loin d'être bêtes et adoptant des comportements crédibles. En permanence, vous les entendrez parler et pas uniquement pour balancer des insultes. Constamment, les soldats alliés vous donnent des indications sur la présence d'ennemis en vous signalant précisément où ils se trouvent. Il est même très fréquent qu'ils vous alertent lorsqu'une grenade tombe près de vous. Ce qui peut s'avérer fort commode si vous n'avez pas prêté attention à l'indicateur du HUD supposé vous avertir de cette menace. Un indicateur parfois désactivé, lors de l'usage du snipe entre autre. Une situation de vulnérabilité qui donne tout son sens aux injonctions de vos alliés. Nous voilà donc pris dans un mouvement de masse dont on reste cependant le meneur. On se sent vraiment "dedans" lorsqu'on progresse en laminant consciencieusement les lignes ennemies afin d'atteindre un objectif, mètre après mètre, en évitant les balles. Et cette crédibilité d'attitude des alliés est secondée par une qualité d'animation remarquable qui ne fait que pousser encore plus loin le sentiment d'immersion. Car après tout, dans un jeu comme Call Of Duty, c'est avant tout l'image qui compte, l'illusion. Ici, elle sait s'enrichir d'à-côtés qui permettent au jeu de dépasser les tares accumulées par les FPS hollywoodiens qui commençaient à singulièrement manquer de souffle.

Cette promenade en pipeline est particulièrement ludique.
D'autres nouveautés sont encore au programme. A commencer par l'arrivée des grenades fumigènes, un accessoire plus familier des jeux tactiques mais pas sans utilité ici puisqu'il n'est pas rare de se voir bloqué par des barrages particulièrement délicats à franchir. Le fumigène permet de faire cesser les tirs ennemis ou en tout cas à les forcer à tirer à l'aveuglette. Un plus sympathique qui nous gratifie surtout d'un effet d'ambiance grandiose grâce à une fumée volumétrique du meilleur goût. Et je ne vous cacherai pas que traverser un nuage de fumée sans savoir sur quoi on va tomber est un bon moyen de faire monter son adrénaline, en solo comme en multi. Autre et dernière nouveauté : la disparition des medikits et de la barre de santé au profit d'un système de résistance emprunté à Halo. Lorsque vous êtes touché, une vision troublée de rouge vous signalera le danger, ne vous laissant que quelques secondes pour vous mettre à couvert et récupérer avant de mourir. Un acte pas toujours aussi simple qu'on peut le croire considérant le nombre de soldat belliqueux souvent très élevé.
Fort d'une campagne solo en béton, Call Of Duty 2 se doit évidemment de se nantir d'un multijoueur capable de rivaliser avec son prédécesseur dont il reprend les modes classiques mais en ajoute deux autres dont Radio. Un mode qui consiste à s'emparer d'une zone et à la tenir le plus longtemps possible, le temps passant faisant augmenter le score de l'équipe en défense. Un mode bien fendart qui devrait remporter un certain succès dans les semaines à venir.