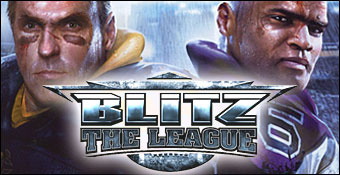 Dès que l'on débute le mode carrière de Blitz : The League, on comprend que le soft est déterminé à vous montrer les pires aspects du football américain. Entre les politiciens véreux qui discutent avant tout de billets verts en préparant votre entrée en scène en tant que coach et des joueurs qui aiment à s'insulter copieusement entre deux phases de jeu, on sent que l'ambiance ne sera pas la même que dans un Madden NFL. Si le titre semble batifoler joyeusement dans la fange, il pourrait cependant constituer une bonne initiation pour les joueurs désireux de se lancer dans l'arène sans jamais avoir osé franchir le pas. Très arcade, le titre de Midway se prend facilement en main, néanmoins sachez qu'il faudra être familier de la langue de Ronald Mcdonald afin de parvenir à évoluer dans un sport aux règles complexes, mais parfaitement compréhensibles si l'on s'en donne le temps. La maîtrise de l'argot ne sera pas de trop non plus, afin de pouvoir profiter des échanges fleuris de joueurs sans doute capables de faire passer Vin Diesel pour une lopette.

Là, je me dois de clamer mon intense satisfaction ! Allez mon petit gars, à moi la baballe !
Loin de vouloir jouer dans la même division que Madden, Blitz : The League n'affiche aucune équipe réelle ni championnat officiel. Libéré des entraves du politiquement correct, on observera donc des plaquages beaucoup plus violents que nécessaire, et un recours récurrent à des substances illégales. S'acharner sur un joueur en particulier pourra même conduire à de délectables blessures, le jeu passant alors en mode rayon X pour vous permettre d'observer les os de la victime se disloquer sous le choc, avec un craquement de bon augure bien entendu. Bref, vous l'aurez compris, Blitz fait dans le sale, le très sale, et parvient finalement à produire sa propre atmosphère, décalée et réussie. Outre les traditionnels matchs entre équipes prédéfinies, le jeu permet surtout de monter votre propre formation, d'en choisir le nom, le logo et d'enrôler le personnel nécessaire (joueurs autant que docteurs, entraîneurs et même pom-pom girls). A vous de gérer votre budget, de planifier l'entraînement de chaque joueur, de parier sur l'issue des rencontres et même d'allouer une partie de vos précieux dollars au dopage, quasiment indispensable dans ce milieu ultra-compétitif, mais cela n'ira pas sans risques. Pour un peu, on se croirait presque dans Chaos League. Cependant, dans tous ces domaines, Blitz : The League ne va pas chercher très loin, et la plupart des options seront accessibles par le biais de menus relativement clairs et sans doute simplistes. Mention spéciale tout de même à la possibilité d'envoyer des prostituées chez les joueurs adverses la veille du match... Mais l'essentiel se passe sur le terrain, et rassurez-vous le soft vous permettra tout de même de vous livrer à l'activité qui explique sans doute votre présence sur cette page web : le football.

A vous de faire de la concurrence à Morpheus.
Cette dernière version de Blitz, puisque c'est bien d'une série dont nous parlons, reprend donc les bases de son système de jeu et offre une action rapide qui s'éloigne des standards du genre. Ainsi, plutôt que de diviser le terrain en zones de 10 yards (1 yard représente environ 91 cm et des brouettes) Blitz part sur une base de 30. Un distance qui semblera parfois inhumaine tant il sera ardu pour l'attaquant de la franchir en seulement 4 tentatives, d'autant que les 15 minutes de jeu réglementaires se transforment sur votre écran en 2 petites minutes. Le soft réduit également le nombre de joueurs sur le terrain afin d'espacer le jeu et encore une fois, de le rendre plus fluide et aérien. On s'éloigne donc un peu de la lente progression d'un véritable match, mais on gagne sans doute en amusement. Entre chaque phase de jeu, vous disposerez de quelques secondes pour définir votre formation, vous pourrez ainsi faire défiler sur votre télé un bon nombre de schémas manquant un peu de clarté, surtout pour les néophytes, mais qui représentent toutefois toutes vos options tactiques. Une fois le choix effectué, vous voilà de nouveau sur un terrain où la plupart des actions se déclenchent en jouant des boutons A et B aux bons moments et où les joueurs réagissent somme toute assez logiquement. En fonction de la distance à parcourir, ceux-ci privilégieront ainsi la course ou le jeu de passe.

Moi avoir gros biceps, toi tout mou. Moi t'écraser comme une fiente.
On notera toutefois une forte tendance à s'en remettre aux «Dirty Hits», les coups bas, spectaculaires mais finalement énervants puisqu'ils contrebalancent parfois l'optique de phases de jeu rapide que le soft semblait promouvoir. Le soft aime d'ailleurs à ponctuer l'action de petites cinématiques pendant lesquelles les joueurs s'insultent ou tentent de s'intimider. Sympathiques au début, elle deviendront clairement redondantes et énervantes après quelques heures de jeu. Heureusement, on aura la possibilité de les passer pour se concentrer sur l'essentiel. Autre élément phare du gameplay : le Clash mode, sorte de jauge de pouvoir qu'on remplira en marquant des points ou en gagnant du terrain sur l'adversaire. Un petit coup de gâchette gauche et vous entrerez dans une sorte de bullet-time footeux, qui vous permettra là encore d'esquiver vos adversaires ou de leur exploser la tronche tout en empochant des Icons, sortes d'écussons qui vantent vos exploits. Si vous en accumulez un nombre suffisant, vous pourrez peut-être même accéder au mode Unleashed, qui s'il s'utilise exactement de la même manière que le Clash, rendra vos joueurs surpuissants en attaque ou intraitables en défense. Avec toutes ces possibilités, Blitz : The League, se pose donc en jeu agréable et défoulant, mais sans doute trop superficiel pour satisfaire les passionnés de football américain. Doté d'une excellente ambiance, dans son style, le titre pourrait bien constituer un excellent choix pour qui désirerait s'initier aux joies de l'ovalie nord-américaine.