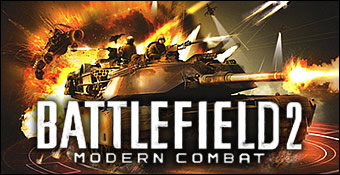 Transfuge direct de la série des Battlefied, menant une guerre féroce sur PC depuis quelques années remplie de suites, de dérivés et de remaniements, l'opus consoles qui nous intéresse aujourd'hui tend à se démarquer un tantinet afin de prendre un envol qu'il semble souhaitable. Mais où ce dernier peut-il trouver les arguments suffisants pour oser s'attaquer au paysage du FPS de salon, depuis longtemps étouffé par les dizaines et les dizaines de sorties annuelles, voire mensuelles ? Eh bien justement dans un dérivation des bases de ses aînés. Une contre-attaque digne d'un émissaire de la CIA sur le retour. Portant la lourde tâche de reporter sur consoles toute la démesure jouissive de ses modèles fidèles au PC, Battlefield 2 semble un tant soit peu démuni malgré un public déjà acquis à sa cause. C'est donc dans une sorte d'élan de courage que le titre de Dice change la donne et lorgne désormais davantage vers le mode solo, laissant quelque peu en repos la fureur du multijoueur online. En effet, pour la première fois dans la série, vous aurez le droit à une véritable trame scénaristique, permettant de mettre en place non seulement une cohérence générale, mais aussi un gameplay fortement axé vers une glorification d'une aventure solitaire relativement consistante. Oubliez les bêtes rixes sans saveur avec des bots sans réelle existence, simplement là pour se faire exterminer sauvagement et sans sommation. Non, désormais vous avez l'occasion de participer à une campagne dense agissant comme complément idéal à un espace de guerre de pixels internationale. Tout juste coiffé de votre casque aux couleurs discutables et écrasé par votre barda clinquant, vous êtes parachuté dans un conflit local, paradoxalement de grande importance, afin d'empêcher un envenimement de la situation. De fait, et au cours des différentes missions du jeu, vous pourrez incarner l'ensemble des camps en présence, dans le but louable de vous faire comprendre chaque point de vue (grossièrement), et de renouveler l'expérience de jeu par la même occasion.

Le premier niveau offre une ambiance fantastique
Reposant sur un fond fort scripté, comme de nombreux titres mettant en scène des périodes guerrières, le titre d'EA vous place directement et intensément dans l'action, sans fioritures ni explications longuettes. Vous êtes vraiment parachuté, dans les deux sens du terme, au coeur d'un embrasement généralisé sans nettement savoir quelle est votre place dans ces scènes d'apocalypse. Vous voilà donc soudainement happé par les évènements, confronté à un niveau d'implication digne de Call Of Duty ou Medal Of Honor, semblant réutiliser méthodiquement, mais avec talent, les codes du nouveau cinéma de guerre, de Il Faut Sauver Le Soldat Ryan à La Chute du Faucon Noir. Tout est mis en place pour jeter en avant les sensations, la fascination face au spectaculaire, et surtout la sublimation de scènes de bravoure titanesques. D'autre part, les diverses ambiances en accord avec les environnements traversés, jouent énormément dans l'attrait que l'on ressent pour le soft. Des premiers niveaux sous une neige harassante masquant le danger par la douceur des flocons, à ceux se déroulant dans les étendues sèches du Moyen-Orient baignées d'un soleil éblouissant, chaque ville ou pays traversés sont autant d'instants d'adrénaline pure ou la beauté et l'action entrent en corrélation. En effet, la réalisation de Battlefield 2 s'avère on ne peut plus convaincante, plaçant l'accent sur la retranscription de la violence d'un conflit par des effets d'explosions magnifiques et surtout "puissants". Néanmoins, dans ce flot de fureur, il ne faudrait pas oublier de s'arrêter quelques secondes sur des textures particulièrement réussies et une fluidité générale ne souffrant aucunement de la débauche inconsidérée du titre. Malgré tout, le tableau n'en est pas rose pour autant, noirci principalement par des carences inscrites dans les domaines de l'animation et de la gestion des corps. Souffrant d'une décomposition des mouvements assez raides et d'une démarche un peu pataude, nos amis en kaki ne sont pas plus dignes dans la mort. Epousant peu la forme des endroits où ils s'affaissent, il leur arrive le plus souvent de se montrer dans des postures assez risibles, jambes flasques et très tatillonnes dans leur volonté de se placer naturellement, ou encore paraissant reposer sur un escalier invisible tant leurs contorsions sont étranges. Bien plus abouti que les versions 128 bits, cet opus Xbox 360 sublime les textures originelles sans pour autant profiter pleinement des capacités de la console de Microsoft. Certes les effets de lumière s'avèrent plus crédibles et la modélisation est bien plus fine, mais on était en droit d'attendre tout de même une évolution plus impressionnante d'un jeu vendu 70 euros.

Allo ? Oui, non, là je suis en train d'éliminer des snipers. Oui, je passerai chercher du poulet !
Et que dire de leur I.A. Rarement des ennemis et par extension des coéquipiers avaient atteint un tel niveau d'imbécillité chronique. Non qu'ils agissent de façon inconsidérée à longueur de temps, parvenant même à surprendre lors d'un assaut coordonné, mais ils se laissent parfois emporter par des accès de délire. Par exemple, il arrive souvent que deux adversaires se trouvent agenouillés face-à-face tout en se tirant furieusement dessus sans même se toucher, sans parler de vos compagnons qui ne se cachent même pas face à une horde de soldats du camp opposé, préférant se faire prendre à revers plutôt que d'opérer un repli, ou juste se tourner. Un écueil qui nuit quelquefois à l'immersion, mais qui passe "relativement" inaperçu tant on se fond dans le rythme général. Au registre des points négatifs, vous aurez également à subir les fourberies de la technologie, nettement en avance chez vos antagonistes. En effet, ceux-ci semblent avoir mis au point un système de téléportation plutôt avancé, au vu de leurs apparitions impromptues n'importe où et n'importe quand. Si l'on reste dans de la pure logique lorsqu'ils surgissent lors d'un parachutage, idéalement mis en scène par ailleurs, on saisit nettement moins un encerclement alors que les routes autour de vous sont sécurisées et que vous n'y aviez encore croisé personne il y a deux secondes de cela. Un détail pas vraiment gênant en soi, mais qui montre que le produit final aurait pu être bien plus fignolé. Toutefois, le soft de Dice parvient à soudainement renverser la vapeur dans son sens grâce au système astucieux du "transfert immédiat". Sous cette appellation digne d'un film de science-fiction de série Z ou d'une harangue de Bioman Rouge, se cache en réalité le petit secret de Battlefield 2. Lors des batailles que vous aurez à disputer, il vous arrivera parfois de vous trouver dans des situations périlleuses parce que vous ne possédez pas l'unité qui convient dans ce genre de cas. Au lieu de vous mordre les doigts d'avoir choisi un artilleur pour prendre d'assaut un complexe exigu, vous pourrez à tout moment, si tant est qu'aucun obstacle n'obstrue votre vision, prendre le contrôle d'un autre type de soldat. En fait, il vous suffira de visualiser l'icône de ce dernier à travers votre viseur, qui affichera alors une surbrillance et deviendra d'un blanc profond. A ce moment précis, et à l'aide d'une simple touche, vous passerez immédiatement dans le corps de votre coéquipier sous couvert d'un effet graphique dynamique et très sympathique, rappelant quelque peu l'accélération brutale de NFSU 2. Une idée intéressante qui offre des possibilités stratégiques, certes limitées, mais réinjectant un intérêt constant dans les nombreux combats que vous mènerez.

Le mode défi vous permet de vérifier si vous avez les compétences suffisantes pour être un soldat
D'autre part, il existe également un système d'attribution de grade, on ne peut plus classique, mais poussant à la performance et légitimant les efforts que vous avez pu faire en pleine bataille. Plus précisément, vous obtenez des points suivant le nombre de personnes exécutées de vos propres mains, prenant également en compte la manière dont vous avez mené les assauts. Si par exemple vous êtes parvenu à tuer dix militaires de suite en un seul coup et sans vous faire toucher, vous serez gratifié d'une médaille, mais surtout d'un amas de points non négligeable. Sachant qu'ensuite ce sont ceux-ci qui vous donneront accès à plus ou moins d'étoiles lors du débriefing, elles-mêmes nécessaires à la montée en grade. Toutefois, ces points ne seront que secondaires si vous mettez trop de temps à boucler vos objectifs, ou si vous perdez trop d'hommes sous le feu ennemi. Au final, tous ces sacrifices aboutissent donc à une promotion vous apportant une augmentation de vos chargeurs et bien d'autres bonus pratiques. On s'aperçoit donc sans mal que le mode solo est loin d'être secondaire, ce qui n'est pas un mal à la vue du peu de variété du multi. Seulement axé sur les modes "conquête" et "capture de drapeau", il fait pâle figure face à la volonté de diversité que montrent les jeux à possibilités online ces temps-ci. Pourtant, il n'en reste pas moins que les cartes présentes se révèlent intelligemment pensées, laissant libre cours à des initiatives personnelles débridées et proposant surtout une multiplicité d'appréhensions tactiques plus qu'agréable. Maintenant, reste à espérer que de nouvelles maps feront leur apparition et que des variations seront apportées quant aux principes de base, sans quoi la communauté de BF 2 risque de s'essouffler bien vite. Les moments d'anthologie sont tout de même légion et l'on passe de longues heures intensives à traquer ses adversaires sans autre but que la mort. On prend donc malgré tout du plaisir dans notre cheminement au sein du jeu de Dice, et c'est bien là le principal. Over.