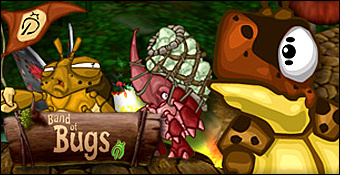 Dès les premiers pas dans la campagne disponible, l'héritage de titres comme Final Fantasy Tactics se fait sentir. Même visualisation isométrique, même mécanique de jeu, même concept addictif. La seule différence tient dans le contexte : ici, c'est une escouade d'insectes que l'on contrôle, du cafard au moustique en passant par la sauterelle. Ces personnages sont mis en scène au début et à la fin de chaque niveau pour faire avancer la narration. On apprécie ou non le style visuel, mais les dialogues ne sont pas dénués d'humour, et on finit par prendre part avec plaisir à cette guerre des insectes. Les premiers niveaux de la campagne font office de tutoriel et servent à introduire progressivement les différents personnages et leur fonction respective : certains se destinent au corps-à-corps, d'autres excellent à distance, d'autres encore peuvent user de magie pour soigner leurs camarades. Ce sont toujours de petites escouades que l'on contrôle, dans des escarmouches scénarisées dont les objectifs varient : éradiquer tous les ennemis, atteindre un point précis de la carte, protéger un personnage particulier...

Le style graphique simpliste offre une bonne lisibilité à l'action.
Le jeu se déroule au tour par tour. Les cartes sont découpées en cases à l'altitude et aux caractéristiques variables (terre, eau, sables mouvants...). Elles ne sont pas bien grandes, mais il faut de toute façon réfléchir un maximum avant d'avancer ne serait-ce que d'une case. Les personnages progressent selon leur potentiel de mouvement : certains peuvent se déplacer loin, d'autres de façon plus limitée ; d'autres encore peuvent survoler des cases infranchissables par les autres. Il faut apprendre à tirer parti de l'environnement pour prendre l'avantage sur ses adversaires : une attaque par derrière ou depuis une position surélevée occasionne davantage de dégâts. De même, tout en essayant d'utiliser au mieux les différentes capacités de ses personnages, il faut apprendre à connaître celles des insectes adverses afin d'optimiser ses chances. Un mauvais choix conduit rapidement à l'échec, d'autant que les points de vie des personnages sont limités - sans doute un peu trop d'ailleurs vu la puissance de certaines attaques. Bref, Band of Bugs a beau proposer un univers naïf et coloré, il n'en conserve pas moins une bonne dimension tactique.
Outre la campagne découpée en une vingtaine de niveaux, Band of Bugs fourmille d'options et de modes de jeu : scénarios autonomes, parties aléatoires, éditeur de niveaux, mode multijoueur, sans compter le téléchargement possible de contenu supplémentaire. Pour 800 points sur le Live Arcade, ou une somme modique sur PC, on n'a aucun mal à dépasser l'aspect technique un peu désuet pour se plonger dans ce jeu à la fois accessible et profond, chose de plus en plus rare de nos jours.