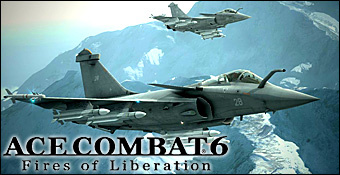 Bien que Ace Combat 6 marque la rencontre entre la série et la nouvelle génération de consoles, le discours des développeurs ne change pas d'un iota. Certes, le jeu est encore plus beau (et c'est un euphémisme), certes les missions sont encore plus impressionnantes grâce à des nuées d'ennemis arrivant de toute part mais dans le fond, rien ne change vraiment, de la narration à la construction du jeu en lui-même. Pourtant, le titre reste toujours aussi immersif et indispensable pour les fans. Diantre, il n'y a pas à dire mais les pt'its gars de Namco Bandai sont drôlement forts. Mais avant de rentrer dans le vif du sujet, que nous raconte cet énième épisode ? Eh bien, rien de bien neuf ici aussi car sur fond de guerre entre les contrées de Gracemeria et d'Estovakia, le synopsis s'évertue à suivre les destinées de plusieurs personnages, des deux camps, déchirés par le conflit, extérieur et intérieur, mais mus par une volonté implacable qui leur fournira l'énergie nécessaire pour avancer. Dans l'absolu, le scénario n'est pas si indigent que cela mais on regrettera amèrement que les cinématiques, bien trop statiques, soient beaucoup moins fortes, émotionnellement parlant, que celles de Distant Thunder par exemple qui, bien que fichées, relayaient malgré tout une histoire plus émouvante et surtout plus proche de nous. Toutefois, si l'émotion transmise par ces séquences est toute relative, c'est bien tout le contraire lorsqu'on se retrouve dans son cockpit.
Ce genre de petite frayeur est à éviter en mode Normal.
Comme d'habitude, si vous commencerez avec un avion fiable mais peu puissant, un F-16 pour ne pas le nommer, vous aurez très rapidement (en gros dès la quatrième mission) les moyens nécessaires pour acheter d'autres zincs plus performants (Mirage 2000, Rafale, A-10) et surtout plus adaptés en fonction du type de mission. En somme, si vous devez éliminer des cibles terrestres, il sera bon d'opter pour un avion "Air-Sol" alors que si l'objectif est de combattre une forteresse volante, le choix d'un avion "Air-Air" sera plus approprié. Bref, prenez votre temps pendant la phase d'avant-mission pour choisir le bon modèle ainsi que l'armement principal et secondaire. En parlant de briefing, on notera à ce sujet, que les missions de ce Ace Combat 6 sont en règle générale plus longues que celles de ses prédécesseurs. Ce n'est pas un mal, même si du coup, lorsqu'on se crashe bêtement après une demi-heure de jeu, on a vite fait d'être dégoûté. Le bon plan sera alors de débuter en mode Facile, pour éviter de se crasher justement, puis de continuer en Normal, la difficulté pouvant être changée à tout moment. Notez tout de même que globalement cet opus est sensiblement plus ardu que les Ace Combat antérieurs.

La plupart des données du briefing sont finalement peu importantes.
Maintenant, il convient aussi de préciser qu'à l'instar de jeux comme Dead Rising ou Lost Planet, Fires Of Liberation est pensé pour un écran HD. Résultat, si vous jouez sur un écran cathodique (oh les pauvres !), vous aurez du mal à utiliser le radar pour voir où se trouvent vos ennemis. Bref, c'est un point de détail mais qui prend toute son importance quand il s'agit de repérer rapidement l'ennemi pour le neutraliser avant qu'il n'attaque ceux que vous êtes censé protéger. Heureusement que pour mener à bien vos missions, vous profiterez d'un support aérien. Tout d'abord, vous pourrez utiliser des avions MAE. Kezako ? Il s'agit en fait d'un appui électronique sous forme d'avions de guerre ou d'installations radar ennemies qui augmenteront la vitesse de chargement ou la capacité de guidage de vos missiles. Le second type de support est simplement lié à vos compagnons d'armes. Pour les appeler, vous n'aurez qu'à user de la croix de direction. Un simple appui vers le bas et hop, votre allié le plus proche protégera vos arrières, un appui vers le haut et ce même allié attaquera les ennemis qui vous font face. Mais le nec plus ultra consiste à remplir une jauge d'appui et à appuyer longuement sur la touche Haut citée plus avant. Dans ce cas, vos compagnons fondront sur toutes les cibles qui se trouvent dans votre champ de vision. Utile, et surtout très impressionnante, cette attaque est un régal visuel qui devrait vous scotcher à votre siège la première fois que vous y assisterez.

Normalement, c'est à ce moment-là que vous êtes censé éviter.
Fires Of Liberation, sous des dehors clinquants ne révolutionne donc pas la série même si le multijoueur dispose de sympathiques dogfights pour 16 pilotes via trois modes : Combat par équipe, Battle Royale et Siege dans lequel, deux équipes doivent éliminer le plus rapidement les cibles désignées. Un quatrième mode, Combat coopératif, permet à quatre joueurs de reprendre les missions du solo. S'appuyant davantage sur un apport visuel encore plus bluffant qu'à l'accoutumée que sur une véritable évolution, le titre stagne dans son approche même si les missions sont beaucoup plus fournies en objectifs. Ceci peut d'ailleurs être vu aussi bien comme un point fort que comme un point faible. En effet, d'un côté, ce surplus d'ennemis et de cibles en tout genre rallonge considérablement la durée des missions mais de l'autre, on a parfois du mal à s'y retrouver, plusieurs niveaux étant désormais découpés en opérations. De fait, s'il est maintenant possible de choisir le point de départ d'une mission, on devra dans la plupart des cas tout ratiboiser dans un secteur puis très rapidement rejoindre un autre endroit pour faire à nouveau le ménage. Heureusement que l'IA de nos camarades est loin d'être mauvaise, ceci évitant à nos alliés de faire de la simple figuration. Hormis cet aspect et une absence d'originalité, Ace Combat 6 est un pur concentré de jouissance aérienne où la maîtrise du ciel passe par des affrontements dantesques devant aussi bien au respect de la charte imposée par la série que par le côté technique maîtrisé de bout en bout.