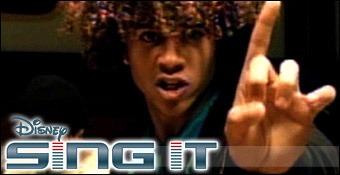 Les jeux de karaoké sur consoles se suivent... et se ressemblent décidément beaucoup ! D'ailleurs, il est clair que ce n'est pas Disney Sing it qui viendra révolutionner le genre. Avec son micro USB, ses barres de justesse et ses textes qui défilent sur l'écran au fur et à mesure du déroulement d'un clip, Sing it ne fait en réalité que reprendre point par point le système bien connu de Singstar. Mais après tout, pourquoi changer une formule qui marche ? On devra donc s'évertuer une fois de plus à chanter le plus juste possible sans faire grand cas des paroles. Et si le concept demeure plutôt limité, il fonctionne suffisamment bien pour offrir à tous les chanteurs en herbe d'agréables moments de détente en musique.

Le gameplay est classique mais efficace.
En ce qui concerne la tracklist, il est vivement conseillé d'être fan de Disney Channel pour pouvoir apprécier les morceaux proposés. De High School Musical à Hannah Montana en passant par Camp Rock, les clips de Sing it ne mettent en scène que de jeunes artistes américains formatés par le star system. Allergiques au sourire Colgate s'abstenir. Ici, tout le monde est heureux, tout le monde est beau, et la seule chose qui importe, c'est d'avoir l'air cool. Dieu que la grisaille du quotidien semble loin quand on chante avec Miley Cyrus ou Jesse McCartney ! L'échec scolaire ? L'obésité ? La drogue ? Ils ne connaissent pas. Ils sont bien dans leur peau et ils le crient haut et fort. Quoi de plus normal finalement quand on vit dans le monde merveilleux de Disney ?

On peut prendre quelques cours de chant.
Avec 35 clips originaux, Disney Sing it se montre assez généreux avec les joueurs. "Jump to the Rythm", "Breaking Free", "We Rock", "Get'cha Head in the Game", "One World", il y a pas mal de chansons connues outre-Atlantique. Néanmoins, on déplore d'une part que la totalité des titres soit en anglais et d'autre part que certains tubes majeurs manquent encore à l'appel. Ainsi, comment expliquer que "We're all in This Together" n'ai pas été inclus dans la playlist High School Musical ? Pourquoi le hit de Miley Cyrus, "7 Thing", est-il passé à la trappe ? On ne sait pas trop mais il reste toutefois assez de bons morceaux pour que les fans de pop américaine et de teen music puissent s'éclater un moment.

Les stars des ados répondent présent.
D'autant que les modes de jeux sont assez nombreux. On peut chanter en solo, en duo, se battre contre un autre joueur, constituer des équipes, organiser des concerts, etc. Il est même possible de prendre des cours de chant avec Olesya Rulin. Bien entendu, pour profiter des options multijoueurs, il faudra disposer de deux micros. Pas de bol, Disney Sing it n'est vendu qu'avec un seul. Merci Disney... Ceci dit, la détection de la voix fonctionne bien et le système de notation est correct. Il existe trois niveaux de difficulté pour chaque chanson et on peut généralement sélectionner la partie sur laquelle on souhaite chanter. Bref, Disney Sing it est un karaoké sympathique. Ceci dit, il ne conviendra guère qu'aux fan de comédies musicales pour ado.