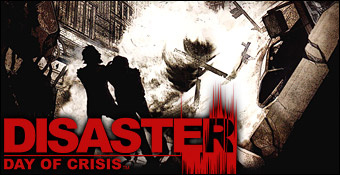 Le film catastrophe est un genre cinématographique bien rodé qui répond à des codes précis : les désastres permettent ainsi de dévoiler certains aspects de la psychologie profonde des protagonistes. Étrangement, peu de jeux vidéo ont pour l'instant exploité ce filon. On se souvient surtout de SOS : The Final Escape sur PS2 qui vous faisait vivre les conséquences d'un séisme et qui mettait l'accent sur les relations entre les survivants. Avec Disaster, on monte d'un cran en terme de situation dangereuse. En effet, tous les éléments semblent s'être mis d'accord pour en faire baver au pauvre Ray Bryce : dans la même journée, il devra affronter un tremblement de terre, un raz-de-marée, une éruption volcanique et un ouragan. Comme si cette avalanche de catastrophes naturelles ne suffisait pas à l'occuper, il lui faudra aussi se battre contre un commando de troupes d'élite pour les beaux yeux d'une jeune fille.

La situation est réellement catastrophique.
Vous vous demandez ce qui a bien pu pousser ce brave Raymond Bryce dans une telle galère ? Le héros de Disaster est un ancien sauveteur-secouriste qui est resté traumatisé par la mort de son partenaire. Peu de temps avant cette tragédie, il avait promis à son ami de veiller sur sa sœur. Manque de chance, celle-ci se fait enlever par une unité de forces spéciales, le SURGE. Ces derniers ont profité de la panique occasionnée par le séisme pour dérober des ogives nucléaires... Vous l'aurez compris, il ne faut pas vraiment chercher de profondeur dans le scénario de Disaster. Il s'agit là ni plus ni moins que d'un copieux mélange de bons sentiments, de remords et de prise d'otage. Mais étrangement, cette histoire qui sent le réchauffé ne dessert pas du tout le jeu. Au contraire, elle justifie parfaitement la fâcheuse manie du héros à vouloir porter secours à tout le monde. En effet, Ray ne se contente pas de poursuivre une bande de méchants garçons pour leur tirer les oreilles, ses réflexes de secouriste refont rapidement surface dans une situation de crise comme celle-ci.

La jauge en haut de l'écran indique l'état des blessés.
Il vous suffira d'approcher d'une victime pour lui porter secours. Attention cependant, les blessés peuvent parfois se dissimuler dans les recoins les plus inattendus du décor. Il vous faudra alors appeler pour que Ray se tourne automatiquement dans la direction de la personne à secourir la plus proche. Dans les cas les plus simples, vos blessés s'en tireront très bien une fois que vous leur aurez donné des pansements ou de quoi manger. Mais il se peut aussi que vous deviez les porter jusqu'à un abri, soigner leurs plaies, ou même leur faire un massage cardiaque. Dans ces cas-là, une jauge vous indiquera l'état de santé de votre patient, il vous faudra agir avant que celle-ci ne se vide complètement. Ces différentes actions tirent réellement parti des possibilités de la Wii : pour un massage cardiaque il s'agit d'effectuer des mouvements vers le bas avec le bon rythme, pour soigner les blessures il faut les pointer à l'aide de la Wiimote tout en utilisant le stick du Nunchuk... Vos bonnes actions seront récompensées puisqu'elles vous permettront de gagner des points de compétences et d'augmenter petit à petit le seuil maximum de votre jauge de vie.

Les phases de shoot rappellent la série des Time Crisis.
Ray a beau tout avoir du Bon Samaritain, il s'agit aussi d'un ancien marine. D'ailleurs, les nombreuses cinématiques du jeu nous permettent de constater qu'il a gardé le langage fleuri des militaires. Mais quand il ne lance pas des "shit" tous les trois mots, on se rend aussi compte qu'il ne se fait pas prier pour en découdre avec les agents du SURGE. Quand vous rencontrez ces fameux barbouzes, les scènes d'exploration de paysages dévastés à la recherche de victimes font rapidement place à des phases de shoot pur et dur. On passe alors d'une vue à la troisième personne à une vue subjective à la manière d'un épisode de Time Crisis. Vous ne contrôlez plus votre déplacement et Ray avance automatiquement lorsque vous avez éliminé les ennemis qui lui font face. Vous pouvez toutefois vous mettre à couvert le temps de recharger ou de choisir entre l'une des quatre armes que vous avez sélectionnées avant le début de la mission. Là encore, la maniabilité particulière de la Wii est bien exploitée : on vise tout simplement en pointant la Wiimote et on recharge en secouant le Nunchuk. Il est aussi possible de zoomer pendant un court instant, vos tirs feront alors plus de dégâts.

Vous pouvez améliorer les capacités de Ray.
Vos performances lors de ces phases de shoot vous permettront de gagner des points de bataille. Ceux-ci vous serviront à débloquer de nouvelles armes et à optimiser celles dont vous disposez déjà. Chacune des armes a en effet ses propres compétences, à vous de choisir quels sont les aspects que vous comptez améliorer (la puissance, la précision, la taille du chargeur, la visée ou le temps de rechargement). On retrouve le même principe concernant les caractéristiques du personnage principal. Les points de compétences récoltés en sauvant des vies peuvent ainsi être investis pour développer la force, la concentration, le métabolisme, le nombre d'objets portés ou l'aptitude au combat de Ray. Le joueur consciencieux reviendra ainsi de nombreuses fois dans les niveaux déjà visités afin de les faire de fond en comble pour obtenir le maximum de points. Il pourra aussi partir à la recherche d'un drôle d'individu qui lui donnera accès aux missions optionnelles du stand de tir. Si Disaster peut paraître relativement linéaire, il proposera donc une expérience réellement différente d'un joueur à l'autre grâce à cette possibilité d'optimiser ses armes et son personnage.

Les cinématiques sont particulièrement bien mises en scène.
Certains trouveront certainement le jeu un peu court à leur goût. Il faudra en effet à Ray un peu moins de 10 heures pour venir à bout de toutes les catastrophes qui lui tombent sur la tête. Mais il s'agit là du prix à payer pour bénéficier d'une action non-stop qui ne tombe jamais dans la routine. Le jeu fourmille par exemple d'actions contextuelles : qu'il s'agisse d'aider un blessé, de nager dans un torrent ou d'échapper à un raz-de-marée, la reconnaissance de mouvements de la Wiimote et du Nunchuk est toujours exploitée de manière intelligente et originale. Vous serez aussi parfois amené à prendre le volant : il faudra alors tenir la Wiimote de manière horizontale et la pencher pour tourner. On avait déjà vu ce type de prise en main dans des jeux comme Alone in the Dark, mais dans le cas de Disaster, cela se traduit par une maniabilité beaucoup plus intuitive. La référence n'est pas anodine. En effet, avec son lot d'actions contextuelles et sa jouabilité originale, Disaster nous apporte finalement ce que nous avait promis Alone in the Dark. En conclusion, il s'agit là d'un jeu d'action comme on aimerait en voir plus souvent sur Wii.