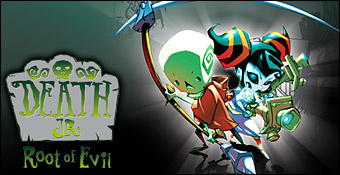 Une fois la galette insérée dans votre Wii rutilante, une chose est sûre : Death Jr. n'a pas vendu son âme au diable en changeant de plate-forme. Ainsi, dès l'instant où vous vous lancerez dans votre première partie, vous retrouverez l'univers si particulier des précédents opus. Un univers qui emprunte énormément à Medievil ainsi qu'aux réalisations de Tim Burton. Petite licence en devenir, tout de même soutenue par quelques fans américains, Death Jr continue donc son chemin et s'améliore avec le temps. Au pays de l'Oncle Sam, le héros, fils unique de la Mort, s'est même vu transformé en héros de bande dessinée et officie doucement pour le plaisir des petits et des grands. De fait, on sera donc surpris de découvrir ici un scénario sans profondeur ni réelle originalité. La cinématique d'introduction, caractérisée par un humour aussi gras que la nourriture qu'elle met en scène, nous permet d'observer le père de Death Jr, la Grande Faucheuse elle-même, se faire capturer par une créature tout aussi verdâtre que belliqueuse. On nous révèle ensuite que Death Jr. et sa petite amie, la bien nommée Pandora, sont en fait responsables de l'apparition de ce monstre chlorophyllé. Confrontés à la disparition du mortel paternel et déterminés à ne pas voir son nom apparaître dans la rubrique nécrologique du journal local, les deux garnements partent donc à sa recherche à travers toute une tripotée de niveaux plates-formiques infestés d'ennemis.

Nos deux compères dans toute leur splendeur.
Au début du jeu, vous devrez donc choisir votre personnage parmi ces deux compères, sans qu'il vous soit possible d'en changer par la suite. En dehors de quelques cinématiques écourtées voire même carrément supprimées lorsqu'on jouera avec la jeune demoiselle gothique, l'aventure restera identique quel que soit votre choix, d'autant que les deux compères se manipulent exactement de la même manière. Ainsi, Death Jr, aussi appelé DJ, dispose d'une faux qui lui servira indistinctement à découper les nombreux ennemis ainsi qu'à s'accrocher à des branches ou à des rebords. Le petit squelette pourra de plus faire tournoyer son instrument de travail au-dessus de son crâne, comme une hélice, afin de ralentir sa chute et ainsi atteindre des plates-formes éloignées. Pandora est elle équipée d'un fouet qu'elle pourra solliciter exactement de la même manière. Si on ne disposera pas de beaucoup d'attaques différentes au début, la collecte d'orbes jaunes répartis un peu partout dans les niveaux devrait par la suite vous permettre d'étendre votre palette de coups, coups que l'on déclenchera toujours d'un geste de la Wiimote, pour un résultat des plus efficaces.

Rien ne vaut un joli duo de pistolets pour vaporiser les ennemis explosifs.
DJ comme Pandora pourront également utiliser des armes à feu et transformeront du même coup le titre en une sorte de shooter plate-formique énergique. Là encore, on pourra récolter quelques bonus et autres améliorations afin d'augmenter l'efficacité de notre armement. Death Jr. II : Root Of Evil tente donc de combiner avec plus ou moins d'habileté des phases où l'on sautillera comme un beau diable et d'autres où l'on devra faire succomber des vagues successives d'ennemis très nombreux et variés. En fait, le joueur passera tout de même la plus grande partie de son temps au combat. L'ensemble est dynamique et prend une dimension supplémentaire si l'on tente de traverser les niveaux avec un pote, en écran splitté. Il est dommage cependant, que rien n'ait été spécifiquement prévu pour tirer parti de ce mode de jeu. Death Jr. : Root Of Evil ne propose malheureusement pas la moindre action à réaliser à deux en même temps ou quoi que ce soit de cet ordre. Reste tout de même le plaisir de dessouder des tripotées d'adversaires en binôme. Le titre, assez ardu sous son apparence enfantine, se prête donc bien à des sessions partagées entre parent(s) et enfant(s).

Et avec ça, vous prendrez bien un petit peu de plate-forme ?
Cela dit, si vous aviez déjà tâté des deux précédents épisodes sur PSP, vous vous rappellerez sans doute d'un titre sympathique mais difficile à jouer, du fait d'une caméra capricieuse et de contrôles rigides. Cette fois cependant, Backbone Entertainement a mis la main à la pâte et s'est acharné à corriger la plupart des problèmes de prise en main. Certes, la caméra nous gratifiera occasionnellement de quelques virevoltes inattendues et désagréables, mais dans l'ensemble, il n'y a pas trop à se plaindre, d'autant qu'on pourra maintenant la replacer en usant des touches 1 et 2 de la Wiimote. Quant aux déplacements du héros (ou de l'héroïne), ils dépendent maintenant du Nunchuk, tandis que les sauts et les attaques de corps-à-corps sont affiliés aux boutons de la Wiimote.

Les boss ne sont pas légion.
Enfin, le médiocre système de lock des ennemis qui entrait en action dès que l'on sortait nos armes de leurs étuis s'est tout simplement volatilisé. La visée est maintenant entièrement manuelle et s'effectue en pointant la Wiimote sur l'écran, pour un confort accru. Mieux, en mode visée (activé en maintenant le bouton Z enfoncé) vous pourrez très librement orienter la fameuse caméra que nous évoquions plus haut. Bref, le jeu qui apparaissait extrêmement frustrant sur PSP semble enfin avoir pris ses aises. Même constat pour les graphismes, logiquement affinés pour la sortie du jeu sur la Wii. Seul souci, Death Jr. : Root Of Evil n'a rien perdu de la répétitivité de son prédécesseur. On se contentera souvent de vider de leurs habitants de nombreuses zones successives liées entre elles par des petites sessions de grimpe et quelques énigmes gentillettes. Mais nul doute que les petits joueurs ne seront pas blessé par le conformisme de l'aventure. Un titre attachant.