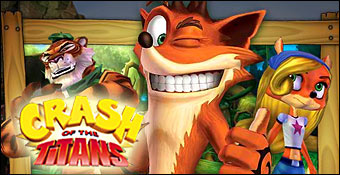 Comme toute aventure de Crash Bandicoot se doit de débuter le plus mal possible, ce Crash Of The Titans ne fait pas exception à la règle. Ainsi, une force maléfique dérobe les ressources de l'île Wumpa et entre le kidnapping de Coco et le fait que Crash ne sache toujours s'exprimer que par des borborygmes incompréhensibles, on ne sait plus où donner de la tête. Bon ok, prenons les choses dans l'ordre. Personne n'étant actuellement disponible pour sauver l'îlot paradisiaque ainsi que ses habitants, autant que ce soit vous qui vous en chargiez. Vous l'aurez compris, Crash rempile à nouveau mais cette fois, il va pouvoir profiter de l'appui, involontaire, de ses ennemis.

Un petit côté Tomb Raider pour un niveau qui recèle tout de même moins de pièges.
Eh oui, tout évolue mes bons amis. Alors qu'hier vous deviez tout faire vous même, Crash Of The Titans redéfinit les règles et du coup s'offre un gameplay plus évolué que celui des anciens épisodes. Ainsi donc, si Crash est maintenant capable de foutre des mandales à ses adversaires en effectuant divers combos ou attaques spéciales (déblocables en récupérant du Mojo), il pourra surtout, une fois récupéré le masque Aku-Aku, prendre possession de ses ennemis les plus puissants. Bonne nouvelle non ? Mais avant de pouvoir réaliser cet exploit, vous devrez affaiblir votre adversaire. Une fois ceci fait, il ne vous restera qu'à vous approcher de lui puis à appuyer sur la touche adéquate pour que Crash effectue un saut Matrixien pour aller se jucher sur le dos du monstre. Ensuite, une fois le masque d'Aku-Aku plaqué sur le visage de la bête, vous pourrez le diriger comme bon vous semble.

La visée est tout de même plus probante sur Wii grâce au réticule.
Quand on sait qu'il est possible de diriger une quinzaine de créatures aux caractéristiques spécifiques, vous imaginez donc qu'il y a moyen, non pas de varier le gameplay qui repose tout le temps sur les mêmes bases, mais bel et bien d'apporter un peu de variété aux combats ou aux énigmes. Répondant à des noms aussi "Pokémonesques" que Sludge, Scorpilon, Yuktopus, j'en passe et des meilleures, chaque monstre a donc accès à une attaque spéciale (en plus de la charge et de l'attaque classique) qui vous sera plus ou moins utile en fonction de la situation. Par exemple, si vous devez atteindre des ennemis ou cibles éloignés, défoncer un pan de mur, éliminer plusieurs ennemis en même temps, vous devrez choisir le monstre qui convient. Cependant, "choix" est un bien grand mot puisque vous trouverez toujours à proximité LE monstre qui convient pour résoudre les problèmes qui se posent. Cela dit, cette idée est vraiment bien pensée, d'autant que la rapidité ou la résistance des créatures varie énormément d'une bestiole à l'autre, et inaugure peut-être une nouvelle voie pour le héros au poil roux. A côté de ça, des séquences de glisse s'intercaleront fréquemment entre deux passages orientés action/plate-forme afin de permettre au joueur de souffler un peu. Sympathique même si on note quelques légers problèmes de maniabilité par endroits à cause d'un Crash se mouvant trop lentement, surtout lorsqu'il s'agit de faire demi-tour.
Les niveaux cachés offrent quelques défis rapportant divers bonus.
En sus de ces "prises de pouvoir", Radical Entertainment s'est également fendu d'un scénario conventionnel mais bourré d'humour. A ce titre, quel plaisir de retrouver l'astuce des No One Lives Forever consistant à laisser parler les adversaires entre eux avant d'attaquer. On assiste alors à des dialogues absolument hilarants, qui plus est profitant d'un excellent doublage français. Bref, ne foncez pas dans le tas et délectez-vous de ces petites perles humoristiques. Question durée de vie, les chapitres restent malheureusement un peu courts mais les trois niveaux de difficulté ainsi que les niveaux cachés (recélant des bonus) sont là pour rallonger la durée de vie. A ce propos, sachez que plusieurs bonus très intéressants (dont de belles galeries d'artworks) sont à découvrir, ceci vous incitant à recommencer certains stages histoire de tout dénicher. Enfin, un mode multijoueur a été implémenté pour une aventure en coopératif. Bonne nouvelle d'autant que ledit mode est lui aussi plutôt original. De fait, vous pourrez choisir de jouer en mode Bond dans lequel les deux joueurs jouent à tour de rôle pour sauter ou glisser, soit en mode Sac à dos qui verra un des joueurs atterrir dans le sac de Crash et en ressortir si le besoin s'en fait sentir. A vous dès lors, les combats en tandem, chacun juché sur son Titan. Sur ce coup-là, Radical a été bien inspiré et le résultat final se veut convivial, jouable et vraiment très drôle. Honnêtement, nous n'en attendions pas autant.