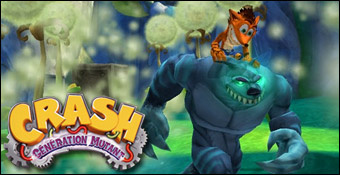 Il y a tout juste un an, Crash of the Titans dépoussiérait une série qui commençait à s'essouffler. Une palette de mouvements étoffée, la possibilité de contrôler des titans et surtout un humour omniprésent en avaient assuré la réussite. Plutôt que de prendre des risques inutiles, Crash : Génération Mutant préfère capitaliser sur ces point forts. A commencer par un humour qui fait toujours autant mouche dans ce nouvel opus, et qui brille notamment dans les nombreuses cut-scènes du jeu. Ces dernières alternent avec bonheur les styles visuels différents : ombres chinoises, théâtre de marionnettes, cartoon des années 30, comics, manga... La cinématique réalisée façon South Park est même à pleurer de rire et justifierait presque à elle seule l'acquisition du jeu.

Les cut-scenes sont un véritable régal.
Les fans de la série seront en outre ravis d'y retrouver le Docteur Nitrus Brio, qui était déjà présent dans le tout premier épisode (comme il se plaît à le rappeler !). Ledit docteur vient de mettre au point un casque de réalité virtuelle, le N-V, qui lui permet de contrôler l'esprit de ceux qui l'utilisent. Le Docteur Neo Cortex a bien l'intention de l'utiliser pour dominer le monde : il s'allie donc à N. Brio, commercialise son invention à grande échelle et parvient à transformer tous ses utilisateurs en mutants, dont Coco et Crunch Bandicoot eux-mêmes ! Heureusement, Crash n'est pas affecté le N-V (sans doute son esprit dérangé le rend-il insensible à toute tentative de contrôle) : il va donc une fois de plus essayer de contrecarrer les plans de son ennemi héréditaire. Durant ses pérégrinations, le bandicoot explorera plusieurs environnements, parmi lesquels l'île Wumpa, l'Ecole Diabolique de Nina (située sur une île enneigée), le désert des Rhinorollers, le monde de la peur et la Station de Cortex. A noter qu'une fois vaincue (c'est en effet un des boss du jeu), Coco Bandicoot peut être incarnée en mode coopératif dans les version Xbox 360 et Wii, tandis que les joueurs PS2 ont droit à Carbon Crash.

Profitez-en, après il faudra le refaire à l'envers.
Le gameplay n'a que peu évolué depuis les épisodes précédents, mais propose quelques nouveautés destinées à étoffer l'expérience de jeu. Il faut savoir que Radical Entertainment a fait appel aux fans pour connaître ce qu'ils aimeraient voir inclus dans ce nouvel épisode. Parmi les différentes requêtes revenait souvent celle d'une liberté plus importante. Crash : Génération Mutant introduit donc pour la première fois dans la série le concept de free-roaming, à savoir la possibilité d'évoluer plus librement dans les environnements du jeu. Concrètement, le monde a l'aspect d'un hub dont le centre est l'île Wumpa, où se trouve la maison de Crash. C'est de cet endroit qu'il est possible d'accéder aux différentes zones, mais certaines ne sont accessibles qu'après avoir débloqué de nouvelles possibilités d'action, octroyées par les Titans. Ce principe "à la Zelda" paraît séduisant sur le papier ; dans les faits il en est tout autrement. Après avoir traversé un niveau dans un sens afin d'accomplir tel ou tel objectif, il faut souvent le parcourir à nouveau dans l'autre pour revenir à la zone centrale et prendre une autre direction. Ces va-et-vient sont particulièrement pénibles, d'autant que la caméra fixe rend les retours délicats à négocier (notamment quand Crash est vu "de face").

Les boss sont peu nombreux mais sympa à affronter.
Il est d'ailleurs surprenant que les développeurs n'aient pas opté pour une caméra libre : l'impossibilité de regarder autour de soi nuit quand même grandement à la prétendue "liberté" offerte. De même, les nouveaux chemins qui peuvent être ouverts par le joueur lui sont systématiquement indiqués lorsqu'il passe devant, annihilant par là même tout aspect réflexif. Résultat : Crash : Génération Mutant est tout aussi linéaire que son prédécesseur, mais plus contraignant à parcourir. Un constat qui sonne comme un échec au vu des ambitions affichées. Quand aux autres nouveautés, elles se révèlent finalement assez anecdotiques. Crash a désormais la possibilité de grimper le long de parois verticales, mais aussi de s'enfouir dans le sol (à certains endroits prédéterminés) pour y récupérer des trésors. Il dispose aussi de deux mouvements supplémentaires durant les combats : une esquive rapide et un contre puissant, qui lui permettent notamment de venir à bout des Titans plus facilement. Ces derniers peuvent toujours être contrôlés une fois vaincus, donnant accès à de nouvelles possibilités en matière de gameplay. Mais désormais, il est également possible de les "stocker" afin de pouvoir les utiliser à tout moment.

Le Titan Frigirat possède un souffle de glace.
Cette dernière possibilité est sympathique mais n'a guère d'utilité concrète vu que les Titans adéquats apparaissent de toute façon non loin des énigmes où ils doivent être utilisés. De même, la possibilité d'upgrader leurs pouvoirs (tout comme ceux de Crash d'ailleurs) nous a semblé de peu d'intérêt. A côté de ça, on aurait aimé bénéficier de davantage de nouveaux Titans que les trois proposés. Le premier possède un souffle glacé qui gèle ses adversaires et glace certaines étendues d'eau, permettant à Crash d'y évoluer. Le second peut se mettre en boule pour rouler dans des courbes ou le long de rails dédiés : c'est l'occasion de retrouver les phases de courses de l'opus précédent, qui sont ici intégrées directement sans faire l'objet de niveaux dédiés. Le troisième permet d'arrêter le temps un court instant afin de franchir certains obstacles. A côté de ça, on retrouve la majorité des Titans de l'épisode précédent, dont les compétences ont été étoffées. Rien toutefois qui puisse suffire à dissiper l'impression récurrente de jouer à Crash of the Titans. De même, le level design efficace mais ultra-classique donne une impression de déjà-vu

A deux c'est encore mieux, pourvu que l'on reste synchronisés !
L'aventure principale, relativement courte, se boucle en 5 à 6 heures de jeu ; mais comme d'habitude, la durée de vie du titre se voit boostée par la possibilité de débloquer des niveaux supplémentaires et des bonus divers et variés, parmi lesquels des tenues pour changer l'apparence des bandicoots. De plus, le mode multijoueur coopératif sur le même écran répond toujours présent à l'appel, avec hélas le même gros défaut : lorsque les deux joueurs s'éloignent l'un de l'autre, la caméra préfère se concentrer sur l'un plutôt que de s'éloigner, conduisant l'autre à "sortir" de l'écran. Heureusement, l'un des protagonistes peut à tout moment se transformer en masque de Aku Aku ; sous cette forme, il suit automatiquement Crash, mais peut au moins tirer des poulets sur ses adversaires ! Quelques mots, pour finir, sur la réalisation de Crash : Génération Mutant. Peu de changements au programme. Les graphismes perpétuent le style cartoon de l'épisode précédent, et s'appuient sur une palette de couleurs pastel qui donnent au rendu visuel des allures d'aquarelle. La bande-son est toujours aussi convaincante, avec des thèmes musicaux dynamiques et réussis et des voix qui n'ont rien perdu de leur drôlerie.