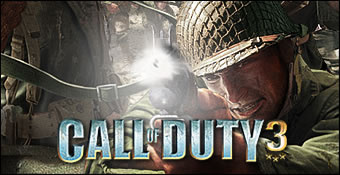 Call Of Duty 3 a cette fois été développé par le studio Treyarch, responsable du très limité Big Red One. La tâche de succéder à un Call Of Duty 2 fort réussi semblait bien difficile pour les développeurs. Le fait est que le gros du titre reste fidèle à la série. On garde ce qui a fait la force du grand frère, on change un peu le décor, on ressort une bande-son à la dimension hollywoodienne, on rajoute des explosions et on adapte les graphismes. Pourtant, doit-on reléguer cette suite au statut de simple suite insipide ? Le constat est finalement mitigé, avec des améliorations anecdotiques dans certains cas, et d'autres particulièrement réussies. En ce qui concerne le contenu, vous ne trouverez aucun changement à la campagne solo dans cette version Wii. Par contre, le mode multijoueur s'est tout simplement volatilisé dans la fureur des combats. Il n'y a donc aucune possibilité de jouer avec vos potes sur internet, mais ça on le savait déjà quand on examinait les caractéristiques de la console. On ne trouve pas non plus de mode multi en écran partagé. Quand on pense que ce mode était sans doute la plus grande force de la version 360, on ne peut s'empêcher de ressentir une certaine pointe d'inquiétude au creux de l'estomac.

Attention, ça va bientôt envoyer du pâté !
Si vous avez déjà joué à Call Of Duty 3 sur un autre support, vous retrouverez donc tous les niveaux du jeu sans exception. Au fil des missions, on incarne toujours plusieurs soldats qui évoluent au sein des unités américaines, britanniques, canadiennes ou polonaises. L'objectif est, vous vous en seriez douté, de bouter l'envahisseur nazi hors de Normandie, et à terme de libérer la capitale française. Vous allez donc martyriser la campagne française de vos bottes virtuelles pendant la totalité du titre, ou parfois aux commandes d'un char. Ce contexte implique que tous les environnements du jeu seront toujours du même registre, villages et villes du nord en ruine, des entrepôts, des collines boisées, etc. C'est vrai qu'au bout d'un moment, la lassitude s'installe et on aurait bien envie de retrouver les chaleureuses rues enneigées de Stalingrad ou la poussière délicate de l'Afrique du nord. Il est vrai que pour un jeu qui joue la carte de l'immersion du joueur dans son univers, ce principe a le mérite de vous plonger dans une série d'opérations bien précises de la Seconde Guerre mondiale. La mise en scène, énorme point fort de la série, a ici moins de pêche que d'habitude, et les attitudes scriptées des ennemis semblent plus visibles encore. Pourtant, le nombre de soldats à l'écran et les explosions se font plus nombreux que jamais, mais le jeu peine à nous plonger dans l'enfer de la guerre par moments, et c'est bien le plus gros reproche qu'on puisse adresser au titre. C'est en grande partie dû aux personnages qui sont aussi charismatiques que des murs de bétons, évoluant dans des cut-scenes ratées et bâclées. Le doublage est plutôt moyen et le fait que le jeu soit totalement en français plombe les rares et pitoyables tentatives d'humour dans les dialogues entre soldats et résistants français.

Et hop, une petite séance de stretching.
Mais le grand changement vient de la nature même de la console de Nintendo et de la façon originale de manipuler son avatar guerrier. On se déplace donc en utilisant le stick du Nunchuk, et on oriente son viseur avec la Wiimote. Moi qui espérais une maniabilité exemplaire, je suis vite retombé sur terre avec pertes et fracas. Le choc fut rude et j'en suis encore réduit à me masser le popotin avec des onguents aussi malodorants que variés. Franchement, maîtriser votre soldat vous demandera une dose de dextérité plutôt conséquente, voire cosmique, ainsi que du temps, beaucoup de temps. Même si on parvient à faire à peu près ce qu'on veut au bout de quelques heures, le fait est que la visée reste imprécise et erratique, et ce malgré la possibilité de régler la sensibilité dans les menus. Call Of Duty 3 est un jeu sauvage et violent où la terre tremble sous le martellement constant des obus, dans ce contexte, viser un ennemi avec précision relève souvent de l'exploit. L'écran tremblote, la Wiimote vibre, et vous, vous êtes rapidement perdu. De même, lorsque l'action s'emballe, il n'est pas rare de se retrouver à viser le plafond ou le ciel. Pourtant, le combo Nunchuk/Wiimote apporte indéniablement un plus quand il s'agit de réaliser certaines actions contextuelles. Ainsi, le pilotage d'une jeep vous forcera à empoigner les commandes comme un volant, et les quelques phases de corps-à-corps deviendront assez énergiques. Prenez garde toutefois à ne pas éborgner un éventuel spectateur. On découvre également un ajout qui semble des plus intéressants en théorie : la possibilité en inclinant votre Wiimote sur le côté de faire se pencher votre soldat. En pratique, faire ça en continuant à viser vos adversaires est presque impossible. En bref, cette version Wii est beaucoup plus délicate à maîtriser et une concentration intense digne d'un moine Shaolin vous sera plus que nécessaire pour en venir à bout. On est en droit de se demander si l'aspect grand public de la console ne souffre pas un peu lorsque l'on touche un FPS. Seul l'avenir le dira.

Toi, tu aurais mieux fait de rester chez toi.
Au risque de me répéter, je rappelle tout de même que la Wii est largement moins puissante que ses congénères next-gen. De fait, l'aspect graphique du titre est correct sans plus. Les textures sont moins fines dans les versions PS3 ou Xbox 360. L'adaptation s'est visiblement faite aux prix de nombreuses concessions. Exit le petit effet de flou lorsque votre soldat met en joue. Mais le titre est tout de même joli et garde l'amplitude des autres versions en alliant une multitude de soldats à l'écran, ainsi que des effets de fumée particulièrement réussis. La bande-son n'est pas en reste, et on retrouve tout le volume sonore du précédent opus au point qu'on a parfois envie de se planquer derrière son canapé pour éviter un obus. Les musiques gardent leur aspect hollywoodien et collent très bien à l'action.
En bref, cette version Wii de Call of Duty 3 est de très bonne facture, et pour peu que vous maîtrisiez la Wiimote parfaitement. La campagne vous occupera pendant une dizaine d'heures si comme moi, vous avez du mal à vous faire au maniement. Le jeu aurait pu être beaucoup plus plaisant sans ces légers problèmes, mais gageons que les futurs FPS de la Wii sauront nous donner tout le confort d'un clavier et d'une souris. Voire plus.