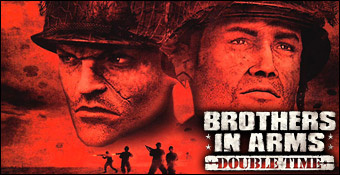 Deux jeux pour le prix d'un, voilà qui a de quoi émoustiller plus d'un amateur de bonnes affaires. Pourtant, ce genre d'offre peut parfois susciter une certaine méfiance chez celui qui, dans un moment d'égarement, s'est déjà retrouvé avec deux dvd de Steven Seagal dans son caddie. Aussi, pour vous aider à savoir si ce pack concocté par Ubisoft mérite véritablement d'être acheté, nous vous proposons de découvrir les produits ainsi rassemblés dans les lignes qui suivent. Des lignes qui agiront donc en tant que complément de deux tests indépendants que nous vous invitons bien évidemment à consulter. Mais pour l'heure, commençons par le commencement avec Brothers in Arms : Road to Hill 30. Ce premier opus permet à Gearbox de définir les bases d'une série qui s'évertuera par la suite à mêler action à la première personne et tactiques de groupe. On y suit les pérégrinations du sergent Matt Baker, contraint de prendre le commandement de son escouade lors des événements liés au débarquement et aux quelques jours qui suivirent. Le soft adopte une optique très particulière en prônant l'authenticité et en mettant de côté le réalisme pur. Pour ce faire, Brothers in Arms nous fait régulièrement visionner des cinématiques qui illustrent le terrifiant quotidien des hommes de l'unité, leur vision de la guerre, leurs conflits intérieurs et leurs disputes. L'approche se veut cinématographique et ne manque donc pas d'évoquer des films comme Il Faut Sauver le Soldat Ryan ou la série Band of Brothers.

La série des Brothers in Arms est sensiblement moins propre que la concurrence.
En termes de gameplay, le jeu s'efforce de mélanger les styles. Il se situe, très grossièrement, à mi-chemin entre FPS pur et dur type Medal of Honor : Avant-Garde et un soft tactique dans la veine de Battalion Wars 2. Pour avancer, il vous faut effectivement vous servir des deux groupes d'hommes placés sous votre commandement. Avec la Wiimote, vous donnerez donc très simplement des ordres à votre équipe d'appui-feu et à votre groupe d'assaut. Vous devrez étudier le terrain via une interface tactique et faire en sorte de fixer l'attention de l'ennemi avec une escouade, tandis que vous tenterez un contournement avec la seconde. Le jeu est intéressant, mais relativement primaire, les options tactiques étant finalement assez limitées. L'IA des alliés comme celle des ennemis ne se montre pas franchement convaincante. Et si on n'éprouvera pas trop de difficultés à se déplacer et à commander nos troupes, on aura peut-être un peu plus de mal à participer directement aux combats, du fait d'une visée extrêmement imprécise. Reste un titre qui change agréablement de l'optique adoptée par l'énorme majorité des shooters historiques.

Un seul mot d'ordre : contourner !
Le second volet, intitulé Brothers in Arms : Earned in Blood, reprend bien évidemment les bases de son prédécesseur, mais tente d'apporter son lot d'innovations. On comptera donc avec une IA adverse nettement plus réactive que par le passé et des cartes plus ouvertes, offrant plus de possibilités tactiques et poussant le joueur à être plus agressif. Les contrôles en revanche restent globalement les mêmes que dans le premier épisode, même si on aura peut-être un petit peu moins de mal à tirer sur l'ennemi grâce à un petit réajustement de la précision. En dépit de graphismes toujours en retrait par rapport à la concurrence, le jeu sait se montrer plaisant et convainc par son atmosphère particulière. Plus exigeant que son grand frère, Earned in Blood saura probablement contenter les joueurs Wii avides de goûter à un FPS tactique sur leur machine favorite. On regrette néanmoins que le mode multijoueur soit passé à la trappe dans les deux jeux, ce qui implique une durée de vie moindre.
Brothers in Arms : Double Time est donc un pack honnête, même si cette volonté de ressortir des softs de 2005 à moindre coût, sans qu'aucune amélioration particulière ne leur ait été apportée, laisse un petit goût amer au fond du gosier.