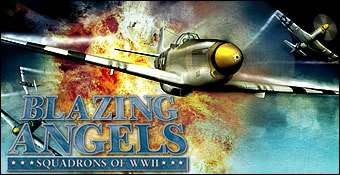 On ne le dira jamais assez, pour un bon dogfight, rien ne vaut un bon vieux moulin de la Seconde Guerre mondiale, ou un X-Wing de Star Wars. Tout le monde aura compris qu'ici, on opte pour les Seafires, les Corsairs et autres P-51D Mustang. Du ciel de Dunkerque à celui de Midway, Blazing Angels ne nous épargnera aucune des grandes batailles aériennes, nous faisant participer à la bataille de Londres, à celle de Pearl Harbor, de Midway ou aux affrontements qui ont secoué le désert africain. Couvrant tous les aspects des missions pouvant être confiées à des pilotes émérites, le titre nous enverra combattre tout ce qui peut l'être, du chasseur au porte-avions. Ainsi, après s'être démené contre les pilotes allemands ou japonais en plein ciel, nous faudra-t-il encore bombarder un pont anéantir des colonnes de blindés à la roquette, sans oublier bien sûr, l'exercice périlleux et délicat du largage de torpilles au ras de la crête des vagues.

Ah ça, une fois qu'on a viré les effets spéciaux, la bataille de Londres est nettement moins séduisante.
Il ne faut pas longtemps au joueur pour réaliser que la force de Blazing Angels réside avant toute autre chose dans sa réalisation qui mise tout ce qu'elle a sur l'esbroufe d'effets spéciaux impressionnants conférant au soft une immersion très cinématographique. Enfin, ça c'était le cas sur Xbox 360. Ici, Ubisoft nous sert une version Wii plutôt faiblarde dans laquelle un effet de flou trop prononcé vient jouer les cache-misère. Certaines décorations ont carrément disparu des environnements et les décors au sol sont parfois plus que limites. Difficile de se dire et d'accepter que le grand Rogue Squadron sur GameCube faisait meilleur effet il y a quelques années. De plus, de sérieux problèmes de frame rate viennent parfois troubler un peu plus cette réalisation qu'on ne jugera que bien moyenne. L'aspect hollywoodien du jeu qui faisait clairement son charme superficiel à la façon Call Of Duty en prend donc un sérieux coup dans l'aile. Même si le jeu conserve ses plans de caméra impressionnants dus à l'usage du système de caméra de poursuite. Un système qui, on le rappelle permet de garder l'angle de vue fixé sur l'ennemi tout en manoeuvrant comme un petit Papy Boyington sous amphétamines.

Vous débloquerez de nouveaux avions à chaque mission.
Le hic c'est que cette réalisation hollywoodienne qui fiat défaut ici ne servait déjà pas un gameplay toujours très convaincant. Reprenant le désormais classique système d'ordres aux ailiers, Blazing Angels vous laisse libre de leur demander de voler en formation, de vous défendre ou d'attaquer toute cible à portée. En outre, 3 autres possibilités s'offrent à vous. La première consiste à envoyer l'un de vos équipiers provoquer les ennemis afin d'attirer l'attention sur lui, la seconde provoque une sorte de fureur chez l'un de vos ailiers qui se lance alors dans un carnage. Enfin, la troisième, est une fonction de réparation, le mécano vous indiquant une suite de touches à répéter afin de réparer les dégâts subis. Très simple à prendre en main, y compris pour les rares atterrissages que l'on vous demandera d'effectuer, le jeu souffre en réalité d'un manque de rythme dans son action. Les modèles de vol des appareils sont en effet un rien trop mous et les virages serrés manquent d'adrénaline. De plus, trop souvent on se retrouve en train de mitrailler un ennemi qu'on ne voit que par la grâce du carré rouge qui l'encercle et qui reste toujours visible. Si voler est un régal pour les yeux, on n'en dira donc pas autant pour les sensations un peu trop en retrait. Et ce n'est pas la peur de l'échec qui viendra vous stimuler tant il est rare de perdre dans ce jeu finalement d'une grande facilité. On traverse la campagne solo à vitesse grand V, voyant la durée de vie fondre comme la crème solaire sur le torse de Lorenzo Lamas au soleil. Les rares crashes qui vous attendent seront plutôt provoqués par la découverte impromptue d'une dune de sable qu'on n'avait pas vu alors qu'on volait en pleine tempête.

On vit tout de même quelques dogfights serrés.
Et bien sûr, on ne fera pas l'impasse sur la gestion de la Wiimote. Pour faire court, si on vous propose plusieurs modèles de contrôle avec reconnaissance de mouvements, aucun ne fait vraiment l'affaire. Vous avez donc la possibilité d'opter pour une commande basée sur le Nunchuk dont l'inclinaison contrôlera roulis et tangage, le stick faisant office d'accélérateur, la Wiimote servant pour sa part à des commandes annexes, comme le contrôle des ailiers. Une autre permet au contraire d'utiliser la Wiimote comme outil de détection en combo avec le Nunchuk (accélérateur, tir etc.). Troisième méthode, la Wiimote seule, tenue comme un pad. Ces trois solutions ont toutes le même problème majeur : elles ne sont pas suffisamment réactives. Si au cours de l'entraînement tout paraît convaincant, à la première mission on réalise qu'on est trop lent, que la reconnaissance des commandes "flotte" beaucoup trop. De plus, en mode "Wiimote seule", le manque de touches sur la télécommande oblige à avoir un système de commandes secondaires. Il faut appuyer sur une touche de fonction (B) afin de basculer certaines commandes vers d'autres. La croix, par exemple, utilisée comme accélérateur passe en mode secondaire et se transforme en contrôle des ordres aux ailiers. Une approche peu intuitive qui se retrouve malheureusement dans le dernier modèle de contrôle offert : le mode classique, sans reconnaissance de mouvements, où le stick du Nunchuk fonctionne comme dans tout autre jeu, l'ensemble des commandes étant réparties sur ce dernier et sa cousine la Wiimote. Une solution jouable, mais une fois de plus pas parfaite, la gestion de l'accélération à la croix manquant de finesse (tout à fond ou tout au mini) et se montrant peu pratique avec l'activation de la caméra poursuite située sur le bouton A, seulement on n'a qu'un seul pouce en général. Le tout reste jouable, mais est loin d'être parfait et intuitif.

La caméra poursuite donne lieu à des plans très hollywoodiens.
Faiblard en solo, Blazing Angels peut se rattraper avec son mode multijoueur qui comprend un coop et surtout quelques modes versus valant principalement dans leur version "en équipe". On tombe évidemment sur du deathmatch mais également sur une sorte de Capture dans lequel les joueurs doivent atterrir sur une base ennemie, le mode Kamikaze propose pour sa part de défendre depuis le sol une base attaquée par des avions. Citons également le Seek And Destroy consistant à tirer sur des cibles marquées au sol ou encore le mode Ace où un seul joueur se voit attaqué par le reste des participants. Seulement voilà, tout ceci demeure désespérément offline.