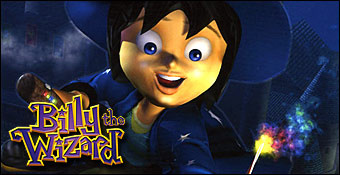 Billy et ses amis entretiennent des liens très étroits avec le monde de J.K. Rowling. Tout comme Harry Potter, ces jeunes sorciers adorent se déplacer sur leurs balais magiques. Ils sont tous munis de baguettes et prennent également des cours dans une école spécialisée à l'intérieur d'un grand château, ressemblant de très près à Poudlard. Les similitudes sont telles, qu'une cicatrice en plus sur le front du héros aurait bien pu provoquer les foudres de la Warner... Passons ce manque cruel d'inspiration de la part de l'équipe en charge du jeu et venons-en aux faits. Ainsi, Billy the Wizard est avant tout un jeu de courses jouable jusqu'à 4 en simultané. Trois modes de jeu principaux sont proposés. Les courses entre sorciers sont des épreuves de vitesse où le premier à franchir la ligne d'arrivée d'un parcours délimité par des cercles sera déclaré grand vainqueur. Un second mode vous permet de prendre en chasse certains objets magiques tels que des livres volants. Vous devez alors parvenir à attraper chacun d'entre eux pour passer au niveau suivant. Enfin, d'autres épreuves dites de duels existent. Il vous faudra ici en découdre avec vos petits camarades de jeu ou bien affronter un dragon venu semer le trouble dans l'enceinte du château. Du grand classique quoi !

Le jeu est totalement injouable.
Mais c'est lorsqu'on plonge au cœur même du titre que les choses se compliquent véritablement. Autant faire cesser de suite ce suspense insoutenable : Billy the Wizard est un des pires jeux de cette fin d'année. Rien dans cette production ne permet de sauver la donne. On a beau chercher, aucune excuse ne peut être trouvée. La liste des critiques est d'ailleurs bien longue. La première, et non des moindres, concerne la jouabilité tout simplement exécrable. Les contrôles du balai s'effectuent grâce au Nunchuck qu'il vous faut incliner de droite à gauche pour négocier des courbes, et de haut en bas pour prendre de la hauteur dans le ciel ou bien plonger vers la terre ferme. On se bousille littéralement le poignet sans jamais parvenir à maîtriser sa monture. Les parcours étant délimités par des cercles à l'intérieur desquels il vous faut impérativement passer, la tâche se révèle très vite impossible à mener. On aurait pu espérer la présence d'un second type de contrôle nous permettant par exemple d'orienter son balai au stick analogique, mais les développeurs n'ont pas jugé nécessaire d'inclure cette possibilité.

Devinez où il faut passer.
Passé ce petit détail qui rend tout de même à lui seul le soft totalement dénué d'intérêt, il ne faut guère creuser davantage pour trouver d'autres défauts. L'environnement graphique par exemple n'offre qu'une seule ambiance, à savoir celle de la cour extérieure du château. On effectuera certes un passage rapide à l'intérieur de celui-ci, mais tout de même. De plus la zone de jeu n'est que grossièrement délimitée et là où l'herbe s'arrête, un vide grossier prend le relais... La durée de vie peut elle aussi être pointée du doigt. Différents modes de jeu sont présents, mais ceux-là sont soit injouables soit totalement inintéressants. On pensera notamment aux phases de recherches où il vous faudra tout simplement retrouver un certain nombre d'objets magiques dans l'enceinte du château. Ennuyeux, inutile et particulièrement débile. Toute personne ayant acheté Billy the Wizard ne peut ressentir qu'un seul type de sentiment : celui de s'être bien fait avoir ! Au lieu de soigner la jaquette de leur jeu, les développeurs auraient pu au moins essayer de rendre leur soft un minimum jouable. L'arrière de la boîte affiche des screens aguicheurs que l'on ne retrouvera à aucun moment lors des parties et il suffit de quelques minutes pour s'apercevoir de la supercherie.