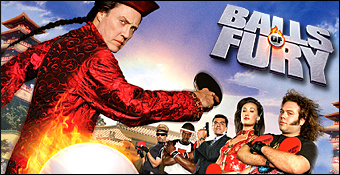 Rapidement et pour poser les bases du délire, Balls Of Fury, c'est l'histoire d'un ancien joueur de ping-pong devenu agent de la CIA. Sa mission va être d'infiltrer un tournoi international afin de s'offrir un face-à-face avec le chef de la mafia. Vous incarnez donc Randy Daytona (Dan Folger), le héros au gabarit ne laissant imaginer son passé de sportif de haut niveau, et allez devoir rencontrer une armada de joueurs avant de tenter de battre Feng (Christopher Walken). Le tout dans une ambiance faisant la part belle à la dérision, à un gameplay très arcade et à des affrontements où tactique et technique laissent la place à des coups surréalistes et des grossièretés lancées çà et là. Chacun des acteurs voit donc son beau minois modélisé dans le jeu, avec plus ou moins de réussite. Qu'importe, le titre est de toutes les manières techniquement à la ramasse et se présente avant tout comme une sorte de teasing assez complet du film qui pourrait bien être un nanar s'il emboîte le pas du jeu. Ça, c'est fait.

Vous jouez l'homme invisible...
On est rapidement confronté aux limites visuelles du soft en constatant dès les premiers échanges que le joueur que l'on incarne n'apparaît pas à l'écran. Au lieu de cela, une simple raquette de tennis de table fait l'essuie-glace de gauche à droite, comme dans les plus banals jeux flash que l'on trouve aux quatre coins du net. Et comme aucune caméra additionnelle n'a été prévue, il faut bien faire avec. Il faut aussi faire avec une jouabilité arcade et basique au possible. On a beau s'acharner après la Wiimote, impossible de placer ses coups avec précision et de sortir l'adversaire de l'axe de la table. Soit. Mais alors que nous reste-t-il ? Des coups dits puissants réalisables une fois une jauge remplie, partiellement ou entièrement, en renvoyant simplement la balle. A partir de là, le joueur peut choisir le moment pour déclencher son coup qui variera en fonction du pongiste contrôlé (on en compte dix au total). Ainsi, le "Teleport Shot" vous permettra de faire disparaître la balle au-dessus du filet avant qu'elle ne réapparaisse ailleurs. Le "Fireball" enflammera la sphère, lui procurant une certaine puissance. Le "Loop-de-Loop Shot" lui donne un effet rétro puis aléatoire. Enfin, le "Tornado Shot" fait tourbillonner la balle, rendant imprévisible sa trajectoire. Des effets petitement réalisés, utilisables, sous des formes similaires, au moment de servir.

Christopher Walken est rassuré. Il ajoute une nouvelle coupe de cheveux ridicule à sa collection déjà très fournie.
Tout ceci n'est donc pas très original et encore moins jouable même si l'on parvient toujours à profiter des coups spéciaux pour glaner les points les plus importants d'une rencontre. Mais le fait est que le temps de latence constaté entre le mouvement de la manette et celui du joueur est particulièrement handicapant et ne permet pas de varier ses coups en fonction des situations. Comptez donc sur une certaine frustration sur la plupart des points perdus. Ce sera soit parce que le coup puissant de votre adversaire s'avère imparable, soit parce que vous aurez mimé le mouvement trop tôt et taperez donc ridiculement dans le vide. Pratique ! Et pour ne rien arranger, Balls Of Fury est court, très court. En plus d'être avare en modes de jeu, il se permet le luxe de proposer un mode histoire qui ne vous occupera guère plus d'une heure. Et ce ne sont pas les quelques photos du film qui rectifieront le tir, narrant un scénario aussi plat que celui de Dodgeball. Mais sans Christine Taylor et son shorty moulant donc, forcément moins bon encore. En parallèle de ce mode histoire, le ou les joueurs kamikazes retrouveront des matches exhibitions éclair, un mode arcade et un autre tournoi, tous aussi similaires les uns que les autres. Vous l'aurez compris, Balls Of Fury a tout pour lui et accumule toutes les tares qui en font un jeu bon pour terminer au fond du placard dans lequel sont rangés les cadeaux empoisonnés de tatie Danielle.