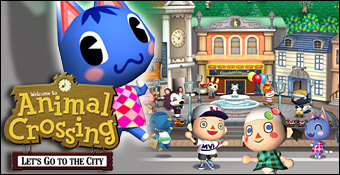 Souvenez-vous, en 2004, Animal Crossing quittait enfin l'archipel du Japon pour venir égayer nos petites Game Cube européennes. Avec son adorable village peuplé d'animaux, son horloge interne alignée sur celle de la console, et sa réalisation naïve digne d'un épisode de Oui-Oui, ce véritable ovni vidéoludique avait su conquérir le coeur de bien des joueurs en mal de trip régressif. Deux ans plus tard, l'expérience devenait portable et atteignait des sommets d'ergonomie avec un portage DS très réussi. On imagine donc sans peine avec quelle impatience les nombreux fans d'Animal Crossing attendaient cette adaptation Wii. D'autant que pas mal de nouveautés semblaient au rendez-vous !

La grande nouveauté de cette version Wii, c'est son centre-ville.
L'aventure, pourtant, commence tout bêtement dans un bus par un questionnaire visant à définir l'apparence de notre personnage. Comme dans les épisodes antérieurs, les réponses que l'on fournit déterminent notre coupe de cheveux, la couleur de nos yeux, etc. Après avoir nommé notre avatar ainsi que le village dans lequel on souhaite emménager, on finit par arriver à destination. Il faut alors se rendre à la mairie pour choisir un logement libre sur un plan communal généré aléatoirement. Pas de chance, toutes les habitations proposées appartiennent à Tom Nook, l'épicier bien connu des épisodes précédents. N'ayant pas le choix, on devra donc de nouveau traiter avec cet usurier à tête de hérisson, escroc notoire, et esclavagiste à ses heures perdues. Et une fois de plus, les missions qu'il nous confie pour commencer à le rembourser servent de tutoriel. Le problème, c'est que si on a déjà joué à Animal Crossing sur Game Cube ou sur DS, on risque de s'ennuyer ferme. Qu'il s'agisse de planter des fleurs autour de l'épicerie, de livrer un client ou d'écrire un message publicitaire sur le tableau d'affichage public, on connaît en effet toutes ces missions par coeur. Hélas, il ne faudra pas beaucoup de temps pour s'apercevoir qu'en réalité, ce n'est pas seulement le tutoriel qui sent le réchauffé, mais bien l'ensemble du jeu.

Pour le reste, rien n'a changé.
Reprenant le design du premier épisode et le système de défilement des décors de la version DS, Animal Crossing sur Wii se contente en effet d'en copier également le gameplay. Certes, la Wiimote et le Nunchuk apportent un peu de fraîcheur au niveau des contrôles mais pour ce qui est des mécanismes de jeu, il n'y a décidément rien de neuf à se mettre sous la dent. On se balade donc une fois de plus dans notre minuscule village, pêchant par ici, agitant un filet à papillon par là, etc. Dès qu'on a trouvé une pelle, il devient également possible de planter des fruits ou de déterrer tout un tas d'objets comme des fossiles. La hache permet de se débarrasser des arbres gênants tandis que la fronde sert à dégommer les ballons qui flottent parfois dans le ciel. Comme d'habitude, on peut décorer sa maison, récupérer des objets trouvés, faire un don au musée, ou créer des motifs pour ses vêtements. On doit également entretenir de bonnes relations avec les habitants du village en acceptant de leur rendre service ou en leur écrivant des lettres par exemple. Le temps du jeu est une nouvelle fois indexé sur l'horloge interne de la console et toutes sortes d'événements se déclenchent en fonction du jour et de l'heure dans la vie réelle. Bref, quiconque a déjà joué ne serait-ce qu'une semaine à Animal Crossing se sentira en terrain conquis. D'ailleurs, les personnages clés du village (Tortimer, Thibou, Opélie ou Kéké) sont connus depuis le premier opus et les bâtiments publics n'ont pas évolué d'un pouce.

On retrouve même de vieilles connaissances qu'on aurait voulu oublier.
En dehors de quelques ajouts mineurs (objets supplémentaires, événements inédits, nouvelles espèces d'animaux à attraper, champignons...) cette version Wii d'Animal Crossing ne propose donc en fait que deux innovations notables : un centre-ville et un mode online amélioré. Le centre-ville tout d'abord, se présente sous la forme d'une place entourée de commerces à laquelle on peut accéder à tout moment en prenant le bus. Petite déception, la moitié des boutiques proposent des services déjà vus par le passé. Ingrid, la voyante, Ginette l'esthéticienne ou Rounard le contrebandier venaient en effet visiter notre village de temps à autre dans les épisodes précédents. Heureusement, on constate tout de même l'apparition de quelques bâtiments inédits comme l'hôtel des ventes, qui permet d'enchérir sur des objets, ou le théâtre, qui permet d'apprendre des mimiques à son avatar. Par ailleurs, la styliste offre, en plus de ses coupes de cheveux habituelles, la possibilité d'importer le visage de son Mii, et Carla, la styliste narcissique, a maintenant toute une collection d'objets hors de prix à nous montrer. Pour ce qui est du mode online, on regrette d'emblée d'avoir à demander à ses potes des codes Ami de 12 chiffres pour pouvoir jouer avec eux. Néanmoins, si on a la chance de connaître quelques camarades qui possèdent eux aussi Animal Crossing sur Wii, on pourra visiter leur village à 4, échanger des objets et interagir un peu avec l'environnement. Le micro Wii Speak permet même de bavarder sans avoir besoin d'écrire de fastidieux messages au clavier. Au fur et à mesure de nos visites, on constatera que les habitants de villages distants portent des vêtements qu'on a dessinés soi-même ou qu'ils lisent à voix haute des lettres qu'on leur a envoyées, etc...

La Wiimote fonctionne très bien et on peut importer son Mii.
Mais en définitive, Animal Crossing : Let's go to the City s'apparente bien plus à une compilation des versions Game Cube et DS qu'à une séquelle originale. Son système de jeu pacifique et contemplatif n'a pratiquement pas évolué et son design naïf commence même à dater un peu. Certes, le soft propose toujours un contenu d'une richesse incroyable et offre de nombreuses possibilités qui lui garantissent une durée de vie phénoménale. Cependant, les vétérans de la série qui ont déjà passé des mois sur les deux précédents épisodes vont fatalement commencer à se lasser de retrouver pour la troisième fois consécutive le même univers et les mêmes personnages. Ils auront vite fait le tour du nouveau centre-ville et du mode online limité. Les débutants, quant à eux, peuvent se laisser tenter mais quand on sait que la version DS se trouve en occasion à moins de 20 euros, qu'elle est quasiment aussi complète, et surtout qu'elle permet d'emporter son petit monde avec soi où que l'on aille, le choix est vite fait...